Posted by
ETSI COMS TEAM
5790 Hits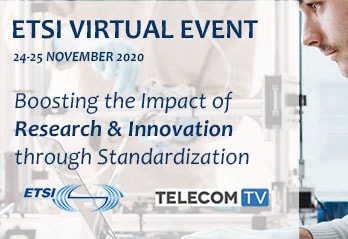 ETSI virtual conference on boosting the impact of research & innovation through standardization
Sophia Antipolis, 6 November 2020
Standardized commercial products and services substantially contribute to the overall global economy and quality of life of citizens around the world.
Join ETSI and TelecomTV for a two-day virtual conference focused on the Research Innovation Standards Ecosystem and Research Opportunities in Standards.
The virtual event will take place on 24 and 25 November, and each of the two days will comprise multiple sessions, including presentations and panel discussions followed by LIVE Q&A sessions where you'll be able to interact and ask your questions to the experts.