Intelligent Transport Systems
Intelligent Transport Systems (ITS) include telematics and all types of communications in vehicles, between vehicles (e.g. car-to-car), and between vehicles and fixed locations (e.g. car-to-infrastructure). However, ITS are not restricted to Road Transport - they also include the use of information and communication technologies (ICT) for rail, water and air transport, including navigation systems.
In general, the various types of ITS rely on radio services for communication and use specialized technologies.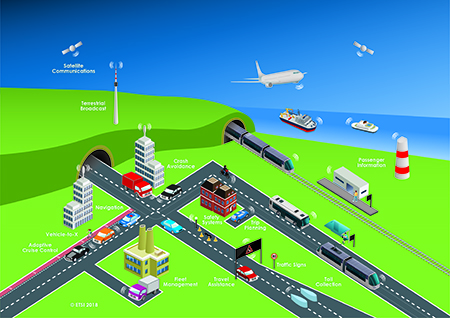 A high resolution version (848KB) of the above image is available here.
Automotive systems
Currently, there are currently the following projects related to automotive ITS:
Dedicated Short-Range Communications (DSRC) provide communications between the vehicle and the roadside in specific locations (for example toll plazas). Applications such as Electronic Fee Collection (EFC) will operate over DSRC.
Wireless Communications Systems dedicated to Intelligent Transport Systems and Road Transport and Traffic Telematics will provide network connectivity to vehicles and interconnect them. Using radio bands requires adequate Harmonised Standards which are under development for the bands 5 GHz and 63 GHz.
Continuous Air interface Long and Medium range (CALM) provides continuous communications between a vehicle and the roadside using a variety of communication media, including cellular, 5 GHz, 63 GHz and infra-red links. CALM will provide a range of applications, including vehicle safety and information, as well as entertainment for driver and passengers.
These technological projects form part of wider initiatives on matters such as road safety (for example the European Commission's eSafety initiative) and road tolling.
Railway systems
The railways industries have agreed to use GSM for the signalling on high speed railways, as well as for conventional railways when interoperating across national boarders. Within Europe, interoperability of high-speed railways is a regulatory requirement, addressed by the European Commission's Directive 96/48/EC.
Aeronautical and maritime systems
Aeronautical applications extend from professional services, such as air traffic control systems, to services for passengers, such as onboard telephony, and ETSI is responsible for specifying many of them.
Maritime applications support routine maritime operations, including navigation, as well as safety purposes. ETSI is responsible for producing a range of technical standards and reports concerning radio equipment and system for maritime and inland waterways use.
Our ITS committee (TC ITS) is leading the drive to achieve global standards for Co-operative ITS, which offers enormous potential through vehicle-to-vehicle and vehicle-to-roadside communication. Applications include road safety, traffic control, fleet and freight management and location-based services, providing driver assistance and hazard warnings and supporting emergency services.
Release 1 standards are being fine-tuned, taking account of feedback received. Release 2 is being developed and will include new features and functionalities anticipated in future Co-operative ITS. In particular, it will include specifications to protect vulnerable road users such as cyclists and motor cycle riders, and for Co-operative Adaptive Cruise Control. It will also address platooning, a practice which is expected to save both fuel and space on the roads.
Work is ongoing on the Co-operative Observation Service, whereby sensor information is shared between road users to, in effect, extend a driver's field of vision, and we have initiated pre-studies into relevant use cases. Cross layer Decentralized Congestion Control for the management of Co-operative ITS is being addressed.
Conformance tests, which are crucial for the commercial deployment of Co-operative ITS are being developed. Our Technical Specification (TS) on mitigation techniques is being revised to avoid interference between European CEN Dedicated Short Range Communication equipment and ITS operating in the 5 GHz frequency range. Spectrum requirements of Release 2 are continuously being addressed.
Our Automotive Radar standards take recent developments into account. In the Ultra Wideband automotive radar area, our Harmonised Standards for ground based vehicular radar in the 76 - 77 GHz range and high resolution automotive radar in the 77 - 81 GHz range are being revised in the light of the EC MOSARIM project on radar interference mitigation and the amended regulatory framework. A new European Standard (EN) on the use of helicopter radar to prevent accidents is being developed.
Get the latest information on ETSI's standardization activities here!
ETSI's newsletter on ITS - free subscription!
If you are interested in the work done related to Intelligent Transport Systems, you are kindly invited to subscribe to ETSI's newsletter on ITS standardization activities. Information about ITS activities is posted regularly.
To subscribe to ETSI's newsletter on ITS standardization, follow this link, please:
Join ITS-NEWS
The following is a list of the 20 latest published ETSI standards on intelligent transport systems.
A full list of related standards in the public domain is accessible via the ETSI standards search. Via this interface you can also subscribe for alerts on updates of ETSI standards.
For work in progress see the ETSI Work Programme on the Portal.
| Standard No. | Standard title. |
| --- | --- |
| EN 302 571 | Intelligent Transport Systems (ITS); Radiocommunications equipment operating in the 5 855 MHz to 5 925 MHz frequency band; Harmonised Standard covering the essential requirements of article 3.2 of Directive 2014/53/EU |
| EN 300 674-2-2 | Transport and Traffic Telematics (TTT); Dedicated Short Range Communication (DSRC) transmission equipment (500 kbit/s / 250 kbit/s) operating in the 5 795 MHz to 5 815 MHz frequency band; Part 2: Harmonised Standard covering the essential requirements of article 3.2 of Directive 2014/53/EU; Sub-part 2: On-Board Units (OBU) |
| TS 102 965 | Intelligent Transport Systems (ITS); Application Object Identifier (ITS-AID); Registration |
| TS 103 301 | Intelligent Transport Systems (ITS); Vehicular Communications; Basic Set of Applications; Facilities layer protocols and communication requirements for infrastructure services |
| TS 103 248 | Intelligent Transport Systems (ITS); GeoNetworking; Port Numbers for the Basic Transport Protocol (BTP) |
| TS 102 940 | Intelligent Transport Systems (ITS); Security; ITS communications security architecture and security management |
| EN 300 674-2-1 | Transport and Traffic Telematics (TTT); Dedicated Short Range Communication (DSRC) transmission equipment (500 kbit/s / 250 kbit/s) operating in the 5 795 MHz to 5 815 MHz frequency band; Part 2: Harmonised Standard covering the essential requirements of article 3.2 of the Directive 2014/53/EU; Sub-part 1: Road Side Units (RSU) |
| TS 102 723-8 | Intelligent Transport Systems (ITS); OSI cross-layer topics; Part 8: Interface between security entity and network and transport layer |
| TS 101 556-2 | Intelligent Transport Systems (ITS); Infrastructure to Vehicle Communication; Part 2: Communication system specification to support application requirements for Tyre Information System (TIS) and Tyre Pressure Gauge (TPG) interoperability |
| TS 103 191-1 | Intelligent Transport Systems (ITS); Testing; Conformance test specifications for Signal Phase And Timing (SPAT) and Map (MAP); Part 1: Test requirements and Protocol Implementation Conformance Statement (PICS) pro forma |
| TS 103 191-2 | Intelligent Transport Systems (ITS); Testing; Conformance test specifications for Signal Phase And Timing (SPAT) and Map (MAP); Part 2: Test Suite Structure and Test Purposes (TSS & TP) |
| TS 103 191-3 | Intelligent Transport Systems (ITS); Testing; Conformance test specifications for Signal Phase And Timing (SPAT) and Map (MAP); Part 3: Abstract Test Suite (ATS) and Protocol Implementation eXtra Information for Testing (PIXIT) |
| TR 101 613 | Intelligent Transport Systems (ITS); Cross Layer DCC Management Entity for operation in the ITS G5A and ITS G5B medium; Validation set-up and results |
| TS 103 096-1 | Intelligent Transport Systems (ITS); Testing; Conformance test specifications for ITS Security; Part 1: Protocol Implementation Conformance Statement (PICS) |
| TS 103 096-2 | Intelligent Transport Systems (ITS); Testing; Conformance test specifications for ITS Security; Part 2: Test Suite Structure and Test Purposes (TSS & TP) |
| TS 103 096-3 | Intelligent Transport Systems (ITS); Testing; Conformance test specifications for ITS Security; Part 3: Abstract Test Suite (ATS) and Protocol Implementation eXtra Information for Testing (PIXIT) |
| TR 103 061-6 | Intelligent Transport Systems (ITS); Testing; Conformance test specifications for ITS Security; Part 6: Validation report |
| TS 102 868-1 | Intelligent Transport Systems (ITS); Testing; Conformance test specifications for Cooperative Awareness Basic Service (CA); Part 1: Test requirements and Protocol Implementation Conformance Statement (PICS) pro forma |
| TS 102 868-2 | Intelligent Transport Systems (ITS); Testing; Conformance test specifications for Cooperative Awareness Basic Service (CA); Part 2: Test Suite Structure and Test Purposes (TSS & TP) |
| TS 102 868-3 | Intelligent Transport Systems (ITS); Testing; Conformance test specifications for Cooperative Awareness Basic Service (CA); Part 3: Abstract Test Suite (ATS) and Protocol Implementation eXtra Information for Testing (PIXIT) |