extra_toc
Introduction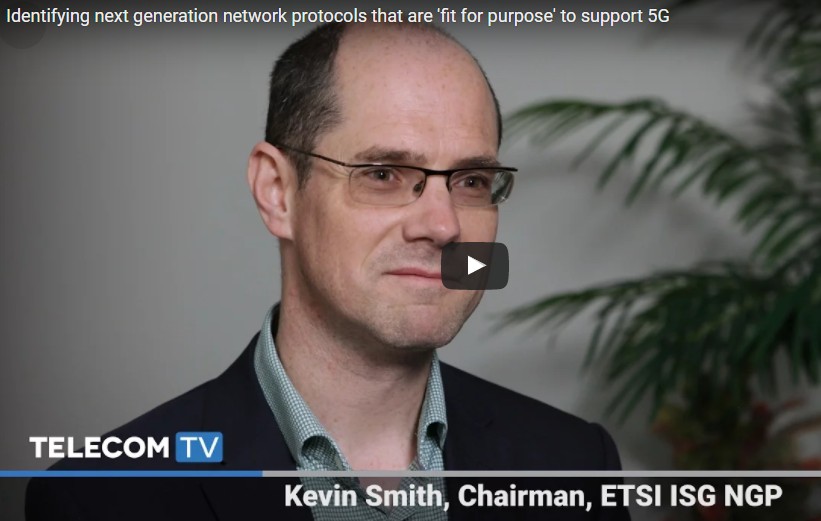 Kevin Smith, Chairman of NGP in 2017
The TCP/IP protocol suite was designed for an age in which communication was between computers and terminals in fixed locations, and in which the user interface was text rather than dynamic media such as audio and video. Mobile operators have identified a number of problems with its use in core and access networks, and it is unsuitable for some of the new services that are proposed for 5G. Industry Specification Group (ISG) Next Generation Protocols (NGP) investigated ways to better support the huge performance and capacity improvements planned for 5G, both by evolution of TCP/IP and by use of new kinds of protocol.
Its conclusion was that a fundamental change is needed, and that a new Industry Specification Group (ISG) focussing on Non-IP Networking (NIN) should be created.
ISG NIN will also act as responsible body for the maintenance of ISG NGP Deliverables if need arises. The specifications published by NGP are accessible via the standards search on our website.
Our Role & Activities
NIN vision
The Industry Specification Group on Non-IP Networking (NIN) has been set up to standardize a digital communications technology fit for the 21st century.
Our vision is a much more efficient system that is far more responsive to its users.
We have identified a number of technical issues with the current (TCP/IP-based) technology which prevent it delivering the required levels of service without excessive complexity or, in some cases, at all.
The new protocols will provide:
virtual elimination of delays in forwarding real-world signals: not only audio and video but also tactile feedback and the position of vehicles or industrial robots
multicasting of live content (such as sports events) to an unlimited number of subscribers
more efficient use of spectrum and of processing power
better security, both privacy and resilience to denial-of-service
better performance when accessing remote content such as web pages
ways of guaranteeing network service sustainability
extensibility: packet formats do not have to be the same throughout the system, and introducing new features such as a new kind of addressing only affects the control plane messages
What does this mean for the user?
Elimination of delays in packet forwarding equipment will make conversation more natural, especially in conference calls. A performer's sound can be sent across the network to be mixed with other performers' and returned to their headphones. Applications such as remote surgery become possible.
More efficient processing extends battery life in handsets.
Privacy is improved: devices do not need to have IP addresses, and a server does not need to know a client's address or location in order to reply to its request. Before any exchange of data takes place the server can require as much or as little authentication of the client's identity as is appropriate to the application. It will be much easier to discover where your device is sending data to.
Downloads will be faster, and there will be less "buffering delay" when watching streamed content. New business models can be explored based on improved identification of content and quality auditing.
What does it mean for the operator?
The whole system becomes much simpler and therefore cheaper to build and to operate. Many middle-box functions, such as address translation, firewalls, header compression, and transport-layer optimisers, are eliminated or incorporated into the control plane procedures. Mobility is supported natively instead of needing tunnelling layers to be added.
The service for media streams provides multicasting and ultra-low latency (typically less than 10µs per hop) as standard. As well as live broadcasting (such as of sporting events) it can be used to distribute recorded content to local caches and to distribute software updates.
Many of the protocols needed by current systems, such as DNS, ARP, SIP, SDP, and RSVP, are incorporated into the control plane procedures. This, along with a dramatic reduction in packet header sizes, reduces the amount of capacity on the air interface that is taken up by protocol overheads.
The forwarding plane can be implemented entirely in logic (hardware), and thus needs much less power than is needed for per-packet processing by software. Simplified protocols and elimination of the need for header compression reduce processing power requirements further.
How do we get there?
The new technology can be carried over IP networks, and IP packets can be carried over the new technology. Thus, the new technology can be introduced incrementally, in the form of "islands" where internal traffic benefits from the new levels of service and there is seamless transition to the legacy technology at the edge. This can be done as part of the normal processes of expanding networks and of replacing end-of-life equipment.
An example would be where a new network is being built to support 5G: core, RAN, and MEC can be implemented with the new technology. When an application connects a socket to a service, the system can check whether that service is available at the edge and if so connect directly using the new technology. This check might need more information than would be provided in the DNS look-up used in legacy systems, e.g. to see whether a cached copy of a particular piece of content is available. Otherwise, the connection goes through the User Plane Function; much of the processing of legacy packet headers is transferred from the UE to the UPF, saving battery in the UE, and the amount of processing required in the UPF is similar to the NAT procedures common in today´s Internet access.
Participation in the Non-IP Networking Industry Specification Group is open to all ETSI members as well as organizations that are not members, subject to signing ISG Agreements. For information on how to participate please contact ISGsupport@etsi.org.
Blog
Blog from the NGP Industry Specification Group now Non-IP Networking (NIN)

Subscribe to blog
The direct link to refer to this blog is https://www.etsi.org/newsroom/blogs/blog-nin