extra_toc
Introduction
Nowadays all the new technology domains like 5G connectivity, Internet of Things (IoT), Cloud Computing, Artificial Intelligence (AI) are accelerating digitalization and many things that were previously not connected are getting connected. As more and more devices, vehicles, sensors and home appliances go online, enabling IP on everything becomes a vision and industry trend.
In this context, all the statistics show that IPv6 is growing constantly and faster than IPv4 in all measures such as number of users, percentage of content, and amount of traffic. For the first time in history, the user–network–content communication chain is ready for IPv6 and this means that the industry has selected IPv6 for the future.
On the other hand, networking field is in constant evolution and all the new use cases and scenarios were not mature or even did not exist when IPv6 was introduced. For this reason, IPv6 started its massive introduction recently and keeps evolving to prepare for the future and meet the new challenges as they arise.
As a matter of fact, the new requirements brought by 5G, IoT, Cloud, AI as well as governments and standard bodies are all calling for full IPv6 adoption.
The progress of IPv6 can be showed looking at the percentage of networks (Autonomous Systems) that announce one or more IPv6 prefixes in the RIPE NCC service region: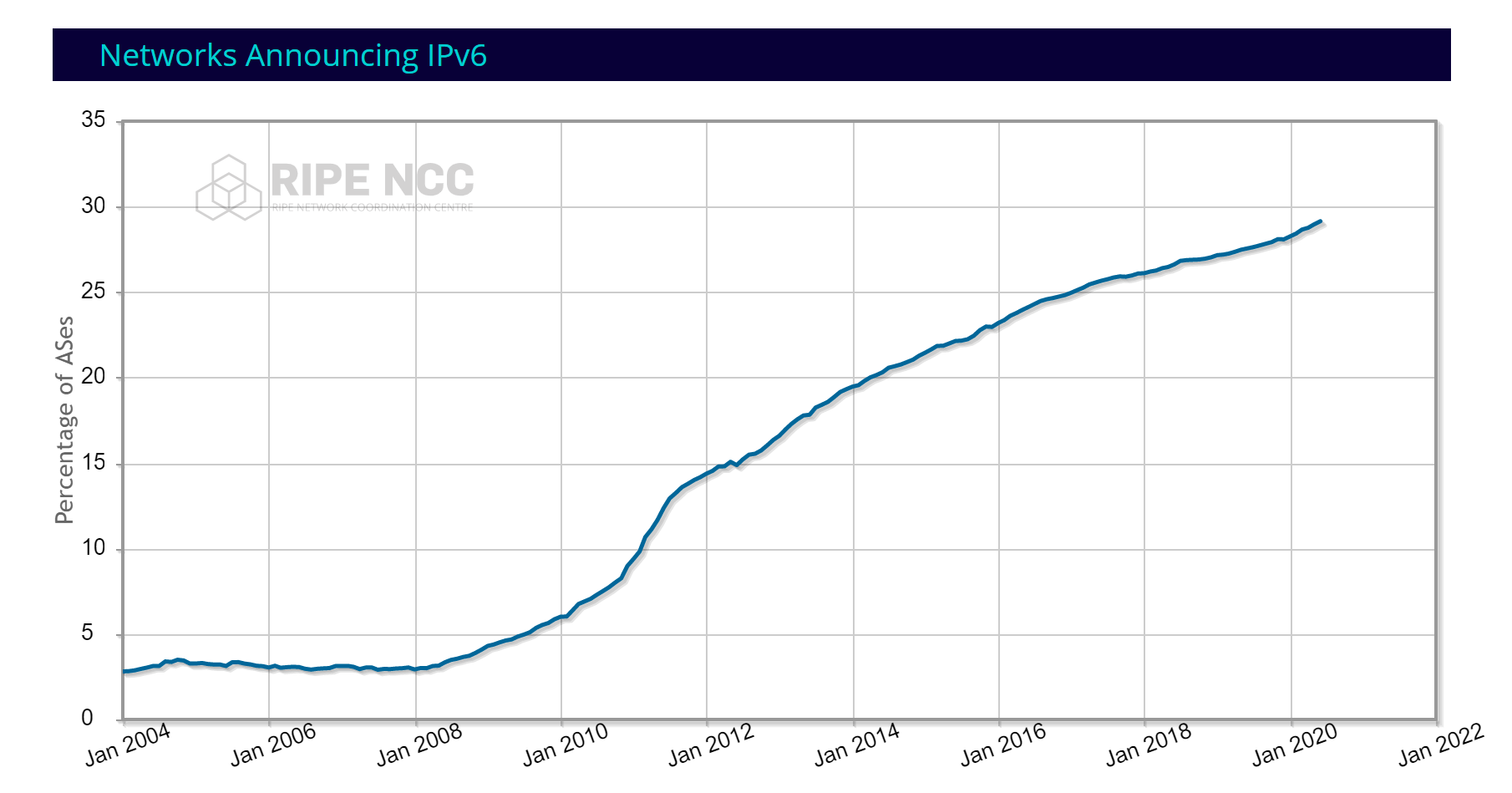 Between 2014 and 2020, ETSI established IP6 to sustain the global deployment of IPv6 and, as described in the recently published ETSI White Paper 35, the deployment of IPv6 provides the strong base for all the new technologies and new services evolution.
Given this background and driven by the emerging technologies, ETSI Industry Specification Group (ISG) IPv6 Enhanced Innovations (IPE) aims to evolve the IP6 work further on, promoting the deployment of IPv6 according to an IPv6 network end-to-end reference architecture and defining clear guidelines to address large-scale IPv6 deployments.
The ETSI ISG IPE opens the door to new opportunities for industry players by applying IPv6 technology to various scenarios and end-to-end solutions, in order to enable a new era of IPv6-based services and networks.
Our Role & Activities
The overall scope of ETSI ISG IPE is to accelerate the adoption of IPv6 by more users, terminals, networks and contents enabling IPv6 to connect everything. This will in turn foster IPv6-based innovations.
The progress of 5G connectivity, Industrial IoT, Artificial Intelligence and the pervasive use of Hybrid-Multi-Cloud services involves the following areas that will be initially considered:
IPv6 based 5G (and beyond 5G) IPv6 transport (including transport for both wired and wireless network and network slicing)
Cloud & IPv6 network convergence
IPv6 based enterprise networking
IPv6 for IoT, Industrial Internet and Edge Computing
IPv6 cybersecurity and management
ETSI ISG IPE will investigate the IPv6 functionalities as required by the new and evolving applications in order to develop an Enhanced IPv6 network. IPv6 and all the new generation technologies based on IPv6 will drive the transformation of network service, stimulating business model innovation. Important features will be considered including:
IPV6-based Protocol Innovation: the continuous development of IPv6 related protocols specified in IETF makes IPv6 more useful, for example the potential of SRv6 (Segment Routing over IPv6).
IPv6-based AI Innovation: the maintenance costs can be lowered and the IPv6 network automation can be improved by AI (Artificial Intelligence) mechanisms.
ETSI ISG IPE will also seek to enhance the capture and dissemination of feedback from real-life IPv6 deployments, trials, show cases and relevant industry projects.
ETSI ISG IPE will encourage the active cooperation and interaction between all relevant ETSI technical groups, external SDOs and fora as well as the research communities working in the domain of IPv6 deployment. Since ETSI ISG IPE will not develop protocol specifications, it will refer to the IETF for this. It is planned to communicate the progress of their work with other SDOs in order to avoid overlap and to encourage a coordinated approach.
Specifications
A full list of related standards in the public domain is accessible via the ETSI IPE committee page.
Blog
News from the IPE Industry Specification Group

Subscribe to blog
The direct link to refer to this blog is https://www.etsi.org/newsroom/blogs/blog-ipe