extra_toc
Introduction
The Experiential Networked Intelligence Industry Specification Group (ENI ISG) is defining a Cognitive Network Management architecture, using Artificial Intelligence (AI) techniques and context-aware policies to adjust offered services based on changes in user needs, environmental conditions and business goals. It therefore fully benefits the 5G networks with automated service provision, operation, and assurance, as well as optimized slice management and resource orchestration. ENI has also launched Proof of Concepts (PoCs) aiming to demonstrate how AI techniques can be used to assist network operation including 5G.
The use of Artificial Intelligence techniques in the network will solve problems of future network deployment and operation.
Our Roles & Activities
ENI focuses on improving the operator experience, using closed-loop AI mechanisms based on context-aware, metadata-driven policies. This enables the ENI system recognize and incorporate new and changed knowledge, and hence make actionable decisions. This model gives recommendations to decision-making systems, such as network control and will interact with management systems, to adjust services and resources offered based on changes in user needs, environmental conditions and business goals.
ENI has published the first version of the System Architecture and Context Aware Policy Management and three versions of the Use Cases, Requirements, two versions of the Terminology, and the Proof of Concept (PoC) Framework in Release 2. Also reports on Classification of Networks, Evaluation of Classification and Intent-based Architectures, these reports are release independent.
The System Architecture is being specified, with a new draft version 2 including a high-level architecture using details of AI decision techniques. ENI has opened new work-items to collect version 3 of the Use cases, Requirements, and terminology, and a new work item on categorization for AI application to Networks. ENI is also working on reports on the measuring of Evaluation of Classification, Intent knowledge within the Architecture and Data mechanisms, Data telemetry. Two Specifications on Mapping between ENI architecture and operational systems, also on Inference, semantics and ontologies are also being developed.
The Architecture is summarise as two control loops using AI modelling. Data Gathered is Passed via an optional API, Normalised and processed in a number of AI Analysis Functional Blocks, which may be recursive and interactive using an inner loop. The Actionable decision is then de-normalised and passed back to the network using the same optional API in reverse.
High Level Functional Architecture
The ENI System Architecture may be shown in various classes of operation. From less capable legacy systems Class 1 option 1 to fully interactive AI systems Class 3 option 2.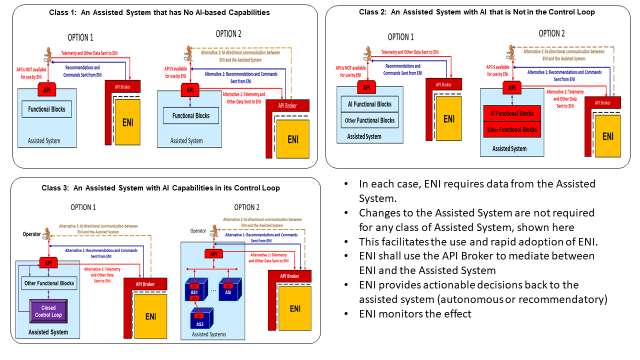 Classes and modes of operation
ENI has launched a continuing Proof of Concepts activity. A PoC review team was created and tasked with reviewing incoming proposals. The PoC review activity is supported by Vodafone, TIM, China Telecom, PT, Redhat, Samsung and Huawei. Each PoC Team proposal shall address at least one goal relevant to ENI, related with an ENI Use Case, an ENI Requirement or the suitability of the ENI System Architecture aspect. The output of each PoC project shall contribute to the completion of the version 2 specifications within ISG ENI, with the publication of the revised PoC Framework the proof of reference points between equipment is added. To improve the output of the work items the alignment with existing activities is required. Each PoC proposal will provide proof of the technical feasibility of ENI within the Industry. Proof of Concept (PoC) proposals are called for in line with the approved PoC framework. With the publication of the revised PoC Framework the proof of reference points between equipment is added.
Specifications
A full list of related specifications in the public domain is accessible via the ENI committee page.
Blog
News, comments and opinions from ETSI's ENI Industry Specification Group

Subscribe to blog
The direct link to refer to this blog is https://www.etsi.org/newsroom/blogs/blog-eni