ETSI Conformance Testing
Conformance testing is done to determine whether a system meets a specified standard. ETSI has over ten years' experience producing conformance test specifications for UMTS, IPv6, HiperMAN, WiMAX, GSM, DECT, TETRA, ISDN, VoIP and other key technologies. These test specifications are used by manufacturers as a basis for internal development testing.
ETSI test specifications are usually developed by a Specialist Task Force (STF), which is a group of experts recruited from the ETSI membership and managed by the Centre for Testing and Interoperability.
Conformance Testing for Interoperability
ETSI test specifications are designed to concentrate on areas critical to interoperability, including testing an implementation's reaction to erroneous behaviour. The goal is conformance testing for interoperability. This should not be confused with interoperability testing, which is a useful, but different, activity. The two approaches are complementary rather than competitive, which is why ETSI also provides a Plugtests™ Service for interoperability events for standards and product validation. A focused set of conformance tests can provide an excellent framework for subsequent interoperability testing.
Conformance Testing feedback into Standards Making Process
In many cases, development of the test specifications gives valuable feedback to the base standards. The test specifiers make a special effort to ensure that their experiences are fed back to the relevant ETSI technical committee. However, development of the base standard and of test specifications must be done in a coordinated and timely manner for this input to be effective.



Download the Methods for testing and Specification technology leaflet
Download the Global Testing Language (TTCN3) technology leaflet
Download the IMS Network Testing technology leaflet
Testing Methodology Respected by ETSI
ETSI follows the well-proven testing methodology defined in ISO/IEC 9146. This standard, which covers the entire testing process, provides an excellent basis for the development of high-quality test specifications.
The following diagram shows the development of test specifications process, acronyms are explained below.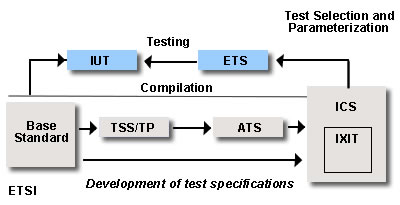 Test specifications development process
The Implementation Conformance Statement (ICS) is a checklist of the capabilities supported by the Implementation Under Test (IUT). It provides an overview of the features and options that are implemented. The ICS can be used to select and parameterise test cases and as an indicator for basic interoperability between different products.
The Test Suite Structure and Test Purpose (TSS&TP) are derived from the relevant base standards. They provide an informal, easy-to-read description of each test, concentrating on the meaning of the test rather than detailing how it may be achieved. Test Purposes are grouped into a logical Test Suite Structure according to suitable criteria (basic interconnection, error handling, functionality etc.).
The Abstract Test Suite (ATS) is the entire collection of Test Cases. Each Test Case specifies the detailed coding of the Test Purposes, written in the standardized test specification language TTCN.
The Implementation eXtra Information for Testing (IXIT) contains additional information (specific adresses, timer values etc.) necessary for testing.
The Executable Test Suite (ETS) can be quickly and easily implemented from the ATS using the TTCN compilers available on most modern test tool platforms.
The following is a list of the 20 latest published ETSI standards on conformance testing.
A full list of related standards in the public domain is accessible via the ETSI standards search. Via this interface you can also subscribe for alerts on updates of ETSI standards.
Keywords related to testing:
ATS (Abstract Test Suite)
TTCN
TTCN-3
PICS (Protocol Implementation Conformance Statement)
ICS (Implementation Conformance Statement)
TSS&TP (Test suite structure and Test purposes)
Testing
Conformance
For work in progress see the ETSI Work Programme on the Portal.
| Standard No. | Standard title. |
| --- | --- |
| TS 131 124 | Universal Mobile Telecommunications System (UMTS); LTE; Mobile Equipment (ME) conformance test specification; Universal Subscriber Identity Module Application Toolkit (USAT) conformance test specification (3GPP TS 31.124 version 15.1.0 Release 15) |
| TS 136 508 | LTE; Evolved Universal Terrestrial Radio Access (E-UTRA) and Evolved Packet Core (EPC); Common test environments for User Equipment (UE) conformance testing (3GPP TS 36.508 version 15.3.0 Release 15) |
| TS 136 523-3 | LTE; Evolved Universal Terrestrial Radio Access (E-UTRA) and Evolved Packet Core (EPC); User Equipment (UE) conformance specification; Part 3: Test suites (3GPP TS 36.523-3 version 15.1.0 Release 15) |
| TS 137 141 | Digital cellular telecommunications system (Phase 2+) (GSM); Universal Mobile Telecommunications System (UMTS); LTE; E-UTRA, UTRA and GSM/EDGE; Multi-Standard Radio (MSR) Base Station (BS) conformance testing (3GPP TS 37.141 version 15.4.0 Release 15) |
| TS 137 145-2 | Universal Mobile Telecommunications System (UMTS); LTE; Active Antenna System (AAS) Base Station (BS) conformance testing; Part 2: radiated conformance testing (3GPP TS 37.145-2 version 13.8.0 Release 13) |
| TS 137 107 | LTE; Base Station (BS) requirements and conformance tests for shared spectrum channel access (3GPP TS 37.107 version 15.1.0 Release 15) |
| TS 137 145-2 | Universal Mobile Telecommunications System (UMTS); LTE; Active Antenna System (AAS) Base Station (BS) conformance testing; Part 2: radiated conformance testing (3GPP TS 37.145-2 version 15.1.0 Release 15) |
| TS 137 145-1 | Universal Mobile Telecommunications System (UMTS); LTE; Active Antenna System (AAS) Base Station (BS) conformance testing; Part 1: conducted conformance testing (3GPP TS 37.145-1 version 14.4.0 Release 14) |
| TS 137 145-2 | Universal Mobile Telecommunications System (UMTS); LTE; Active Antenna System (AAS) Base Station (BS) conformance testing; Part 2: radiated conformance testing (3GPP TS 37.145-2 version 14.6.0 Release 14) |
| TS 137 145-1 | Universal Mobile Telecommunications System (UMTS); LTE; Active Antenna System (AAS) Base Station (BS) conformance testing; Part 1: conducted conformance testing (3GPP TS 37.145-1 version 15.1.0 Release 15) |
| TS 131 124 | Universal Mobile Telecommunications System (UMTS); LTE; Mobile Equipment (ME) conformance test specification; Universal Subscriber Identity Module Application Toolkit (USAT) conformance test specification (3GPP TS 31.124 version 14.6.0 Release 14) |
| TS 137 145-1 | Universal Mobile Telecommunications System (UMTS); LTE; Active Antenna System (AAS) Base Station (BS) conformance testing; Part 1: conducted conformance testing (3GPP TS 37.145-1 version 13.6.0 Release 13) |
| TR 103 503 | Speech and multimedia Transmission Quality (STQ); Procedures for Multimedia Transmission Quality Testing with Parallel Task including Subjective Testing |
| TS 134 123-3 | Universal Mobile Telecommunications System (UMTS); User Equipment (UE) conformance specification; Part 3: Abstract test suite (ATS) (3GPP TS 34.123-3 version 14.4.0 Release 14) |
| TS 136 141 | LTE; Evolved Universal Terrestrial Radio Access (E-UTRA); Base Station (BS) conformance testing (3GPP TS 36.141 version 15.4.0 Release 15) |
| TS 136 579-4 | LTE; Mission Critical (MC) services over LTE; Part 4: Test Applicability and Implementation Conformance Statement (ICS) proforma specification (3GPP TS 36.579-4 version 14.0.0 Release 14) |
| TS 136 523-3 | LTE; Evolved Universal Terrestrial Radio Access (E-UTRA) and Evolved Packet Core (EPC); User Equipment (UE) conformance specification; Part 3: Test suites (3GPP TS 36.523-3 version 14.5.0 Release 14) |
| TS 136 579-5 | LTE; Mission Critical (MC) services over LTE; Part 5: Abstract test suite (ATS) (3GPP TS 36.579-5 version 13.1.0 Release 13) |
| TS 136 579-1 | LTE; Mission Critical (MC) services over LTE; Part 1: Common test environment (3GPP TS 36.579-1 version 13.2.0 Release 13) |
| TS 136 579-1 | LTE; Mission Critical (MC) services over LTE; Part 1: Common test environment (3GPP TS 36.579-1 version 14.0.0 Release 14) |