Next Generation Protocols (NGP)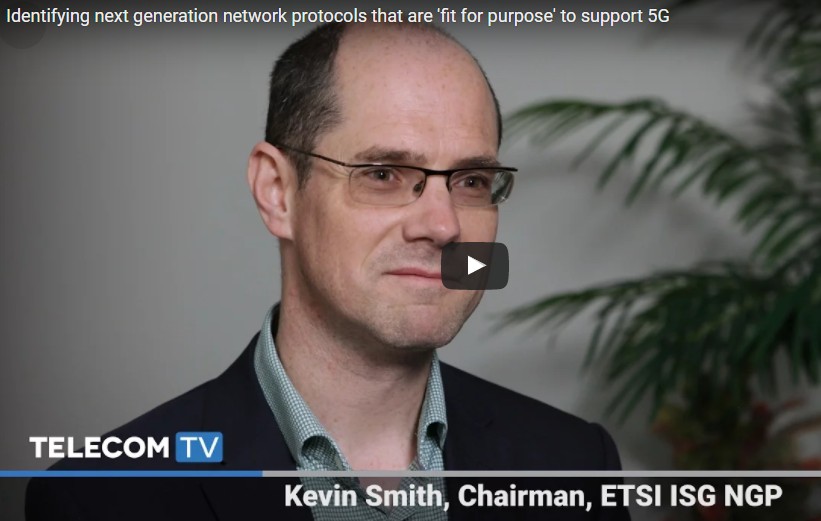 Kevin Smith, Chairman of NGP in 2017
The TCP/IP protocol suite has undoubtedly enabled the evolution of connected computing and many other developments since its invention during the 1970s. The Internet acts as a communications tool, an information storage and distribution tool, a marketing channel, and a sales and distribution platform, for consumers and for businesses large and small.
However, TCP/IP was designed for an age in which communication was between computers and terminals in fixed locations, and in which the user interface was text rather than dynamic media such as audio and video. Mobile operators have identified a number of problems with its use in core and access networks, and it is unsuitable for some of the new services that are proposed for 5G. ISG NGP is investigating protocols that would better support the huge performance and capacity improvements planned for 5G radio.
In its first term, ISG NGP laid the foundations, identifying requirements, scenarios, and example next generation technologies. Its task for 2018-19 is to widen industry awareness, standardize relevant specifications, validate the new protocols against near-future use cases, and compare against legacy protocols via a set of defined Key Performance Indicators.
ISG NGP is intended to identify the requirements for next generation digital communication protocols and, where appropriate, network architectures, from all interested user and industry groups. The goal is to formulate a series of Group Reports and Specifications which focus on documenting the state of the art in future Internet research and proposals, recap what issues those proposals try to resolve, and identify technologies that best meet the requirements for 5G.
The activities of ISG NGP in 2018-19 include the following broad areas:
Work Items for publication:

KPIs for next generation protocols
Design Principles for Next Generation Protocols
Security and Privacy
Considerations for efficient implementation of user plane in packet-processing hardware
Timing requirements
Network management considerations, including data modelling



Industry validation, including trials and testbeds:

Demonstrating the needs from industry sectors to improve protocol capabilities, (scalability, performance, security and mobility) to realise near-future use cases
Documenting the low-latency edge services for verticals such as V2X, smart cities etc., including Connected AR/VR and immersive media experiences, where NGP will be required
Benchmarking against the NGP KPIs, to demonstrate benefit in comparison to today's protocols
Interworking and coexistence between non-IP NGP based domains and internet (IP based) domains
Implementation guidelines and considerations, including interoperability test cases
Interoperability plugtests, with publication of test results
The target is for next-generation protocols to be supported in core and radio access networks in 3GPP Release 17.
Participation in the Next Generation Protocols Industry Specification Group is open to all ETSI members as well as organizations that are not members, subject to signing ISG Agreements. For information on how to participate please contact [email protected]
The following is a list of the latest published ETSI specifications on next generation protocols.
A full list of related standards in the public domain is accessible via the ETSI standards search. Via this interface you can also subscribe for alerts on updates of ETSI standards.
For work in progress see the ETSI Work Programme on the Portal.
| Standard No. | Standard title. |
| --- | --- |
| GR NGP 006 | Next Generation Protocols (NGP); Intelligence-Defined Network (IDN) |
| GR NGP 004 | Next Generation Protocol (NGP); Evolved Architecture for mobility using Identity Oriented Networks |
| GS NGP 002 | Next Generation Protocols (NGP); Self-Organizing Control and Management Planes |
| GS NGP 007 | Next Generation Protocols (NGP); NGP Reference Model |
| GS NGP 001 | Next Generation Protocol (NGP); Scenario Definitions |
| GS NGP 005 | Next Generation Protocol (NGP); Next Generation Protocol Requirements |
| GR NGP 003 | NGP Next Generation Protocol; Packet Routing Technologies |
| GS NGP 001 | Next Generation Protocol (NGP); Scenario Definitions |
News from the NGP Industry Specification Group

Subscribe to blog
The direct link to refer to this blog is http://www.etsi.org/blog-subscription-information/categories/blog-ngp Almost every packet on a digital network is part of a "flow", a sequence of packets from the same source to the same destination. These flows are of two types:
they either carry a continuous stream of data such as an audio or video signal
or transfer information between processes running in computers, as in a TCP session
We can think of the former as "AV" flows and of the latter as "IT" flows. For many applications, AV flows are sensitive to "latency", which is the time between a packet being transmitted by the sender and received at its destination; in a phone call, for example, longer delays make it difficult to have a natural conversation. New applications proposed for 5G, such as those involving augmented or virtual reality, or tactile feedback, will have even more severe requirements. For IT flows, if latency is important at all it will be the average over time that matters, whereas for AV flows it is the delay for the slowest packet.
Current-generation networks were originally designed as IT networks, carrying IT flows, and have had various features added to assist AV flows, which increase complexity but still do not provide the best service for these flows. One of the main drivers for the formation of ISG NGP was operators' need to make more efficient use of spectrum. While New Radio allows more bits to be carried, by some estimates half of those bits are unnecessary overhead. NGP is investigating how these overheads can be reduced, while at the same time providing the kind of performance (such as lower latency) that the new services proposed for 5G will need.