5G
Why do we need 5G?
5G will deliver markedly increased operational performance, as well as superior user experience and better network energy efficiency.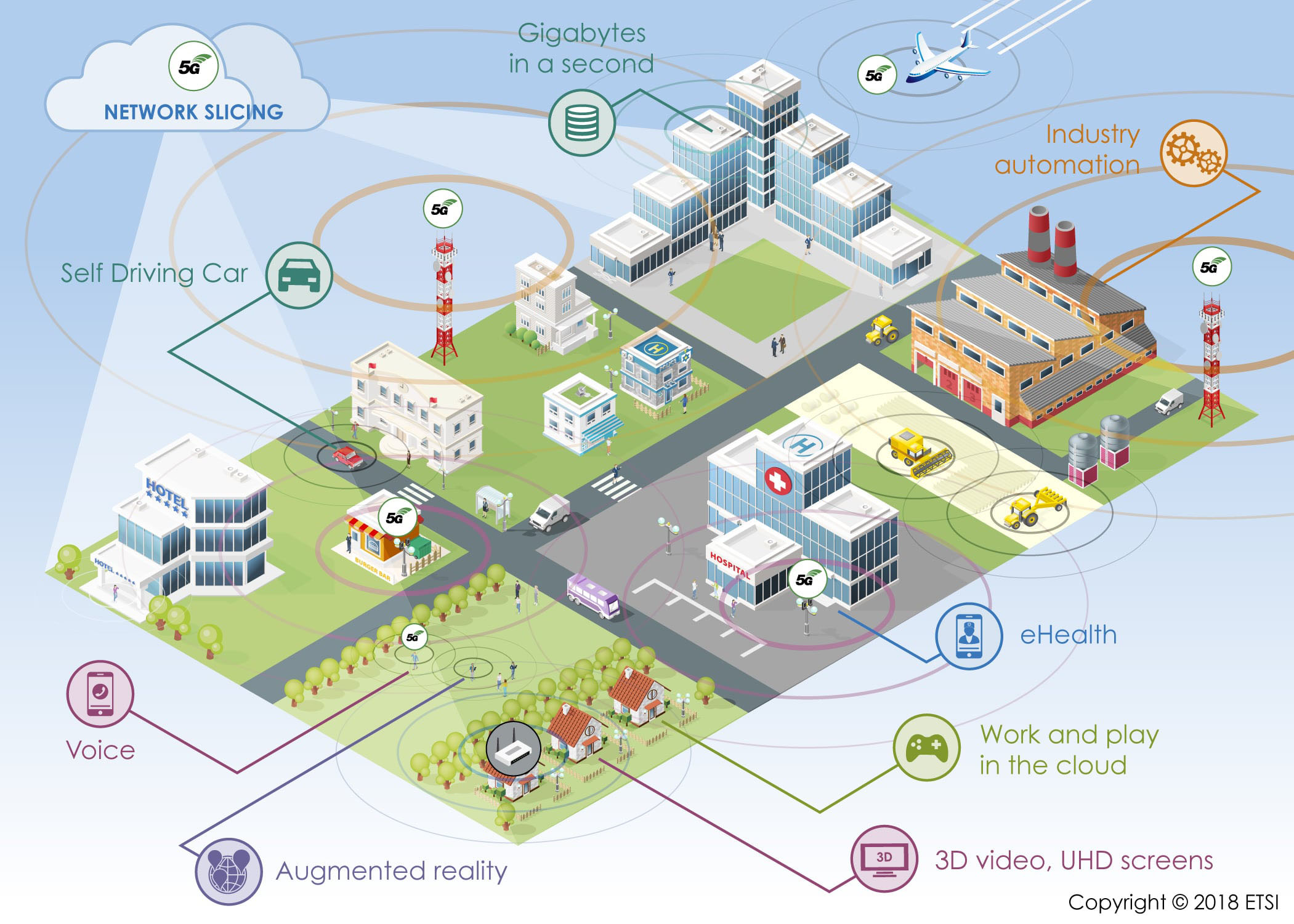 Mobile data traffic is rising rapidly, mostly due to video streaming.
With multiple devices, each user has a growing number of connections.
The emergence of the IoT means networks must handle billions more devices.
Network operators are under pressure to reduce operational expenditure, as users don't wish to pay more for increased services.
Operators also need new applications for mobile technology, opening up new revenue streams.
5G aims at total availability. 5G should offer a user experience near that of fixed networks with near total 5G coverage, cater for massive deployment of Internet of Things, while still offering acceptable levels of energy consumption, equipment cost and network deployment and operation cost to ensure the service can be provided economically.
Who is interested in using 5G?
5G offers network operators the potential to offer new services to new categories of users.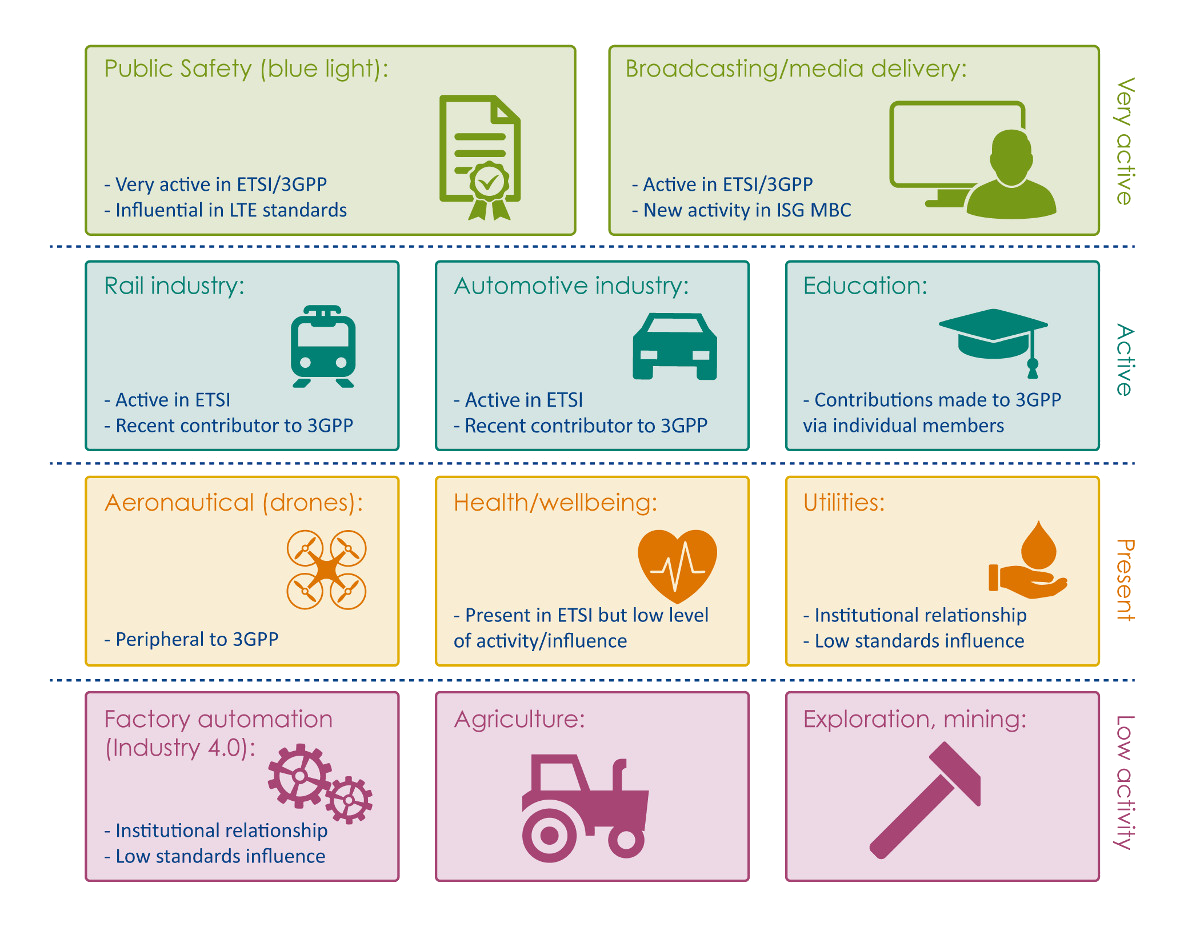 The primary beneficiaries of 5G will be consumers, but 5G presents a huge opportunity for the digitization of economies and modernization of all industry sectors.
Several industry sectors are already engaged in the process of building 5G, and are actively shaping the technology to meet their needs through participation in the standardization process.
Other sectors are potentially huge beneficiaries, but have yet to make signification engagement.
What is 5G?
The basic performance criteria for 5G systems have been set by the ITU in their IMT-2020 Recommendation.
The basic performance criteria for 5G systems have been set by the ITU in their IMT-2020 Recommendation. ITU-R M.2083 describes three overall usage scenarios for 5G systems:
Enhanced Mobile Broadband to deal with hugely increased data volumes, overall data capacity and user density
Massive Machine-type Communications for the IoT, requiring low power consumption and low data rates for very large numbers of connected devices
Ultra-reliable and Low Latency Communications to cater for safety-critical and mission critical applications
When will 5G standards be ready?
5G standards are coming sooner than you might think! Standardization has started in 3GPP.
The core standards for 5G are being developed by 3GPP.
5G involves the development of a new radio interface (NR), the enhancement of current LTE Advanced Pro radio, and the development of a new core network architecture.
The first phase of 5G specifications in Release-15 was completed in June 2018, to accommodate early commercial deployment.
The second phase in Release-16 will be completed by March 2020, for submission to the ITU as a candidate IMT-2020 technology.
However, 3GPP have already approved specifications for Non-Standalone New Radio (NR). 5G standardization will continue with constant evolution of the system, as for 4G and 3G before it.
Some key documents already available:
Feasability studies: TR 22.861, TR 22.862, TR 22.863 and TR 22.864, for the Massive Internet of Things, Critical Communications, Enhanced Mobile Broadband and Network Operation uses cases respectively | Architecture Study: TR 23.799 | Service Requirements: TS 22.261
ETSI's 5G Building Blocks
ETSI has a number of component technologies which will be integrated into future 5G systems: Network Functions Virtualization (NFV), Multi-access Edge Computing (MEC), Millimetre Wave Transmission (mWT) and Next Generation Protocols (NGP).