Content Delivery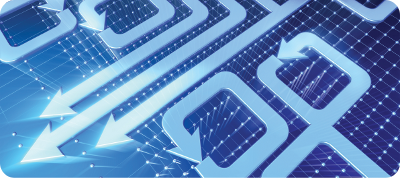 Serving content users across different business areas
Facilitating content consumption whatever the platform
The Internet, mobile communications and broadcasting are converging. But the standardization of these different areas has traditionally followed different paths, so they do not interoperate across the same platforms.
We are addressing the urgent need to align the diverse specifications for content delivery in a converged environment supporting Internet Protocol Television (IPTV), mobile TV and broadcast TV – for the benefit of both the industry and the consumer.
ETSI works with other relevant standards bodies and has fostered a modular and harmonized standardization environment, coordinating efforts and preventing duplication of activities.
ETSI groups in the Content Delivery cluster:
ARF (Augmented Reality Framework)
CABLE (Integrated broadband cable telecommunication networks)
ECI (Embedded Common Interface for exchangeable CA/DRM solutions)
ERM (EMC and Radio spectrum Matters)
CCM (Intelligent Compound Content Management)
JTC Broadcast is a joint Technical Committee between ETSI, the European Broadcasting Union and CENELEC. Some of its input comes from industry organizations, such as the DVB Project.
MBC (Mobile and Broadcast Convergence)
NTECH (Network Technologies)
SES (Satellite Earth Stations and Systems)
Other groups include 3GPP, the Third Generation Partnership Project, a collaboration between standards organizations worldwide that develops specifications for advanced mobile communications technologies.
ETSI's standardization of broadcast systems, programme transmission and receiving equipment is dealt with in a Joint Technical Committee together with the European Broadcasting Union (EBU) and the European Committee for Electrotechnical Standardization (CENELEC) – JTC Broadcast, which delivers the DVB standards for satellite, cable, and terrestrial systems.
ETSI's standardization of broadcast systems, programme transmission and receiving equipment is dealt with in a Joint Technical Committee together with the European Broadcasting Union (EBU) and the European Committee for Electrotechnical Standardization (CENELEC) – JTC Broadcast, which delivers the DVB standards for satellite, cable, and terrestrial systems. More than 95% of inputs to JTC Broadcast are standardized by ETSI, with CENELEC responsible for the standardization of the functional requirements of radio and television receivers.
Broadcast Standards
Over the years, the JTC has produced standards and specifications for interactive TV, terrestrial TV, radio (including hybrid radio), satellite TV, fixed line TV, mobile TV and audio technologies. Traditionally, broadcasting standards have often been developed on a national or regional basis. Nevertheless, JTC Broadcast's outputs have become the de facto standards in most parts of the world. For example, Hybrid Broadcast Broadband TV (HbbTV) and Digital Video Broadcasting (DVB) are being deployed globally and 70% of all digital broadcast TV receivers worldwide follow the DVB specification for satellite, cable or terrestrial delivery. This includes China, where DVB-C is deployed for cable systems, and North America which relies heavily on DVB satellite standards.
Television is a rapidly developing technology and TV standards are expected to undergo significant changes soon. JTC Broadcast continues to address Ultra High Definition TV (UHDTV) and digital audio.
In the radio area, the JTC maintains the digital radio standards for Digital Audio Broadcasting (DAB) and Digital Radio Mondiale (DRM). Digital radio continues to grow, extending its coverage in Europe and the rest of the world, and moving towards analogue switch-off in some countries.
Protection and Rights Mechanisms
Our Industry Specification Group (ISG) on the Embedded Common Interface (ECI) for exchangeable Conditional Access (CA)/Digital Rights Management (DRM) solutions (ISG ECI) is specifying a framework for software-based, easy-to-change protection and rights mechanisms for the delivery and consumption of media content on several types of user equipment. The core of the concept is the ECI software interface to which CA/DRM clients can be attached after being downloaded to the device. This will improve significantly the interoperability between services and devices, allowing consumers to continue using equipment and content they have previously paid for, after a move or a change of network provider, or to access content from multiple service providers from the same device.
Greater flexibility and scalability is also anticipated due to the software-based implementation, leading eventually to cost reductions for both the service provider and the consumer.
Augmented Reality
our Industry Specification Group (ISG) Augmented Reality Framework (ARF) will ensure that Augmented Reality services and platforms be simpler to design, deploy and operate than what exists today. We also aim to enable the development of high performance Augmented Reality components which are portable between different hardware vendors, different providers of software solutions and platforms as well as to achieve co-existence of legacy and proprietary platforms whilst enabling an efficient migration path to fully interoperable platforms.
Compound Content Management
New production techniques including HDR, which can produce darker and brighter, more life-like images, and WCG, which extends the colour range displayed, are expected to lead to mass market sales of next generation UHD displays and equipment. However legacy receivers will comprise the majority of installed receivers for many years to come.
Our ISG on intelligent Compound Content Management (ISG CCM) has produced a specification for a new Compound Content system for consumer electronic devices which will allow backwards compatibility with today's television, while also providing full quality for the next generation – without compromising the quality of either.
Mobile and Broadcast Convergence
Television delivery has traditionally been dependent on broadcasting (one-way, one-to-many delivery networks to fixed TV sets). Today, however, new forms of media consumption dramatically increase the load on mobile networks. Interest is growing in exploring the potential for developing future mobile and broadcasting standards in a more converged way.
Our Industry Specification Group on Mobile and Broadcast Convergence (ISG MBC) is preparing a comprehensive general report exploring the deployment and business models of converged networks. We will propose new solutions and use cases to enable future wireless networks to deliver mass market broadcast services to mobile devices more efficiently, taking into account all industry views. Delivering both linear and non-linear media over converged networks will create attractive services and will benefit ongoing standardization work in the area of Evolved Multimedia Broadcast Multicast Services (eMBMS) in the Third Generation Partnership Project (3GPPTM) as well as future 5G standards.
Spectrum Aspects
Our Electromagnetic Compatibility and Radio Spectrum Matters committee (TC ERM) continues to address the spectrum aspects of broadcasting, including the needs of Programme-Making and Special Events devices (wireless microphones, in-ear monitors, talk-back links, audio links etc.).
We are developing new Harmonised Standards for radio and TV broadcast receivers and amplifiers for broadcast reception on domestic premises, as well as transmitting equipment for DRM broadcasting, Terrestrial-DAB, and the Frequency Modulated (FM) and Amplitude Modulated (AM) sound broadcasting service.