Connecting Things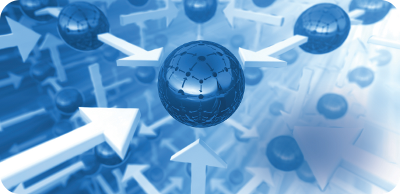 Integrating objects to create new networked services
Technology enabling the transparent interaction between people and things
An increasing number of everyday machines and objects are now embedded with sensors or actuators and have the ability to communicate over the Internet. These 'smart' objects can sense and even influence the real world. Collectively they make up what is known as the 'Internet of Things' (IoT).
The IoT draws together various technologies including:
Radio Frequency Identification (RFID)
Wireless Sensor Networks
Machine-to-Machine (M2M) communications
Smart objects produce large volumes of data. This data needs to be managed, processed, transferred and stored securely, creating new challenges.
In ETSI we are addressing the issues raised by connecting potentially billions of these smart objects into a communications network, by developing standards for:
data security
data management
data transport
data processing
This will ensure interoperable and cost-effective solutions, open up opportunities in new areas such as eHealth and smart metering, and allow the market to reach its full potential.
Machine-to-Machine (M2M) communications will form the foundation for our future world of:
smart devices
smart appliances
smart homes
smart buildings
smart cities
Our work focuses on services and applications, especially aspects of the IoT and smart appliances. We are addressing an application-independent 'horizontal' service platform which is capable of supporting a very wide range of services including smart metering, smart grids, eHealth, city automation, consumer applications and connected vehicles.
As one of the founding partners of oneM2M, the global M2M Partnership Project, ETSI plays a key role in ensuring the most efficient deployment of M2M communications systems.
The initial goal of oneM2M is to create a common M2M Service Layer which can be readily embedded within different hardware and software, connecting the numerous devices in the field with M2M application servers worldwide.
ETSI groups in the Connecting Things cluster:
ARF (Augmented Reality Framework)
Context Information Management (CIM)
eHealth (ICT for the health domain)
ERM (EMC and Radio spectrum Matters) Task Group (TG) 28 Generic Short Range Devices
ERM TG 30 Wireless Medical Devices
ERM TG 34 RFID
ERM TG 41 Wireless Industrial Applications
ERM TG UWB Ultra Wide Band
Smart BAN (Body Area Networks)
SmartM2M (Machine-to-Machine)
In addition the cluster includes the work of oneM2M, the global standards initiative on machine to machine communications and the internet of things. oneM2M is a partnership project between ETSI and six other regional ICT standards bodies: Association of Radio Industries and Businesses (ARIB) and the Telecommunication Technology Committee (TTC) of Japan; the Alliance for Telecommunications Industry Solutions (ATIS) and the Telecommunications Industry Association (TIA) of the USA; the China Communications Standards Association (CCSA); the Telecommunications Technology Association (TTA) of Korea; and five global ICT consortia (Broadband Forum, Continua, Home Gateway Initiative (HGI), Next Generation M2M Consortium, Open Mobile Alliance (OMA)).
The Connecting Things cluster also co-operates with various fora, consortia and organizations including CEN, CENELEC, ESMIG, CESI, Continua, ENISA, OMA and the Broadband Forum.
Machine-to-Machine Communications and Internet of Things
ETSI is a founding partner of oneM2M, the global M2M Partnership Project.
oneM2M is creating standards for a common M2M Service Layer, which can be readily embedded within different hardware and software, connecting the numerous devices in the field with M2M application servers worldwide.
oneM2M has completed its first Candidate Release which will provide the first deployable oneM2M solution. This includes specifications covering requirements, architecture, protocols, security, and management, abstraction and semantics.
Work on Release 2 has already begun in parallel adding new functionality, particularly by expanding management, abstraction and semantics.
Our Smart M2M Communications committee (TC SmartM2M) continues to work on the interface between the service and the application layers in smart appliance communication. This includes developing a common data model and identification of a communication architecture and the related protocols.
Smart M2M is developing a Technical Report (TR) on smart cities, analyzing their impact on the IoT environment.
We are collaborating with the European Committee for Standardization (CEN) and the European Committee for Electrotechnical Standardization (CENELEC) in response to European Commission (EC) Mandate 441 on Smart Metering. M/441 seeks the creation of European standards to enable the interoperability of utility meters (for water, gas, electricity, heat) to improve customers' awareness of actual consumption and thus lead to a reduction in their energy usage.
We are also responding to EC Mandate 490 on smart grids, which aims to develop standards for the next generation of electricity networks. This work is also being undertaken in co-operation with CEN and CENELEC.
eHealth
Widely deployed eHealth systems could improve the quality of health care, reduce medical costs and foster independent living. However a serious lack of interoperability is impeding the building of an eHealth 'virtual' clinic.
Our eHealth project (EP eHEALTH) has initiated work on use cases for eHealth and Telemedicine and the Internet Clinic, addressing the security of systems and data, quality of services, interoperability and validation by testing and usability.
ERM Task Group 30 develops product-specific standards for radio communications equipment for medical devices. It also handles specifications and standards for medical telemetry transmitting devices and medical implant telemetry devices. We have recently developed a new two-part European Standard (EN) on Medical Body Area Network Systems in the 2,483.5 – 2,500 MHz band to improve their compatibility with low power active medical implants, such as cochlear implants, and to ensure adequate spectrum sharing mechanisms.
Smart Body Area Networks
Smart Body Area Networks (BANs) offer enormous potential in areas such as health, wellness, leisure and sport, where small, low power devices can be used to measure and transmit changes in the body. A number of wireless BAN communication technologies have already been implemented, based on existing radio technologies, but there is need for a more specific and dedicated radio technology optimized for BANs.
We are drafting a Technical Report (TR) which will provide a system description for SmartBANs, including an overview and use cases.
We are preparing a TR on service and application enablers, data representation and transfer formats. A second TR will describe measurements and modelling of the SmartBAN RF environment. This will highlight potential trouble spots and help in determining strategies for alleviating them.
We are also developing two TSs:
One will define an ultra low power physical layer for on-body communications between a hub and sensor nodes.
The other TS will focus on low complexity MAC and routing requirements for SmartBANs.
RFID and Short Range Devices
We are updating our ENs for Short Range Devices (SRDs) to accommodate the anticipated further rapid expansion of the use of SRDs, and developing a Harmonised Standard for network-based SRDs in the
870 - 876 MHz frequency range which will have applications in smart metering, smart grids and smart cities.
We will complete a new TR on wireless power transmission systems below 30 MHz to identify technical requirements and possible interference with existing SRDs, and update our EN for SRD radio equipment in the 9 kHz - 25 MHz band accordingly.
We have revised the Harmonised Standard for 2.4 GHz wideband transmission systems to ensure equal access to all users of the spectrum and, in case of congestion, a graceful degradation of service to all.
We have also begun work on a Harmonised Standard for radio equipment to be used in the 5.725 GHz – 5.875 GHz frequency for wireless industrial automation.
Supporting these new networked services
Many of the connecting objects in M2M and IoT need only low throughput connectivity. Our Industry Specification Group (ISG) on Low Throughput Networks (now closed) has specified an ultra narrowband radio technology for very low data rates allowing for ultra long autonomy devices under strong energy constraints.
Augmented Reality
Our Industry Specification Group (ISG) Augmented Reality Framework (ARF) aims to enable the development of high performance Augmented Reality components which are portable between different hardware vendors, different providers of software solutions and platforms as well as to achieve co-existence of legacy and proprietary platforms whilst enabling an efficient migration path to fully interoperable platforms.