Why Standards for Research?
Engaging in Standards groups at the appropriate stages of research and innovation cycles is crucial to the development of new and evolved technologies. It is important to identify research topics for standardization at an early stage of all research projects in order to ensure that the requisite standards are available to the industry when they are needed to take the relevant new technologies to market.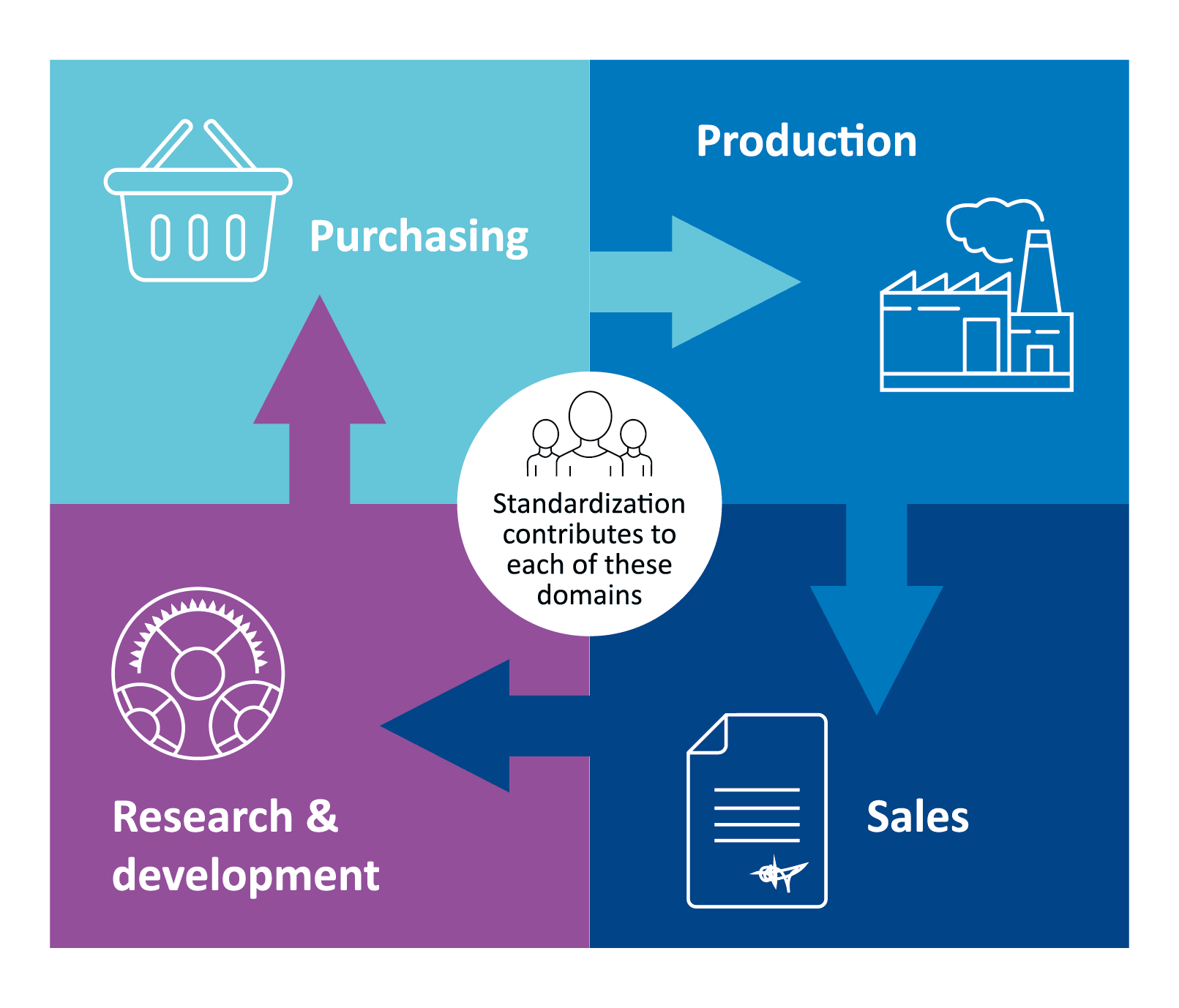 Every ICT device, application or service implements standardized technologies, at many levels. Standards support interoperability across technologies. They help create global markets and enable networked development, where innovation occurs on top of existing technology platforms.
ICT standards embody a 'state of the art' of technology development. They are an essential resource for researchers in ICT. ICT markets are shaped by standards and if ICT research should lead to new products, new services, or whole new markets, then clearly research must result in standardization activities.
Benefits of Research in ETSI
Researchers benefit from interactions with ETSI's technical groups and gain early exposure and the feedback from the standards community that is essential to be considered before taking the results of research to full-market deployment. Research results need to influence standards in order to have a market impact.
Industry benefits from faster exploitation of relevant research results and feedback from a far wider community. Research input is highly relevant to the early study phases of product development when multiple alternative technical solutions have to be evaluated. Standards need innovative contributions from researchers to advance the state of the art.
ETSI Tools for Researchers
ETSI offers many tools to support the productive interaction between researchers and Industry, both in our standards committees and also during our public workshops and events. ETSI tools for researchers include:
Dedicated ETSI Research team:

research@etsi.org

to guide and advise researchers on how to best channel research results into our committees and get full value from their membership and participation in ETSI.

Open and free ETSI workshops:

an excellent entry point for researchers, providing the perfect platform to showcase their research results using presentations, poster sessions and even demos. Ideal place to disseminate research results to large audiences, gain essential feedback and identify the potential next steps for standardization.


Technical activities:

ETSI member research organizations may contribute to any of the existing ETSI technical groups, both for the creation of new work item and also for revision of existing deliverables. They may drive the creation of "new" technical activities in ETSI destined to standardize innovative technologies that are not yet covered by the ETSI work programme.
Bring your ideas to ETSI and we can help you standardize them and ensure a rapid time to market as well as the means to build confidence for eventual public procurement.

Recognition of your research results:

We can offer researchers the review and recognition of their research results through presentations at ETSI workshops and even inclusion of research concepts in ETSI specifications following review in ETSI technical groups.

Free ETSI deliverables and work programme:

All ETSI deliverables are publicly available free of charge from our website. This means researchers may follow and download ETSI deliverables and refer to them in their research projects.

Research information hub:

We maintain active relations with relevant European Technology Platforms, Public Private Partnerships and Joint Technology Initiatives.

This creates a research information hub and community that may be used to share ideas and discuss potential areas for work in both standards and research.

Support for EU project proposals:

ETSI is present in a number of EU research projects, and can provide participation, advice, partnership and Letters of Support to EU project proposals when the appropriate criteria are met. Including real areas for standardization in project proposals will often increase the quality of the proposal and the probability it is accepted.

Collaboration with National Standards Organizations:

We collaborate closely with National Standards Organizations and with Small- and Medium-sized enterprises. These entities are often well-placed to identify research relating to new technologies and user needs resulting from specific market sectors.

Teaching material on standardization:

We have developed a set of teaching materials on standardization, a comprehensive textbook, "Understanding ICT Standardization: Principles and Practice", together with an extensive set of over 380 slides to be used as teaching aides. ETSI may also provide speakers/lecturers to universities in order to further present the multiple aspects of standardization.

ETSI Seminar twice a year:

We hold an ETSI Seminar twice a year to provide an intensive course on ETSI, its organization, structure, ways of working and related subjects.
8-point plan for Researchers
Standardization is a business process which is driven by industrial and commercial considerations. Reaching a collective agreement on a technology through consensus can take time, but is surprisingly fast when interests are aligned. The following 8-point plan provides researchers with a roadmap for bringing research results into Standards.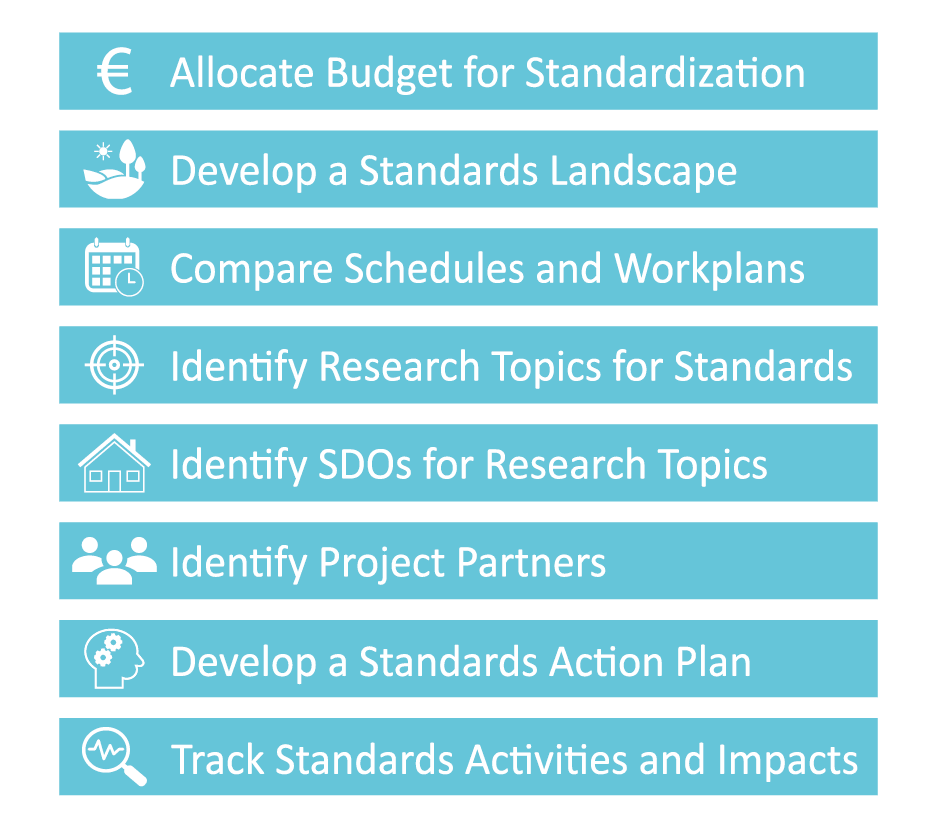 ETSI's Research Strategy
ETSI's Strategy identifies clear actions to "Strengthen the linkage between R&D and standardization". These include:
Increasing the participation and contributions by (Horizon 2020 / Horizon Europe and other) research programmes / projects to ETSI Technical Committees (TCs) and Industry Specification Groups (ISGs) including 3GPP and oneM2M
Influence the work programme of research programmes in order to facilitate exploitation of the final research results in ETSI standards activities
Inform all ETSI members of new technological trends emerging from innovative research projects and seek to build bridges between such projects and ETSI activities
Inform and educate both Academia and the global research community of the ongoing ETSI technical work, so it may be used as a basis for their research activities
Research, Innovation & Academia in ETSI
ETSI has over 900 members from Europe and beyond with more than 120 of them from the categories Research Public (43%), University (37%) and Research Private (20%). Universities, research bodies and SMEs have reduced ETSI membership fees designed to encourage participation to standards.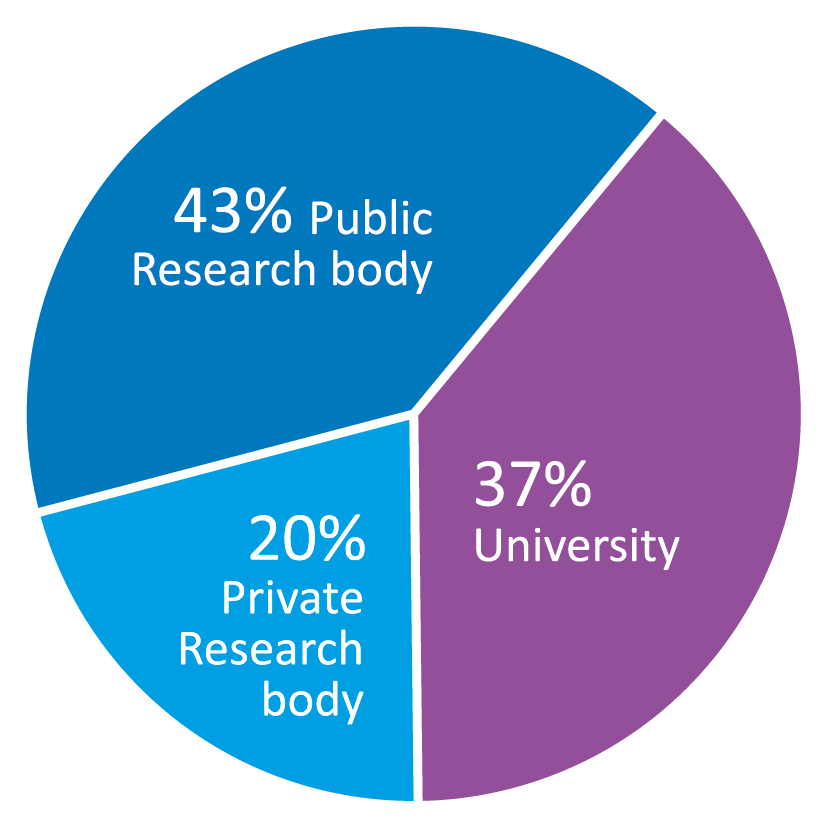 ETSI seeks to increase the value and visibility of our academic and research members through the use of dedicated events, webinars, educational materials, onboarding of research results into our technical groups and providing ETSI support / partnership in selected EU research projects.
We are looking for more ways to support our ETSI research and academic community and would like to get your feedback and ideas on where we can help.
Should you have any suggestions or questions simply contact research@etsi.org.