ETSI and EU Funded Research Programmes
Bringing the results of European Research Projects into ETSI
Research projects funded by such programmes as Horizon Europe, Digital Europe, Creative Europe and H2020 are not legal entities and the 'projects' themselves may not become a member of ETSI, nor can they provide contributions in the name of the 'project' to ETSI committees.

However, the ideal path is for ETSI members that are present in those research projects to contribute elements of the research results directly in to ETSI technical groups, as contributions in the member's own name. They may indicate the origin of their contributions by acknowledging in their contribution documents that the work comes from a specific research project.

If there is no 'existing home for the research results in ETSI it is always possible to create a new group to welcome the research topics and community. This is typically done using such groups as ISGs (Industry Specification Groups).
With many H2020 projects now concluding and others just beginning, there are multiple opportunities for interaction between research and standards:
With H2020 research projects that are already finalized, in particular for exploitation of the project results via standards
With H2020 research projects that are currently ongoing and may address topics of relevance and interests to ETSI
With future Horizon Europe and Digital Europe research projects that may address topics of relevance and interests to ETSI
Should you have any questions or require further guidance on how to bring research results into ETSI, please contact [email protected]
ETSI's direct participation in European Research Projects
ETSI officials and secretariat staff may be requested to participate on research project steering boards or advisory committees. This offers an opportunity to have a regular contact with such projects and a formal interface with it, without the need to commit resources to the project (typically 1-2 meeting days per year are all that is required). The ETSI CTO considers each request on a case-by-case basis.
ETSI may be requested to participate in Horizon Europe and H2020 projects as a contractual partner. This is quite unusual, but may be worthwhile if e.g. we are strongly encouraged to do so by the European Commission, and/or should a unique opportunity be presented to capture standardization work in ETSI for an emerging field of technology.
ETSI representatives may also participate to research conferences, project coordination and cluster meetings. This provides an opportunity to meet and network with project leaders and Commission staff as well as providing feedback on the opportunities for standardization activities of innovative research topics.
Should you have any questions on ETSI's participation in research projects or related events, please contact [email protected].
Horizon Europe Programme (2021-2027)
Following on from Horizon 2020 (FP8), the Commission has recently launched Horizon Europe (FP9), an ambitious €100 billion research and innovation programme, to run from 2021-2027.
Horizon Europe is intended to facilitate collaboration and strengthen the impact of research and innovation in developing, supporting and implementing EU policies while tackling global challenges.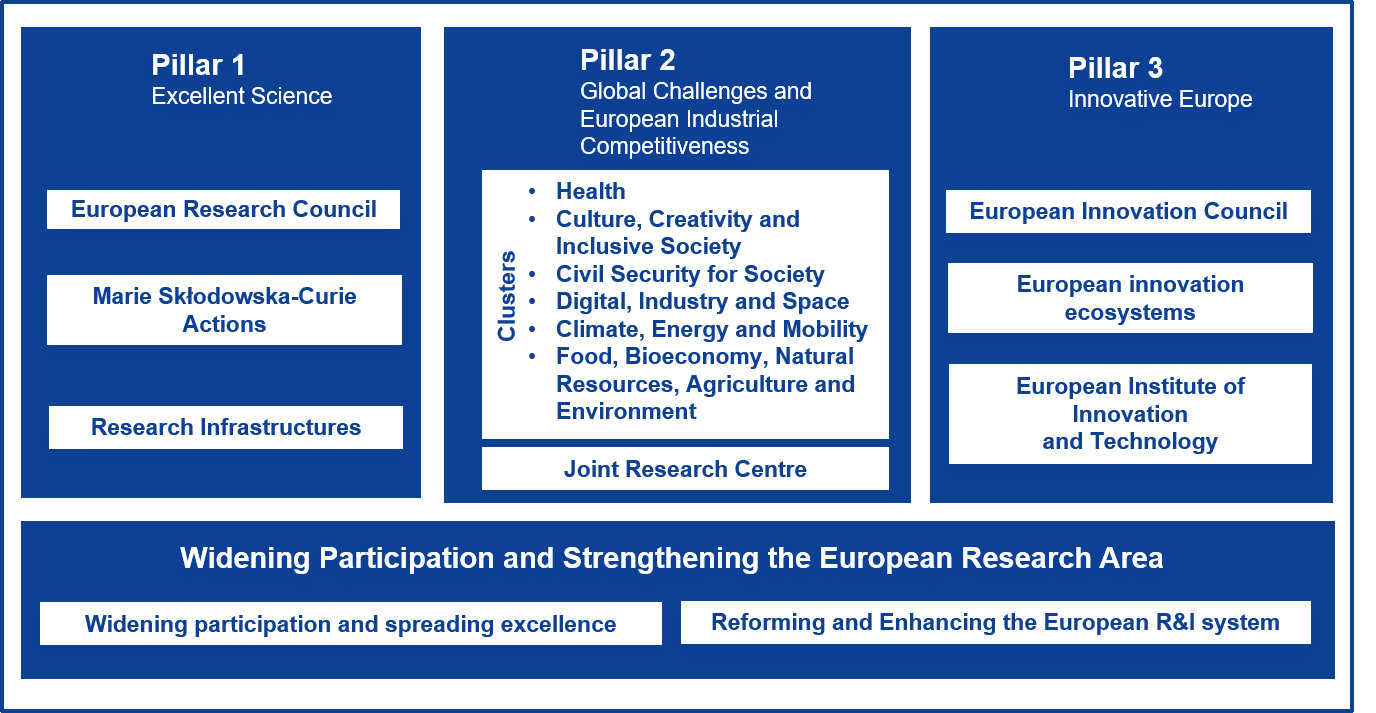 © European Union, 2019 - European Commission – Preliminary Structure of Horizon Europe, the EU Research and Innovation Programme (2021-27)
Digital Europe Programme (2021-2027)
The Digital Europe Programme (DIGITAL) provides strategic funding to support projects in five crucial areas: in supercomputing, artificial intelligence, cybersecurity, advanced digital skills, and ensuring a wide use of digital technologies across the economy and society, including through Digital Innovation Hubs.
With a planned overall budget of €7.5 billion, DIGITAL will shape and support the digital transformation of Europe's society and economy.
DIGITAL will not stand alone, but rather complements other EU programmes, such as the Horizon Europe programme for research and innovation and the Connecting Europe Facility for digital infrastructure. It is a part of the long-term EU budget, the Multiannual Financial Framework, which covers the period of 2021 to 2027.
Horizon 2020 Programme (2017-2020)
Horizon 2020 was the EU Research and Innovation programme running from 2014 to 2020. It was the eighth such Framework Programme (FP8). For more information see https://ec.europa.eu/programmes/horizon2020/what-horizon-2020.
List of H2020 Projects
Information on EU research projects under Horizon 2020 (2014-2020) is available at https://ec.europa.eu/programmes/horizon2020//en/h2020-sections-projects
NetworldEurope
NetworldEurope is the European Technology Platform (ETP) for communications networks and services, that follows on from NetWorld2020 in the Horizon Europe programme. NetworldEurope gathers players of the communications systems sector, industry leaders, innovative SMEs, and leading academic institutions.
NetworldEurope drives the community discussions on the future research technologies for ICT, in order to provide guidance for the development of the future European Union R&D program.
NetworldEurope Strategic Research and Innovation Agenda (SRIA) provides a long-term view about the future of telecommunications in Europe and is developed in cooperation with the 5G-Infrastructure Association (5G-IA). It collects the views from industry and academia, and has received inputs from Alliance for Internet of Things Innovation (AIoTI) and from the Networked European Software and Services Initiative (NESSI). The SRIA may be downloaded here
As a follow up to the SRIA, NetworldEurope developed an Annex for the purpose of providing an auxiliary summary to the development of the future workprogramme for the Smart Networks and Services Joint Undertaking (SNS JU). The annex may be downloaded here
ETSI works in close cooperation with NetworldEurope and together we have built a mapping between the research topics described in the NetworldEurope SRIA and the current ETSI work programme.
The mapping below shows the NetworldEurope SRIA technical domains mapped to the most appropriate ETSI or 3GPP standards activities. By clicking on the appropriate research topic it is possible to access the more detailed sub-topics and the mapping to the public information of the corresponding standards activities.
Mapping table between research topics in NetworldEurope and in current ETSI work programme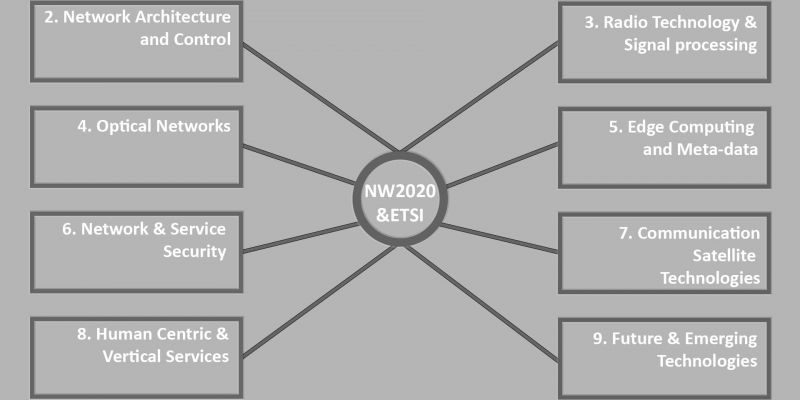 3.1 Spectrum Re-farming and Reutilisation - 3GPP RAN and 3GPP RAN5

3.2 Millimetre Waves - 3GPP SA1

3.3 Optical Wireless Communication - 3GPP SA1

3.4 Terahertz Communications - 3GPP SA1

3.5 Ultra-Massive MIMO - 3GPP SA1

3.6 Non-orthogonal Carriers - 3GPP SA2

3.7 Enhanced Modulation and Coding - 3GPP SA2

3.8 Improved Positioning and Communication - 3GPP SA2

3.9 Random-Access for Massive Connections - 3GPP SA2

3.10 Wireless Edge Caching for Further Increased Throughput - 3GPP SA1

4.1 Flexible Capacity Scaling - 3GPP SA2

4.2 New Switching Paradigms - 3GPP SA3

4.3 Deterministic Networking - 3GPP SA3

4.4 Optical Wireless Integration - 3GPP SA3

4.5 Optical Network Automation - 3GPP SA3

4.6 Security for Mission Critical Services - 3GPP SA3

4.7 Ultra-high Energy Efficiency - 3GPP SA3

4.8 Optical Integration 2.0 - 3GPP SA3

5.1 Beyond Mobile Edge Computing - 3GPP SA3

5.2 Future Directions for Fog Computing

5.2.1 Cloud Computing: Friend or Foe? -

3GPP SA3 and 3GPP SA4

5.2.2 Fog Computing -

3GPP SA5

5.2.3 Fog Computing Research Directions -

3GPP SA5

5.3 Massive IoT Services

5.3.1 Critical IoT services -

3GPP SA5

5.3.2 Scalable management of massive deployments -

3GPP SA6

5.3.3 Distributed/autonomous and cooperative computing -

3GPP SA6

,

ISG CIM

,

ISG ENI

5.4 Data Analytics and Data Monetisation

5.4.1 Big Data -

ISG MEC

5.4.2 Distributed Ledgers -

ISG MEC

5.4.3 Artificial Intelligence/Machine Learning (AI/ML) -

ISG MEC

,

ISG mWT

,

ISG NFV

5.4.4 Lack of awareness and knowledge in personal data monetisation -

ISG NFV

5.4.5 Fraud mitigation in data monetisation -

ISG NFV

8.1 Digital Service Transformation - TC SES

8.2 From Software-Centric to Human-Centric Services - TC SES

8.3 Services Everywhere, Infrastructure No Limits - TC SES

8.4 Network-Unaware Vertical Services - TC SES

8.5 Extreme Automation and Real-Time Zero-Touch Service Orchestration - TC SES

8.6 Service Injection Loop - TC SES

9.1 The Physical Stratum: Communication and Computing Resources

9.1.1 Nano-Things Networking -

TC SmartM2M

9.1.2 Bio-Nano-Things Networking -

TC SmartM2M

9.1.3 Quantum Networking -

TC SmartM2M

9.2 Algorithms and Data

9.2.1 Impact of AI/ML on the Network

9.2.2 Impact of IoT on the Network

9.2.3 Impact of Blockchain Technologies on the Network

9.2.4 Evolution of Protocols

9.3 Applications

9.3.1 Application Level Networking

9.3.2 Applications (Components) in the Network

9.3.3 Applications Making Specific Demands to the Network