ETSI IPE releases the first IPv6 Enhanced Innovation Report, helping global industry players to reach consensus
Sophia Antipolis, 15 October 2021
ETSI is pleased to announce the first ETSI IPv6 Enhanced Innovation (IPE) report ETSI GR IPE 001 "IPv6 Enhanced Innovation: Gap Analysis". Jointly compiled by 15 leading IP industry players, this report comprehensively analyzes gaps based on requirements created by the new use cases and services like 5G and the cloud, to accelerate IPv6 deployment and innovations, and identifies recommendations of new features of the IPv6 enhanced innovations, paving the way for a consensus to be reached among global IP industry players.
First, the ETSI report presents industry trends and analyzes where IPv6 technologies need to catch up. According to the report, with the continuous emergence of new technologies, such as 5G, the Internet of Things (IoT), cloud computing, cloud-network convergence and edge computing, widespread digitalization and automation are gaining momentum. In addition, as more and more devices, vehicles, sensors, and home appliances go online, IP on Everything is becoming an industry trend. In this context, IPv4-to-IPv6 transition is an inevitable choice, due to IPv4 address shortages and a lack of innovation. However, IPv6 still needs to overcome many challenges in the face of new services and scenarios.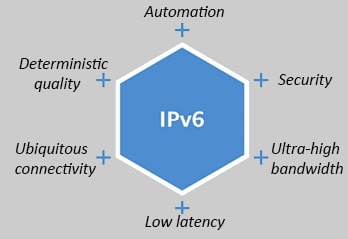 The ETSI GR IPE 001 report analyzes IPv6 in multiple dimensions, including the differences between IPv6 and IPv4, as well as the advantages and gaps of IPv6 in IP link, multicast, security, O&M solutions, and IPv6-only networks.
It also analyzes the key value scenarios of IPv6 deployment, including cloud and IP network convergence, distributed edge computing, operators transport infrastructure, research and education networks, and NB-IoT networks. Furthermore, the report analyzes IPv6 enhanced innovations for multiple scenarios — including proactive ND, flexible extension headers, SRv6-based forwarding, service-based slicing, telemetry-based OAM, advanced multicast, service-oriented networking and computing-based networking — from the perspectives of technical value, features, and development trends.
According to the report, six key features of IPv6 Enhanced Innovations enabling new use cases are summarized, including deterministic quality, ubiquitous connectivity, low latency, ultra-high bandwidth, security, and automation.
You can download the report here and learn more in the two related webinars:
About ETSI
ETSI provides members with an open and inclusive environment to support the development, ratification and testing of globally applicable standards for ICT systems and services across all sectors of industry and society. We are a non-profit body, with more than 950 member organizations worldwide, drawn from 64 countries and five continents. The members comprise a diversified pool of large and small private companies, research entities, academia, government, and public organizations. ETSI is officially recognized by the EU as a European Standards Organization (ESO). For more information, please visit us at https://www.etsi.org/
Press contact
Claire Boyer
Mob: +33 (0)6 87 60 84 40
Email: claire.boyer@etsi.org