Sophia Antipolis, 11 May 2015
The Small Cell community saves time and money for product deployment
ETSI and Small Cell Forum organized the first remote Small Cell LTE Plugfest over two weeks, on 13-24 April 2015. This event was supported by the European Commission. From all over the world including Europe, Asia and North America, companies connected their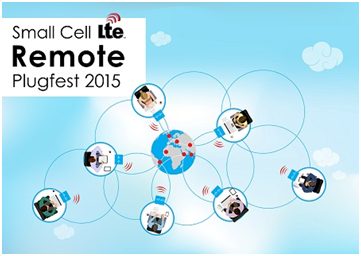 equipment to the remote test infrastructure and tested their solutions from their own labs.
The main features addressed during the test sessions were Closed Subscriber Group (CSG) which allows to reduce the signalling load on access networks, Voice over LTE (VoLTE), Emergency Alerts (CMAS), as well as mobility.
To make remote testing among small cell equipment and core networks possible, ETSI deployed a VPN based secure transport network interconnecting them. On top of it, a flexible LTE network allowed participants to evaluate the interoperability of their solutions with any possible testing partner. Recent enhancements in ETSI's Plugtests™ tool suite have facilitated interaction among companies and ensured consistent reporting of results.
Over 70 reported test sessions and 500 documented test results have been issued over this two week event.
"This fully remote approach - infrastructure, tools, organization - was a real challenge and this is something we aim to apply beyond Small Cell events, says Anthony Wiles, Director of ETSI's Centre for Testing and Interoperability, "We have already done so for many years with our electronic signature Plugtests but Small Cell was the first proving ground for doing remote testing with a heavily hardware-dependent technology. A major milestone has been reached!" he adds.
Remote Plugfests will not replace face to face events since they are required to test radio aspects, for instance, but they will help to reduce the number of meetings, improve their efficiency and contribute to a greener world, an issue ETSI has been keen to integrate in its organization and standards making process.
Kreso Bilan, Interoperability Group Chair of Small Cell Forum, believes the work that takes place in the Plugfests is important in accelerating the deployment of small cell networks. "Conducting the event remotely made it a more convenient and effective exercise for all involved. It allowed our full focus to be on the work with headway being made around Closed Subscriber Group, Local IP Access and Carrier Aggregation."
About ETSI
ETSI produces globally-applicable standards for Information and Communications Technologies (ICT), including fixed, mobile, radio, converged, aeronautical, broadcast and internet technologies and is officially recognized by the European Union as a European Standards Organization. ETSI is an independent, not-for-profit association whose more than 800 member companies and organizations, drawn from 64 countries, determine its work programme and participate directly in its work.
About Small Cell Forum (SCF)
Small Cell Forum (www.smallcellforum.org) supports the wide-scale adoption of small cells. Small cells are low-power wireless access points that operate in licensed spectrum, are operator-managed and feature edge-based intelligence. They provide improved cellular coverage, capacity and applications for homes and enterprises as well as metropolitan and rural public spaces. They include technologies variously described as femtocells, picocells, microcells and metrocells.
The Forum has in excess of 140 members including 68 operators representing more than 3 billion mobile subscribers – 46 per cent of the global total – as well as telecoms hardware and software vendors, content providers and innovative start-ups.
Contact
Claire Boyer
Tel: +33 (0)4 92 94 43 35
Mob: +33 (0)6 87 60 84 40
Email: claire.boyer@etsi.org