Sophia Antipolis, 25 June 2014
With a reliable, flexible and eco-friendly standard, ICT goes green
ETSI, a major actor in Information and Communication Technology standardization (ICT), has recently published the DCEM (Data Centre Energy Management) indicator standard, to measure energy efficiency and compare energy management efficiency in data centres.
This indicator, the DCEM Global KPI, has been developed by ETSI's OEU (Operational Energy efficiency for Users) Industry Specification Group and is defined in ETSI GS OEU 001. This group comprises ICT companies from various sectors including banking, telecommunications, the automotive and the aeronautical industry.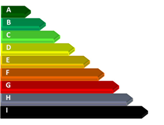 The DCEM Global KPI specifies the coefficient or 'Global KPI' of the eco-efficiency and energy management of data centres. It combines two indicators: one taking into account different sizes of data centre (S, M, L or XL) and a second incorporating 9 different levels of performance, similar to the energy classification model used for home appliances. The DCEM Global KPI meets a twofold objective: to assess the level of
eco-efficiency in data centres, and to allow benchmarking of data centres or ITC locations in a wide range of industrial sectors.
The DCEM Global KPI is based on a formula with 4 different component KPIs defined in the new ETSI Standard ES 205 200-2-1:
Energy consumption, KPIEC
Task efficiency, KPITE
Energy reused, KPIREUSE
Renewable energy, KPIREN
"The DCEM Global KPI offers a reliable operational measurement method and includes the energy reused for other purposes than data centres," says Dominique Roche, chair of OEU and ATTM committees in ETSI, and Working Group leader in CTO Alliance/CRiP. "We also took into account the Kyoto protocol on the reduction of greenhouse gas emissions" he adds. "Data centres can therefore be part of an energy-efficient, sustainable world."
About ETSI
ETSI produces globally-applicable standards for Information and Communications Technologies (ICT), including fixed, mobile, radio, converged, aeronautical, broadcast and internet technologies and is officially recognized by the European Union as a European Standards Organization. ETSI is an independent, not-for-profit association whose more than 700 member companies and organizations, drawn from 63 countries across five continents worldwide, determine its work programme and participate directly in its work.
Contact:
Claire Boyer
Tel: +33 (0)4 92 94 43 35
Mob: +33 (0)6 87 60 84 40
Email: claire.boyer@etsi.org