Sophia Antipolis, 24 June 2014
ETSI organized the first interoperability Plugfest event on Mezzanine Film Format on 12-13 June in Paris, to bring together motion picture stakeholders in order to test the interoperability of the first implementations of this new audio-visual industry specification.
Mezzanine Film Format is the file format specified in French recommendation CST-RT021, issued by the Commission Supérieure Technique, at the request of the French National Centre of Cinema (CNC), the features of which are based on the Interoperable Master Format (IMF). Mezzanine Film Format is currently being standardized by the Society of Motion Pictures and Television Engineers (SMPTE).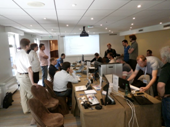 The Plugfest event was organized by ETSI's Center for Testing and Interoperability. This two day session was supported by prominent organizations in the cinema sector including CNC, the French national centre for cinema and animated pictures, FICAM, the French federation for cinema, broadcast and multimedia and the EDCF, the European Digital Cinema Forum, and by the European Commission.
Film laboratories, audio-visual equipment manufacturers and other interested parties participated to test colour coding and the wrapping and encoding of image and sound. The testing session helped to verify the interoperability of the first commercial solutions on the market. Technical experts exchanged encoded files in mezzanine format and decoded them to ensure both interoperability and correct interpretation of the recommendations.
While digital film collections of both commercial and heritage film are developing rapidly, there has been no specific format so far for the interoperable exchange and preservation of cinematographic works with the highest required quality. This successful event paves the way for industry introduction of the Mezzanine Film Format. ETSI is looking forward to hosting the next Plugfest event in the series and to support digital cinema preservation in Europe.