Sophia Antipolis, 14 March 2014
To strengthen dialogue on ICT standards between India and Europe, ETSI organised a conference in New Delhi on 13-14 March.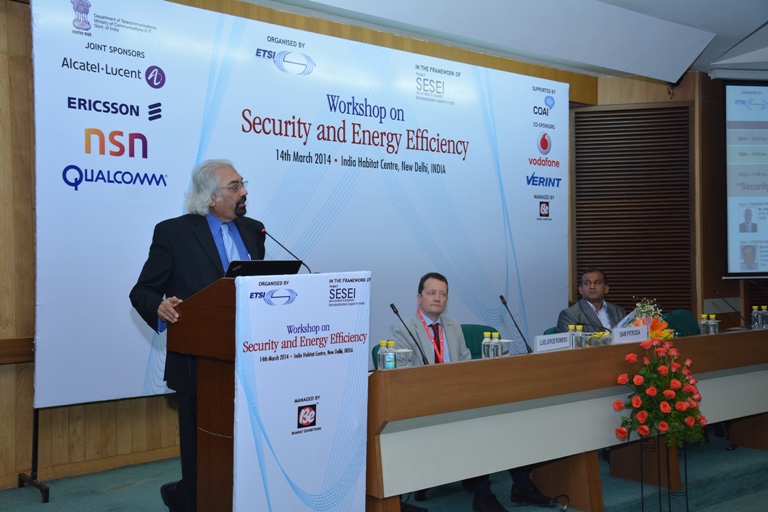 The "Indo-European dialogue on ICT standards & Emerging Technologies" and workshop "Security and Energy Efficiency" are an effort of ETSI and Indian ICT stakeholders to come together and work closely on emerging technologies and ICT standards. The event provided a platform for ETSI to present the latest standardization work and the Indian ICT Community shared the India specific requirements. The dialogue was instrumental in understanding and identifying the potential standardization gaps and how best they can be bridged. New areas for collaboration could also be established.
The conference was inaugurated by Shri M.F. Farooqui, Secretary Department of Telecommunications and chair of the Telecom Commission, Government of India, along with his Excellency Dr. João Cravinho, Ambassador and Head of Delegation of the European Union to India, Mr. Rajan S Mathews, Director General of Cellular Operators Association in India (COAI), Mr. T.V. Ramachandran, Co-chair of the Telecom Sector Committee of EBG (European Business Group) India, Dr. Kumar N. Sivarajan, Chair TSDSI (Telecommunications Standards Development Society, India) and Mr. Luis Jorge Romero, ETSI Director-General.
The agenda focused on the major technologies and standardization activities in ETSI around Smart Cities, Machine-to-Machine communication (M2M), Intelligent Transport Systems (ITS), improving radio spectrum efficiency, Network Functions Virtualization (NFV), Mobile Developments (5G) & Big Data, Security and Energy efficiency aspects of technology, etc. The conference attendance was heterogeneous consisting of senior Government officials, senior industry representatives, local European and Indian stakeholders and Associations which strengthen the dialogue even further.
Mr. Luis Jorge Romero, ETSI Director General, leading the ETSI delegation stated that "With ICT technologies having global impact, the need for interoperability and economies of scale, it is all the most important to develop global standards and have a regular and continuous dialogue between EU and India to strengthen the standardization efforts in the field of ICT". He added: "We look forward to India playing an active role in the development of ICT standards. ETSI is keen to support the efforts of Indian standardization development bodies".
His Excellency Dr João Cravinho, Ambassador and Head of Delegation of the European Union to India, stated that "Contributing from an early stage to international standardization efforts is one way of ensuring that products and services can be sold all over the world. In ICT, harmonized global standards represent an important way to make devices and applications interoperable, which boosts competition, benefits consumers, drives competitiveness and promotes innovation. The European Union is promoting standardization efforts both at European and at global level, and has a strong interest and commitment in working together with India also on this topic; Project SESEI as supported by European Commission is an example of it."
"COAI and ETSI are pleased to have signed a MoU to take the process of Standards development in India forward. After emerging as the world's second largest mobile market, it is imperative India take a leading role in embedding its requirements for network equipment, handsets and services in to global standards for the benefit of its customers, manufacturers and service providers. In addition, as India increasingly develops its own Intellectual Property Rights (IPR), it is important to provide a path for these IPRs to be monetized. Standards provide this path. COAI and ETSI are proud to be collaborating to make this a reality in India", stated Mr. Rajan S Mathews, Director General COAI.
Note: ETSI is supported in India by the Seconded European Standardization Expert for India (SESEI) project. This project is established by the European Standards Organizations CEN, CENELEC and ETSI, the European Commission and the European Free Trade Association (EFTA). A seconded standardization expert, Mr. Dinesh Chand Sharma, has been appointed in India to increase the visibility of European standardization and to promote EU/EFTA-India cooperation on standards and related policies and legislations.