Berlin, 12 February 2014
A key step towards connected cars in Europe
CEN and ETSI have confirmed today, at the 6th ETSI workshop on ITS in Berlin, that the basic set of standards for Cooperative Intelligence Transport Systems (C-ITS), as requested by the European Commission in 2009, have now been adopted and issued. The so-called 'Release 1 specifications' developed by CEN and ETSI will enable vehicles made by different manufacturers to communicate with each other and with the road infrastructure systems.
When they have been applied by vehicle manufacturers, the new specifications should contribute to preventing road accidents by providing warning messages, for example about driving the wrong way or possible collisions at intersections, as well as advance warnings of roadworks, traffic jams and other potential risks to road safety. This vision of safe and intelligent mobility can be achieved by utilizing wireless communication technologies to link vehicles and infrastructure and identify potential risks in real time.
With more than 200 million vehicles on the roads in Europe today and some 13 million jobs at stake across the continent, it is essential for Europe's automotive industry to be at the forefront when it comes to introducing new technologies. However, the next generation of 'connected cars' will not work without common technical specifications, for example regarding radio frequencies and messaging formats. This is why the European Commission decided in 2009 to issue a formal request (Mandate 453) to CEN and ETSI, asking them to prepare a coherent set of standards, specifications and guidelines to support the implementation and deployment of Co-operative ITS systems across Europe.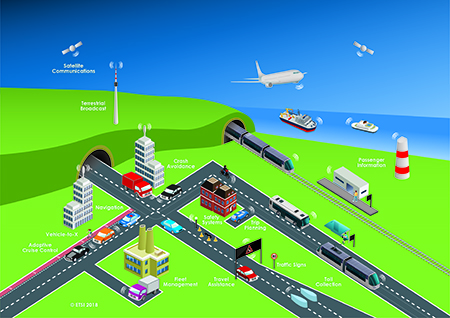 Standards for Cooperative Intelligent Transport Systems (C-ITS) are being developed by the competent technical committees of CEN and ETSI, which bring together experts from key players in the automotive industry including car manufacturers and their suppliers, as well as infrastructure system suppliers and operators. Work is currently underway in both CEN and ETSI to develop the next package of standards (Release 2). European Union funded research projects such as eCoMove, Drive C2X and COMeSafety have also contributed to the standards committees, or to ETSI-organized Plugtests™ interoperability testing events.
The road infrastructure operators and the automotive industry are coordinating their requirements through bodies such as the Amsterdam Group, ERTICO – ITS Europe and the Car 2 Car Communication Consortium, and feeding these directly into the standards committees. International cooperation is taking place with ISO, IEEE and the SAE to ensure a global harmonization of ITS deployment in different regions.
Connected cars are expected to appear on European roads in 2015. The authorities in Austria, Germany and the Netherlands have agreed to cooperate on the implementation of ITS infrastructure along the route between Rotterdam and Vienna (via Frankfurt).
"We are delighted to satisfy industry demand and to have been strongly supported by the European Commission," says Luis Jorge Romero, ETSI's Director General. "ITS standards will empower the next generation of vehicles, making driving easier, roads safer and reducing traffic congestion."
"Having suitable standards for Cooperative Intelligent Transport Systems is vital for enabling European manufacturers to produce the next generation of connected cars," says Elena Santiago Cid, Director General of CEN and CENELEC. "The Release 1 specifications will be tested under real road conditions and may be improved if necessary."
Background
The European Commission published an Action plan for the deployment of ITS in Europe in 2008. This was followed in 2009 by a request (

Mandate M/453) to the European standardization organizations to develop harmonized standards for ITS implementation, in particular regarding cooperative systems. During 2013, ETSI and CEN finalized the work related to the Release 1 standardization package. The continued ITS standardization effort is supported by the European Commission Rolling Plan for ICT Standardization.
Neelie Kroes, Vice President of the European Commission thanks all those who worked on Connected Car standards in a video.
ETSI produces globally-applicable standards for Information and Communications Technologies (ICT), including fixed, mobile, radio, converged, aeronautical, broadcast and internet technologies and is officially recognized by the European Union as a European Standards Organization. ETSI is an independent, not-for-profit association whose more than 700 member companies and organizations, drawn from 62 countries across 5 continents worldwide, determine its work programme and participate directly in its work.
For more information about ETSI, please see www.etsi.org
CEN (the European Committee for Standardization) develops European Standards setting out specifications and procedures in relation to a wide range of products and services. The members of CEN are the National Standards Bodies of 33 European countries including all of the EU Member States, 3 EFTA countries (Iceland, Norway and Switzerland) and 2 EU candidate countries (Turkey and the former Yugoslav Republic of Macedonia). European Standards (ENs) approved by CEN are accepted and recognised in all of these countries.
For more information about CEN, please see www.cen.eu and www.cencenelec.eu
Media contact
ETSI
Claire Boyer
Tel: +33 (0)4 92 94 43 35
Mobile: +33 (0)6 87 60 84 40
Email: claire.boyer@etsi.org
Twitter: @ETSI_STANDARDS