ETSI Headquarters, Sophia Antipolis, France - 3 December 2013
ETSI and the ULE Alliance have signed a Memorandum of Understanding to align their work on development and promotion of the DECT™ ULE standard. The agreement was signed at the ETSI General Assembly held on 19 and 20 November 2013 in Mandelieu, near Cannes, France.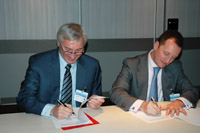 DECT ULE (Digital Enhanced Cordless Telecommunications - Ultra Low Energy) is a low power consumption radio technology intended for home automation, security, climate control and other Machine-to-Machine (M2M) applications. The main characteristics of DECT ULE are ultra-low power consumption, good Quality of Service (a unique feature of ULE compared with other low power wireless standards) and wider coverage than competing technologies.
DECT ULE is based on the very popular and highly successful DECT standard, which was also developed by ETSI. To date over 800 million DECT devices have been sold in more than 100 countries. The DECT ULE standard (ETSI TS 102 939-1) is developed and published by ETSI in the DECT technical committee (TC DECT). Through this agreement, the ULE Alliance, formed to promote the market adoption of DECT ULE technology, will provide valuable input to ETSI on future development requirements of this exciting new technology.
DECT ULE, thanks to dedicated spectrum and long communication range, enables simple and straightforward deployment of wireless sensor networks at homes and buildings. DECT ULE delivers lowest ownership cost and most reliable wireless networks. DECT ULE has been positively received by the industry; since its establishment in January 2013, over 40 members have already joined the ULE Alliance, and this number is growing steadily.
About ETSI
ETSI produces globally-applicable standards for Information and Communications Technologies (ICT), including fixed, mobile, radio, converged, aeronautical, broadcast and internet technologies and is officially recognized by the European Union as a European Standards Organization. ETSI is an independent, not-for-profit association whose more than 700 member companies and organizations, drawn from 62 countries across 5 continents worldwide, determine its work programme and participate directly in its work.
For more information please visit: www.etsi.org
About the ULE Alliance
The ULE Alliance promotes the worldwide allocation and market adoption of the ULE technology, the leading control network eco-system for home and building use. ULE benefits from the maturity, existing supply chain, and install base of DECT, extended with the feature enhancements needed to address a sizeable new market with many possible applications. It is belief of the ULE Alliance that the ULE technology will bring new growth opportunities to its adopters.
For more information please visit: www.ulealliance.org
DECT™ and the ETSI logo are Trade Marks of ETSI registered for the benefit of its Members.
For general ETSI press enquiries:
Ultan Mulligan
ETSI Communications
Tel: +33 4 92944388
Email: ultan.mulligan@etsi.org
For ULE Alliance enquiries:
ULE Alliance
Roland Schmidt
Wabernstr. 40
3007 Bern, Switzerland
media@ulealliance.org