ETSI Headquarters, Sophia Antipolis, France - 22 November 2013
ETSI members have elected Mr. Peter Statev as the Vice Chair of the ETSI General Assembly representing the user members of ETSI. Mr. Statev was nominated by UEAPME, the European Association of Craft, Small and Medium-Sized Enterprises, a new member of ETSI.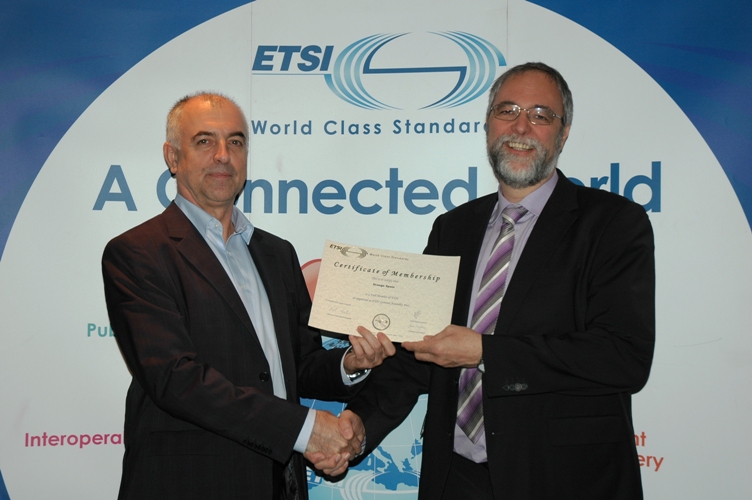 Mr. Peter Statev is co-founder and chair of the managing board of the Bulgarian Cluster for Information and Communication Technologies as well as co-founder of Bulgarian Cluster for Microelectronics and Embedded Systems and co-founder and chair of the Bulgarian Association of Business Clusters. Prior to that, he was chair of Smartcom Bulgaria AD – a leading telecom system integrator and developer and the most innovative Bulgarian enterprise according to the Sixth Bulgarian National Innovation Forum 2010. Mr. Statev graduated with a master's degree in telecommunications from the Technical University in Sofia, Bulgaria.
Already a successful Bulgarian ICT entrepreneur Mr. Statev stated: "My duty will be to use my knowledge, experience and professional network in order to represent the interest of all European SMEs and ICT entrepreneurs in ETSI, as well as continue the positive dialogue with the large industry players. Interoperability and standards are necessary to create the conditions for European SMEs to grow."
Mr. Peter Statev is also a member of PIN-SME, the first European association of the ICT sector focused on representing the interests of SMEs.
Contact:
Ultan Mulligan
Communications Director
ETSI
Tel: +33 4 92 94 43 88
Email: ultan.mulligan@etsi.org