ETSI Headquarters, Sophia Antipolis, France - 12 November 2013
Telecommunications Standards Development Society, India (TSDSI) recognized by India's DoT, Ministry of Communication & IT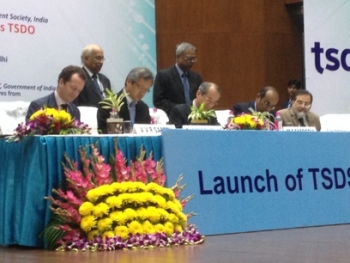 ETSI is pleased to announce the signature of a partnership agreement with the Telecommunications Standards Development Society, India (TSDSI). This Letter of Intent is a joint initiative with four long-standing partners of ETSI, the Association of Radio Industries and Businesses (ARIB) and the Telecommunication Technology Committee (TTC), both of Japan, the Korean Telecommunications Technology Association (TTA) and the Chinese China Communications Standards Association (CCSA).
TSDSI is the newly founded recognized organization for telecommunications standards development in India. It will represent Indian stakeholders in all international telecommunications standardization organizations. TSDSI's mission is to facilitate a coordinated development of standards for telecoms especially suited to the Indian market.
"I am very proud to be present at the launch of TSDSI and to sign this agreement," says Luis Jorge Romero, Director General of ETSI. "India has the second largest telecoms market by mobile connections and unique subscribers in the world. TSDSI can help India take its place at the forefront of global telecom standardization."
This letter of intent will enable ARIB, ETSI, TTA, TTC and CCSA to exchange information on their work with TSDSI, increasing coordination and encouraging the development of complementary standards.
ETSI is supported in India by the Seconded European Standardization Expert for India (SESEI) project. This project is established by the European Standards Organizations CEN, CENELEC and ETSI, the European Commission and the European Free Trade Association (EFTA). A seconded standardization expert, Mr. Dinesh Chand Sharma, has been appointed in India to increase the visibility of European standardization and to promote EU/EFTA-India cooperation on standards and related policies and legislations. For more information about SESEI project, please visit https://sesei.eu/sesei1/.
The ETSI logo is a Trade Mark of ETSI registered for the benefit of its Members.
Contact:
Ultan Mulligan
Communications Director
ETSI
Tel: +33 4 92 94 43 88
Email: ultan.mulligan@etsi.org