ETSI Headquarters, Sophia Antipolis, France - 30 October 2013
The User Conference on Advanced Automated Testing builds a new testing community with practitioners from numerous application areas
The ETSI User Conference on Advanced Automated Testing (UCAAT), in Paris, from October 22 to 24,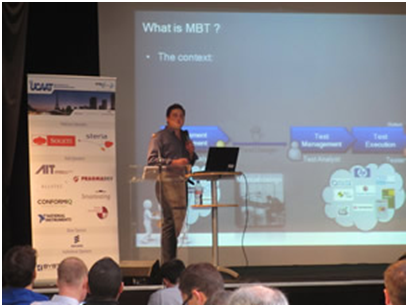 was jointly organized by ETSI – The European Telecommunications Standards Institute, Smartesting and ALL4TEC.
Dedicated to advanced test automation, the conference focused on integrating model-based testing into the testing ecosystem. The event brought together companies and research bodies from industries as diverse as telecommunications, IT (including banking, pharmaceutical, and entertainment sectors), automotive, railway, defence, industrial automation, energy, software and gaming, and coming from the US, South America, Europe and India. The IT sector showed the largest growth of interest in the event in terms of presentation and participation.
"As test process automation has proven to increase productivity and product quality, the latest developments in testing technologies pave the way for cheaper, faster and more efficient testing in industrial development processes," says Tibor Csöndes, Programme Chair. "UCAAT was an excellent showcase for the variety and maturity of those technologies."
Conference attendees had the unique opportunity to share their experience and have a flavour of the latest trends in model-based testing as well as test automation with TTCN-3. Exhibitors also had the opportunity to demonstrate their products and tools on their booths. The conference programme included tutorials and business cases showing large scale applications and innovative approaches, as well as a barcamp and lightning poster introductions. Topics covered included cloud, agile testing, embedded systems, TTCN-3 test frameworks and applications, standardization and safety critical systems.
Organized by ETSI Technical Committee "Methods for Testing and Specification" (TC MTS) and attracting over 200 participants, UCAAT 2013 was the largest and most diverse ETSI user conference related to testing to date, confirming that test process automation is now an essential part of industrial development. Bringing together test practitioners from many different testing domains was no doubt one of the biggest achievements of the conference. ETSI will use this synergy to start to build a new community on advanced automated testing.
About ETSI
ETSI produces globally-applicable standards for Information and Communications Technologies (ICT), including fixed, mobile, radio, converged, aeronautical, broadcast and internet technologies and is officially recognized by the European Union as a European Standards Organization. ETSI is an independent, not-for-profit association whose more than 700 member companies and organizations, drawn from 62 countries across 5 continents worldwide, determine its work programme and participate directly in its work.
Contact:
Ultan Mulligan
Communications
Tel: +33 4 92 94 43 88
Email: ultan.mulligan@etsi.org