Welcome to the World of Standards…… ETSI & 3GPP at MWC 2011
At MWC 2011, ETSI - together with 3GPP - once again had a booth presence to facilitate interaction with its members, to promote ICT standards amongst a larger audience and, last but not least, to create awareness of its diverse areas of activity by showcasing its new cluster approach.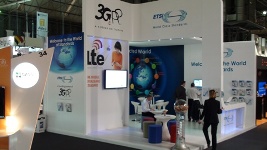 At this year's event the main focus was on LTE /LTE Advanced technology and thus 3GPP, but also ETSI's cluster concept which aims to provide a simplified yet comprehensive introduction to all of ETSI's activities in ICT standardization.
Live presentations on ' LTE Security', 'Machine-to-Machine' and 'Femtoce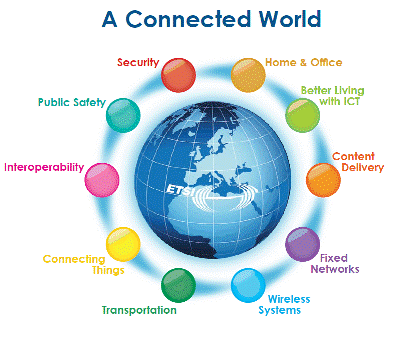 ll Evolution' were given on three consecutive days at the booth. Following the presentations, a drinks & tapas reception took place that provided an ideal networking opportunity.
Videos of the presentations and the slides on their own are available for download
Monday, 14 February 2011
LIVE PRESENTATION: How Secure is LTE?
This talk looked at LTE Security, the differences from GSM and 3G, and explored the security implications of LTE.
Presented by: Charles Brookson, Chair ETSI OCG Security
How secure is LTE? - Charles Brookson from ETSI
DOWNLOAD THE PRESENTATION HERE
Tuesday, 15 February 2011,
LIVE PRESENTATION: ETSI M2M: Building the Internet of Things
Presented by: David Boswarthick, ETSI Technical Expert
DOWNLOAD THE PRESENTATION HERE
Wednesday, 16 February 2011
LIVE PRESENTATION: Femtocell Evolution: A Model of Market and Standards Cooperation
This session provided an overview of the work being done by the Femto Forum and ETSI to develop femtocell standards which make the most of the technology and enjoy widespread industry support. This included an overview of the state of femtocell standards, the features they support, how the industry was marshalled to support them through plugfests as well as their future evolution.
Presented by: Professor Simon Saunders, Chair of the Femto Forum
DOWNLOAD THE PRESENTATION HERE
During MWC 2011, Adrian Scrase, Head of 3GPP Mobile Competence Centre, gave an update on 3GPP standardization activities in the FemtoZone.