Congratulations to Optare solutions, winner of the 2021 ETSI MEC Hackathon
Sophia Antipolis, 10 November 2021
Following the ETSI MEC Hackathon that took place during the Edge Computing World from 12 to 15 October, you can now discover the winner, the A Team, from Optare solutions, on the event website. The A Team presented the "flex drone concept", edge AI autonomous drone flights, compliant with ETSI MEC standards.
With a focus on security and surveillance, artificial intelligence for autonomous drone flights becomes more and more important. The power of edge computing and the AI capabilities enable intelligent data analysis and recognition of potential incidents in the real-time video stream.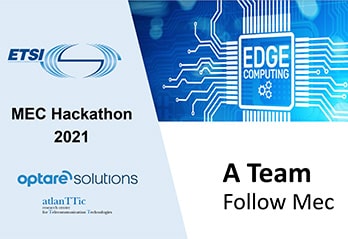 The A Team introduces an innovative, quick, and flexible deployment of an aerial camera drone. It showcases a MEC application for surveillance activities (tracking pedestrians, wildlife control, crowd control). The application uses the resources of the MEC to execute AI algorithms and adapts its behaviour in real time to the different conditions of coverage, signal quality, and power. ETSI MEC APIs allow for cheaper hardware, a reduced weight of the drone, increasing its autonomy and balance and offers a flexible suite of AI assets leading to optimized costs.
MEC (Multi-access Edge Computing) provides developers with localized, low-latency resources that can be utilized to create new and innovative solutions, which are essential to many vertical markets of the 5G era. ETSI's ISG MEC is standardizing an open environment that enables the integration of applications from infrastructure and edge service providers across MEC platforms and systems. The purpose of this Hackathon was to demonstrate the usage of MEC Service APIs to create an innovative Edge Application or Service.
Watch the video of the use case.