"CALLING THE SHOTS" A report commissioned by ETSI calls on EU to retake global leadership in digital standard setting
Sophia Antipolis, 10 October 2019
The report Calling the Shots: Standardization for EU Competitiveness in a Digital Era, was drawn up by an independent panel of experts brought together by Kreab at the request of ETSI and led by Carl Bildt, former Prime Minister and Foreign Minister of Sweden. The panel who met during the first half year of 2019, gathered insights and experience from industry, politics and academia.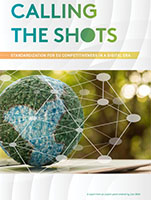 "Our competitors are very serious about taking the lead in digital transformation," Carl Bildt said launching the report. "It is important that EU lawmakers put standardization at the centre of EU digital and industrial strategy. Otherwise Europe will become a rule taker, forever playing catch-up in the innovation, production and delivery of new digital products and services," he added.
The release of the report is timed to coincide with the new five-year mandates of the European Commission and the European Parliament. It is designed to provide policy makers with essential information as they develop a new industrial strategy for the EU.
The report reflects neither the official policy of ETSI, nor its governing bodies and members. It represents a realization by ETSI that the questions addressed in the report need to be considered as a matter of political priority, at a time of leadership transition in the European institutions.
The report is available for download from the

ETSI website.