ETSI specifications on licensed shared spectrum successfully implemented in the Netherlands for the entertainment industry
Sophia Antipolis, 8 July 2019
After a successful pilot in 2017, the Dutch administration (Radiocommunications Agency Netherlands) has decided to implement Licensed Shared Access (LSA) technology, based on ETSI specifications.
Developed by the ETSI technical committee Reconfigurable Radio Systems (TC RRS), the specifications ETSI TS 103 235 and ETSI TS 103 379 offer a solution to negotiate spectrum access among multiple distinct services. The experience of the participants during the pilot was very positive; they perceived the required protection of their use and a decrease of interference problems. The Netherlands is now likely to be the first European country to deploy a permanent LSA service based on ETSI specifications in the 2.3-2.4 GHz frequency band.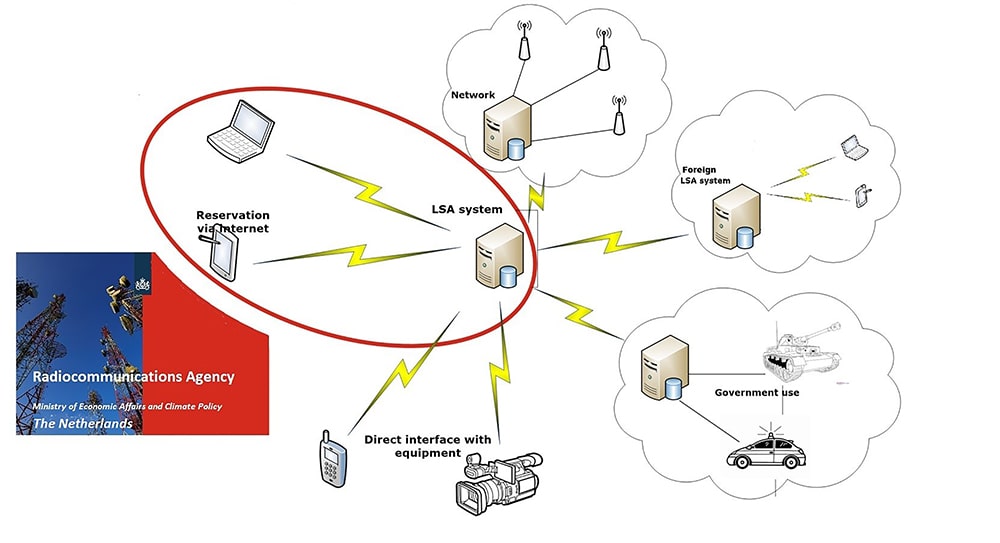 The original objective of LSA was to enable the deployment of cellular services as secondary spectrum users in the 2.3-2.4 GHz frequency band, but the Dutch administration used it for other services. The LSA system was implemented, partly at their own request, for Programme making and special events (PMSE) actors from the entertainment and broadcasting industry, who are using cordless cameras and portable video links. During the pilot these actors were regularly consulted on their experiences.
The objective was to enable reporters and editors using electronic video and audio technologies in the field to share the use of spectrum (limited to 4 channels), while shortening the response time, protecting their usage and decreasing interference problems. The pilot highlighted various criteria, such as users and/or type of use of the frequency band having different priorities per time and location. It was noted that LSA can provide an alternative approach to frequency usage by the government (Ministry of Defense) and offers an efficient and user-friendly treatment of requests. When deploying a permanent LSA solution the Dutch administration aims to include other services like radio amateur and governmental spectrum use.
The Dutch administration is also evaluating deployment of LSA in further frequency bands and an extension to other (PMSE) use, like professional radio microphones, cordless audio distribution, foldback and talkback systems.