Sophia Antipolis, 12 May 2016
On 19 April 2016 during the 67th General Assembly dinner, ETSI awarded the first of its newly-launched ETSI Fellowship awards to Karsten Meinhold, Julian Pritchard and Karl Heinz Rosenbrock.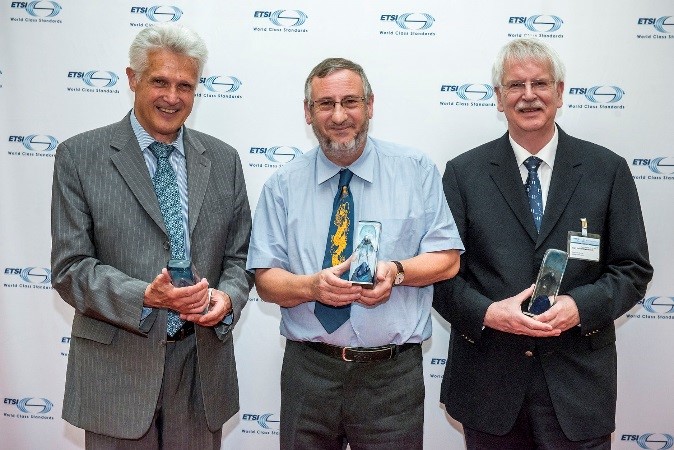 The award ceremony took place in the beautiful Negresco hotel, a place full of history and art, located on the famous Promenade des Anglais in Nice.
Karsten Meinhold represented Siemens and later Nokia Siemens Networks at ETSI. Karsten served two terms as a much-appreciated chairman of the ETSI General Assembly, having previously also served as vice-chair. Karsten also led a reform of the ETSI IPR policy and was the first chairman of the ETSI IPR committee.
Julian Pritchard's first involvement with ETSI dates back to 1988 when he was a technical expert for BT contributing to the writing of EN 300 001 (NET4). He then joined ETSI secretariat as a Technical Editor before taking several positions within ETSI including Secretary to the ETSI General Assembly, to the ETSI Board and to the IPR Special Committee. He finally retired as ETSI's Director of Governance Support in 2014.
Karl Heinz Rosenbrock served as ETSI Director General from 1990 to 2006 and is now Honorary Director General. He was elected as ETSI's second Director General only two years after the foundation of the Institute and has been the longest serving holder of that post. He helped shape the Institute into what it is today, creating a culture based on collaboration, transparency and putting people first.
The ETSI Fellowship programme rewards individuals who have made an outstanding personal contribution to ETSI, to building the work of ETSI, or raising its reputation in specific sectors of standardization. Any individual representative of an ETSI member may propose a candidate for an ETSI Fellowship. Fellowships are awarded each year by an Award Committee composed of the ETSI General Assembly chairman and vice-chairmen, the ETSI Board chairman and the ETSI Director General.