Sophia Antipolis, 2 March 2016
The International Critical Communications Awards (ICCA) event took place in the Honourable Artillery Company, London, on 26 February.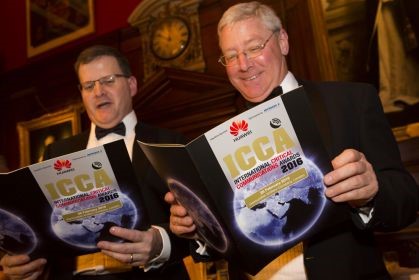 Run by the Mark Allen Group, which publishes three wireless communications magazines, ICCA awarded products, applications and solutions of merit in both mission-critical and business-critical organizations. Adrian Scrase, ETSI CTO, was part of the jury and presented the 'Excellence in radio sites and services' category.
TETRA, an ETSI standard, is implemented worldwide. In 2012 there were 125 countries using TETRA systems in Europe, Middle East, Africa, Asia Pacific, Caribbean and Latin America. ETSI develops standards for mission-critical communications and public safety in several of its technical committees and through 3GPP, of which ETSI is a founding member.
The International TETRA awards was rebranded into the International Critical Communications Award to anticipate 5G and next generation networks, which will be a collection of technologies designed to work together with each operating where it is most suited. As the sector becomes increasingly aligned with the wider communications industry thanks to greater use of broadband this approach is likely to become more popular.
After the night's proceedings had drawn to a close one of the judges commented that with the amount of activity and innovation in the industry and the transition towards broadband the event should go from strength to strength.