Sophia Antipolis, 17 December 2015
ETSI's new Industry Specification Group on intelligent Compound Content Management (CCM) met for their kick off meeting on 16 December at ETSI in Sophia Antipolis, France. The intelligent Compound Content Management ISG is working on a standardized solution to define a scalable and flexible decoding system for consumer electronics devices from UltraHD televisions to smart phones. This solution simultaneously meets the needs of existing and next generation receivers and set-top boxes. The founding members of the group are BT Group Plc, Dolby Laboratories Inc, STMicroelectronics and Telefonica S.A.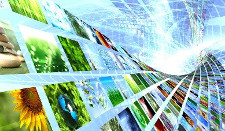 "With this new standardization work, ETSI will offer consumer equipment manufacturers a single and global decoder for all devices, without compromising image quality. This will save time and money for content distribution and consumers will benefit from the latest innovative technologies." says David Holliday, chairman of ETSI CCM ISG.
Market drivers for the next generation of Ultra-HD displays and equipment include the addition of HDR (High Dynamic Range), a technique used to reproduce both darker and brighter, more life-like images, and WCG (Wider Colour Gamut), extending the colour range being displayed on a device.
New HDR/WCG production techniques have recently been introduced for film and broadcast content creation thus allowing greater creative freedom and more realistic images.
Yet, legacy receivers, including tablets, will comprise the majority of the receiver installed base. To ensure a smooth transition between today's television standards and tomorrow's, a new transmission system should offer backwards compatibility with today's television standards whilst also providing the full quality for the next generation HDR/WCG televisions. It is necessary to find a solution where no compromise is needed either for today's images or for future HDR images, thereby maintaining the highest levels of creative intent. A Compound Content transmission system would allow two or more qualities or grades of content to be sent simultaneously and permits the intelligent reconstruction of one or more of these qualities or grades in the receiver without compromising the intent of the other.
Any HDR/WCG transmission solution must take into account the diverse needs of the content creation industry, the ongoing work on HDR/WCG production technologies, the complexity of any solution in silicon and the quality of the signals to be delivered through DVB or ATSC based systems to both legacy devices and HDR/WCG devices.
Participation in the intelligent Compound Content Management Industry Specification Group is open to all ETSI members as well as organizations who are not members, subject to signing ISG Agreements. For information on how to participate please contact ISGsupport@etsi.org.
About ETSI
ETSI produces globally-applicable standards for Information and Communications Technologies (ICT), including fixed, mobile, radio, aeronautical, broadcast and internet technologies and is officially recognized by the European Union as a European Standards Organization. ETSI is an independent, not-for-profit association whose more than 800 member companies and organizations, drawn from 64 countries, determine its work programme and participate directly in its work.
Contact:
Claire Boyer
Tel: +33 (0)4 92 94 43 35
Mob: +33 (0)6 87 60 84 40
Email: claire.boyer@etsi.org