The ZSM story: the power to transform
As the end of the year is fast approaching, I'm taking this opportunity to look back at the progress of our work during 2018 and review what we accomplished during the year. Our excellent achievements and the momentum we managed to create in the industry certainly evoke both satisfaction and pride. 2018 was without doubt an amazing year!
The ZSM kickoff meeting took place on January 10-12, 2018, with 30 companies signed as ZSM members/participants. In that meeting we appointed our leadership, agreed on our objectives and approved the creation of five work items: ZSM requirements, ZSM architecture, end-to-end management and orchestration of network slicing, ZSM landscape and means of automation. Since then we have grown to 65 members/participants (List) and have made tremendous progress in our work thanks to our weekly calls and the additional six face-to-face meetings. We benefited from the fact that ZSM experts come from different backgrounds (e.g. Telco, IT, Enterprise) and strove to bring these worlds together, utilizing the best that each can offer.
Together we managed to look at many business-oriented scenarios and the related automation challenges faced by operators and vertical industries, and succeeded in deriving architectural, functional and operational requirements for an automated end-to-end network with service management. We grouped related scenarios and are now in the final phase of consolidating the requirements.
In addition, we worked hard to develop a ZSM architectural framework (see Figure 1 below) which will enable a zero-touch automated network and service management in a multi-vendor environment. We introduced a set of architectural principles and requirements that guided the design of the architecture. The ZSM architecture is service-based, modular, flexible and extensible. It allows for the integration and composition of management services via an integration fabric. The ZSM framework supports the separation of management and automation into different areas of concern, i.e. network management domains and end-to-end cross-domain service management; both are responsible for fulfillment (orchestration and control) and assurance (data collection, analytics and intelligent automation) within their scopes. Decoupling network management domains from end-to-end cross-domain service management prevents monolithic systems, reduces complexity in the entire service and enables domain and end-to-end management to evolve independently. Every management domain implements a set of capabilities which are exposed via a set of interface end-points.
The architecture supports open interfaces as well as model-driven service and resource abstraction. The management services which are exposed by management domains, including the E2E service management domain, are described and specified. The architecture allows operational data to be kept separate from the management applications, enabling efficient access to data and cross-domain data exposure (e.g. topology, telemetry data) which can be leveraged by network and service intelligence capabilities (e.g. data-driven machine learning, artificial intelligence and other technologies for automation). The architecture is designed to enable closed-loop automation (connecting assurance and fulfillment processes) at the network and service-management levels where the automated decision-making mechanisms (e.g. self-optimization, automated service assurance) can be bounded by rules and policies.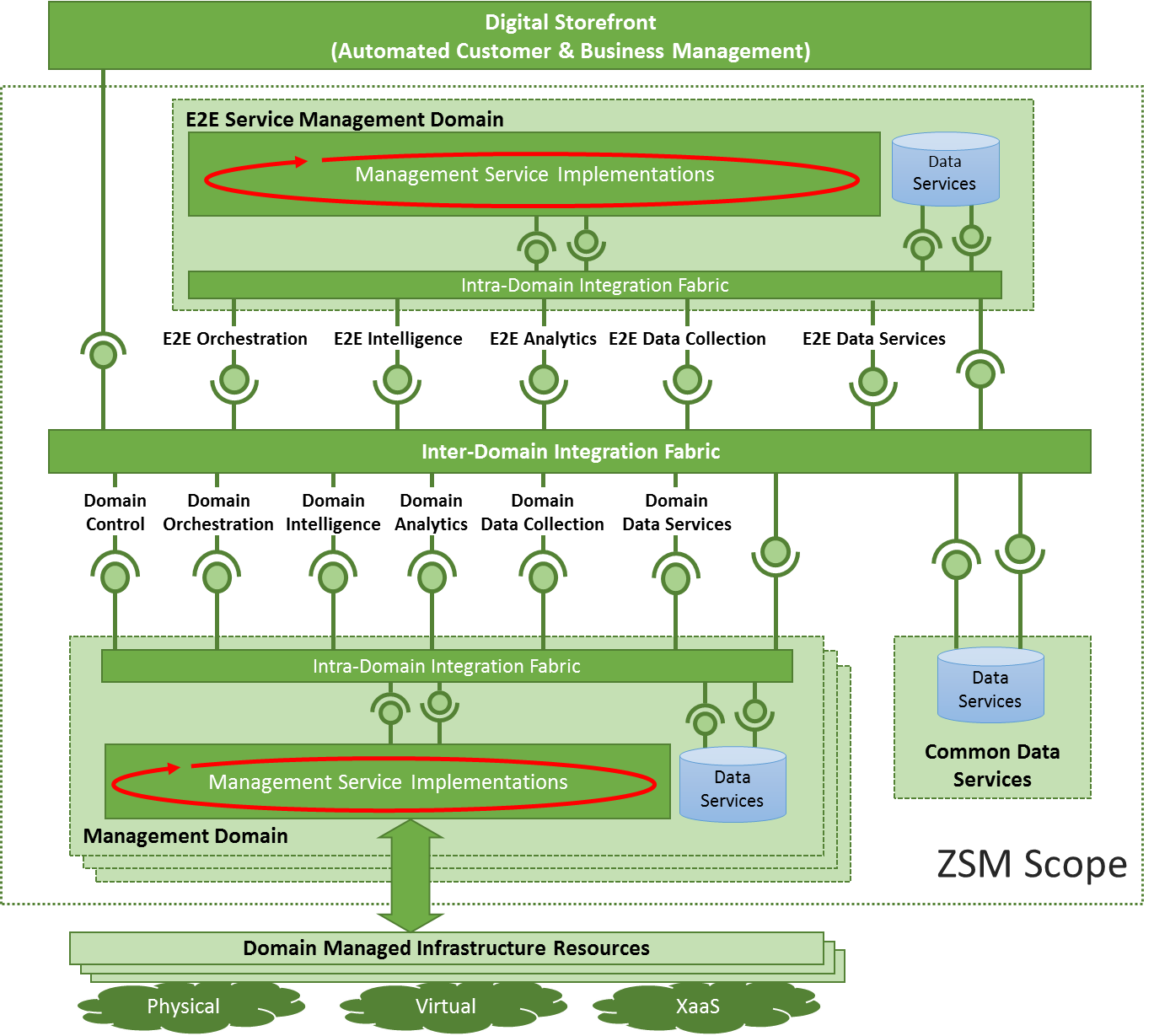 Figure 1: ZSM Architectural Framework
We presented the ZSM architecture at a few influential events, as well as to the ETSI NFV group, and received very positive feedback. As mentioned in a previous blogpost, Caroline Chappell, a research director at Analysis Mason, issued an excellent report on the ZSM architectural framework. In her report, Caroline says that "ZSM is positioning itself as the low-touch management framework for the 5G network that can span multiple domain-specific and open-source network automation initiatives. Its vision and its modern, end-to-end approach provide an important missing ingredient in a crowded market, which will be beneficial if well-accepted and executed". We have also seen a ZSM PoC (ZSM PoC_1_ServoCloud) demonstrating how the ZSM framework can be used to correlate events and auto-scale and assure service continuity by performing an autonomic closed-loop to automate end-to-end Service Level Assurance (SLA) management. Results and lessons learned from the ZSM PoCs will be channeled to the ISG ZSM specification work.
The next steps in the architecture work are to complete the definition of the management services, determine the support for closed loops and decide which management services are mandatory for facilitating service composition and cross-domain integration.
Both the requirements and the architecture documents are expected to be ready after the ZSM#06 meeting that will take place in Melbourne in March 2019. When ready, the ISG will start working (per the advice of the ZSM NOC) on the functional requirements, interfaces and operations that will support the automated, full-lifecycle management functions between the E2E Service Management domain and Management Domains (MDs) as well as between the different MDs.
In addition, we advanced the work on end-to-end network slicing management and orchestration as well as on the ZSM landscape report surveys activities relating to ZSM that are taking place in other organizations. This work will help us to identify and analyze the existing specifications and solutions (both ETSI and external ones) and to consider whether they can be leveraged in ways that will avoid duplication and maximize synergies.
We also made progress in our work on the means for automation, the purpose of which is to describe different, existing and proven mechanisms or approaches aimed at achieving automation and zero-touch network management while analyzing their implications on the design and specification of the ZSM framework architecture and their utilization as a basis for future ZSM compliant solutions. We have developed an initial, comprehensive review of areas with the highest impact for automation, highlighting the vital role of several key means, such as intent-based modeling and orchestration, network governance (e.g. various forms of policy-based management) and network coordination
(e.g. how to avoid race conditions and/or conflicting operations among closed-control loops). In the near future, the report will focus on introducing additional means for automation to complete the coverage of the automation areas, and on analyzing how the different means for automation can be leveraged by the ZSM work.
What an exciting journey we have undertaken! I want to thank the ISG team for their excellent work and the pleasant and fruitful working environment we managed to create. Let's continue the good work, ensure that we maintain the positive momentum and strive to make sure that ZSM provides significant value to the industry. We have a lot of technical work ahead of us and the industry is waiting for our specifications. We need to develop qualitative specifications on time and disseminate them. Also, as it is essential for the industry to move to an environment that leverages synergies and achieves alignment through convergence on a single end-to-end network and service management architecture, we must work to establish an open dialogue with the related organizations and open-source projects so as to encourage mutual convergence.
Let me wish you all happy holidays and all the best for a healthy, prosperous, successful and peaceful 2019. Looking forward to continuing our collaboration next year!