Interim face-to-face meeting of ETSI NFV IFA (Interfaces and Architecture) working group in Munich
The weather in Munich in late April was still a bit cold, but it did not prevent the ETSI NFV's IFA working group (WG) from gathering in an interim face-to-face meeting under the warm hospitality of DOCOMO Euro-Labs. IFA WG is mainly responsible for delivering NFV stage 2 related specifications, including NFV architecture, interfaces and information model design, as well as informative work study on any new architectural related use cases exploring the evolution of NFV. This WG's mission makes IFA an important WG within the ISG NFV, with always constant workload and substantial high-intense discussions.
The proposal for an interim IFA meeting was made during the NFV#41 plenary meeting, held in March this year, in order to address the amount of work to be completed by the WG by this summer. The proposal was endorsed by the Technical Steering Committee (TSC) and the ISG, as a whole. The interim WG meeting targeted to speed up the progress of active work items which are part of Release 4 and 5 and promote many of the work items to catch up with the upcoming summer release drop delivery timeline.
This interim meeting restarted the practice of past interim WG F2F meetings in ETSI NFV after 3 years' hiatus due to the worldwide epidemic of COVID-19. The last memories of these interim meetings were from 2019, when IFA and SOL WGs jointly held interim meetings in Munich (same city, but with different hosting company) in March 2019. We would like to thank DOCOMO Euro-Labs for kindly hosting the interim WG meeting this time. Seven WG colleagues participated to the meeting on site and a dozen of other colleagues attended remotely.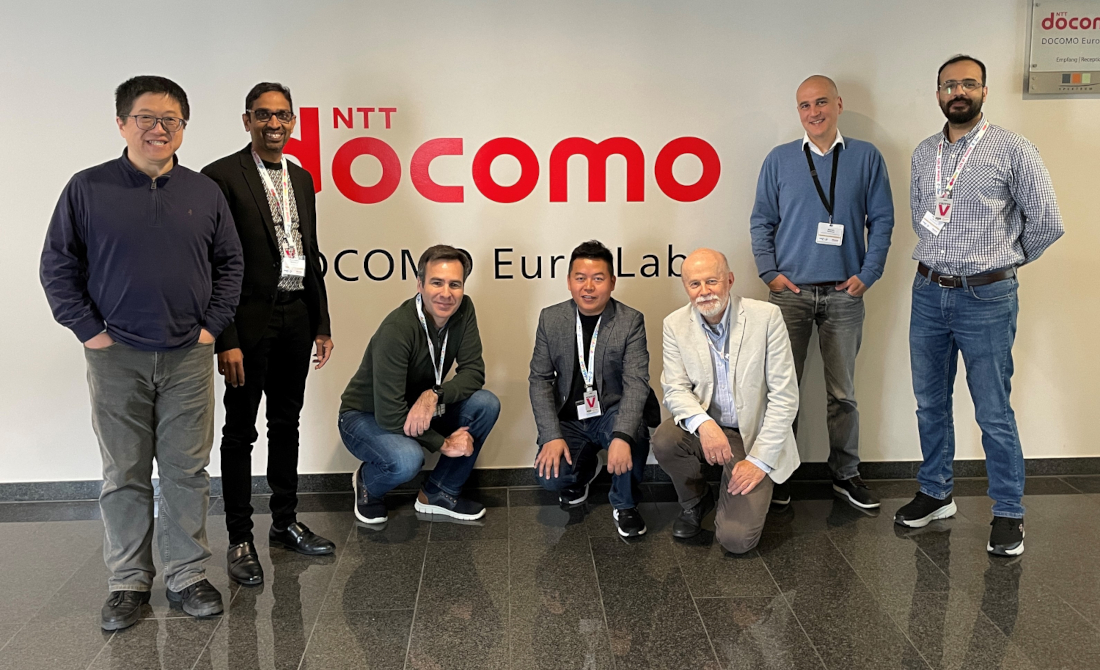 It was a really nice and fruitful meeting experience in which more than 120 contributions were discussed, comments exchanged, revisions reviewed, and consensus reached in just only 3 days. Several Release 4 and 5 work items made very good progress and were identified for reaching finalization status in the upcoming one or two months, including:
Release 4:
Feature (FEAT) 17 on "Cloud-native VNFs and container infrastructure management", in particular on the new group specification (GS) development about CCM-VIM interfaces (work item DGS/NFV-IFA052),
FEAT20 on "NFV automation", specifically for the new GS development on intent management service interface (DGS/NFV-IFA050) andFEAT21 on "NFV support for 5G", with a special emphasis on the related normative work development to support PaaS services in NFV.
Release 5:
FEAT19b on "NFV connectivity integration and operationalization", to continue the development of the new group report (GR) about NFV network connectivity (DGR/NFV-IFA035),
FEAT28 on "Fault Management models", with the development of the new GS to define and specify alarms within the NFV context (DGS/NFV-IFA045), and
FEAT31 on "Flexible VNF deployment", to steadily progress the normative work with change requests (CR) to update existing NFV-MANO specifications.
Other than these, below Release 4 and 5 work items also made some progress in this meeting, but the WG required to see more contribution inputs for determining when would the work items reach their stable drafts, including:
FEAT24's new GS development on "VNF generic OAM" (as part of the work item DGS/NFV-IFA049),
FEAT19a on "NFV container networking", under the umbrella of the new GR development on container networking (DGR/NFV-IFA043), and
The release independent work item on VNF management gap analysis with open source (DGR/NFV-IFA051).
With much time now spent on the work items, we expect more slots of future WG meetings will be available for accommodating new features and work items to be started as part of the upcoming Release 6. When telco virtualized networks are evolving towards cloud-native in this era, the conflicts between traditional standard development processes and more dynamic and agile requirements from cloud native world is increasingly prominent, which makes WG a focus point to resolve the conflicts and gaps.
The WG meeting also handled several contributions that influence general ETSI NFV ISG matters, such as the agenda proposal for a joint workshop with O-RAN planned to be held in June, improving the efficiency of the WG working procedures, offloading workloads among EVE, IFA and SOL working groups for better WG working coordination in the future. Some of the above discussions will provide valuable inputs for NFV future workshop sessions in the next NFV#42 plenary.
The time to parting is always reluctant, even more when WG colleagues have fallen in love with the daily supply of specialty drinks offered during the coffee breaks, lingered with some other local delicacies including the typical Bavarian pork knuckles that some of the delegates enjoyed at a social dinner. Delegates will start a new journey of next F2F meeting carrying the harvest from this meeting!
See you all in June at ETSI headquarters for our upcoming NFV#42 plenary!
Related Posts