NFV Phase 2 begins
New leadership, organization, and renewed focus on implementation
While much of the country was coping with sub-freezing temperatures, the ETSI Network Functions Virtualization Industry Specification Group (NFV ISG) convened its 8th and final meeting under its original charter in the desert sunshine in Scottsdale. Intel graciously hosted the meeting, arranging excellent accommodations and hospitality throughout the week.
NFV #8 attendees were treated to a private rodeo by NFV#8 host Intel.
NFV #8 was the first U.S. NFV ISG meeting held outside of Silicon Valley, with no drop off in interest:
Number of operators: 37
Total number of organizations: 245
Number of individuals on the mailing list: > 1,200
After taking the industry by storm (literally) - attendees will never forget the unexpected and rare snowfall in the Côte d'Azur at the very first meeting of the ISG (February, 2013) - NFV Phase 1 successfully concluded, with the ISG achieving its stated objectives and defined work program. In recognition, parties sprung up by most working groups to celebrate their success.
"Operator participants are extremely pleased with the outcomes of NFV Phase 1. Few of us could have anticipated how fast this initiative would grow and how influential it would become. As we enter Phase 2, operators' expectations continue to rise. We are very conscious of the fact that vendors are investing significant resources to develop NFV capability. It is therefore very important to stay focused and maintain our momentum to create opportunities for NFV deployment."
Don Clarke (CableLabs), Chair of the Network Operator's Council
NFV operators have every right to be proud, as NFV has literally redefined the ground rules for telecommunications technology adoption by:
Avoiding the temptation to create new standards - the ISG instead worked to influence existing and emerging SDOs and open source projects
Highly collaborative engagement model:

Among operators, some of whom are fierce competitors
Between operators and vendors

Reinventing itself as needed to adapt to the challenges at hand
Adopting a pragmatic approach that emphasizes progress over completeness and implementations over technical elegance
Capitalizing on a familiar and well-established administrative model that permitted the ISG to concentrate on progress vs. process
"We are pleased that ETSI could enable the groundbreaking NFV ISG, which successfully forged an innovative standardization cooperation model, built upon assertive goals, pragmatism, lightweight process, and unprecedented collaboration. We applaud the ISG's phenomenal accomplishments to date and believe that the NFV ISG is already influencing the entire industry."
Luis Jorge Romero, ETSI Director General
After months of planning, guided by the incoming ISG leadership elected at the prior meeting in July, the NFV Phase 2 work program commenced with a general agreement on the objectives and work scope:
Grow an interoperable VNF Ecosystem
Thoroughly specify reference points and requirements defined in Phase 1
Achieve broader industry engagement to ensure that NFV requirements are satisfied
Clarify how NFV intersects with SDN and related standards, industry, and open source initiatives
Steven Wright (AT&T), presiding over his first meeting since being elected Chair of the ETSI NFV ISG observed "I remain encouraged by the elevated enthusiasm by operators and partners alike. The NFV community that we have fostered has never been more robust. While we have challenges to overcome, broad industry participation has resulted in a healthy debate on our Phase 2 plans, which are converging as expected."
In Phase 2, the ISG agreed to disband the existing NFV ISG Working Groups, and approved a new leaner working group structure better suited to the goals for Phase 2. While a healthy debate unfolded regarding the detailed Phase 2 scope and working group inter-relationships, a general consensus emerged, and the work began immediately.
The new working groups will focus less on requirements and more on adoption. Among the key areas that will be addressed include:
The 'ilities': Stability, Interoperability, Reliability, Availability, Maintainability
Intensified collaboration with other bodies
Testing and validation to encourage interoperability and solidify implementations
Establishment of a vibrant NFV ecosystem
Performance and assurance considerations
Continued attention to network management and operations, which is of particular interest to the Network Operators Council
Security
The ISG also elected new technical leaders to guide the NFV technical agenda. Diego Lopez (Telefonica) was re-elected as the Technical Manager, and Joan Triay (DOCOMO) was elected Assistant Technical Manager, succeeding Tetsuya Nakamura (DOCOMO), who was recently elected Vice-Chair of the NFV ISG. Working group leadership will be elected at the next plenary meeting (NFV #9), scheduled for Prague in late February.
"I am pleased that the ISG reiterated their confidence in me as we approach NFV Phase 2. As our goals shift towards implementation and adoption, we will need more detailed specifications, and address functional gaps of the standards we adopt. In order to achieve our goals, it is critical that our working groups remain focused, operate with lightweight processes, and strive for interoperability in everything that we do."
Diego Lopez, Technical Manager for the ISG
As the ISG made a seamless transition, with a renewed charter, new leadership, and updated working group structure, the ISG has been energized to pave the way to adoption. Two years of use case assessment and prioritization, requirements analysis, architecture definition, document alignment, and countless conference calls, meetings, and drafts have resulted in a solid baseline for Phase 2.
"I am thrilled about the progress we made on the technical baseline in Phase 1, which required a great deal of collaboration and effort. Congratulations to all contributors for their commitment, dedication, and hard work without which, the leap to Phase 2 would not be possible."
Tetsuya Nakamura, ETSI NFV ISG Vice-Chair
Fittingly, Tetsuya, along with Michael Brenner (Alcatel Lucent), Joan Triay (DOCOMO), and Frank Zdarsky (NEC) were recognized by the ISG leadership with a special award for their outstanding contributions to Phase 1.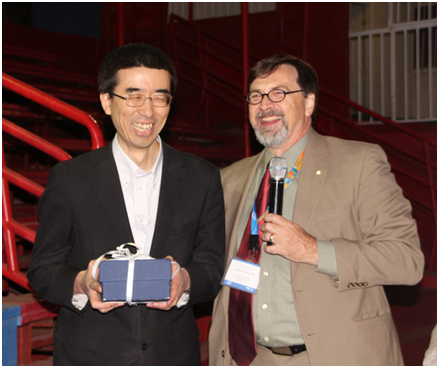 ETSI NFV ISG Chair Steven Wright(r) recognized Tetsuya Nakamura(l), NFV ISG Vice Chair for outstanding contributions in NFV Phase 1.
Given the accomplishments in Phase 1, there is increasing optimism that the ETSI NFV ISG will achieve its lofty goal to radically transform the entire telecommunications industry. 2015 is shaping up to be the year of the trial, leveraging over 25 Proof of Concepts, visible strides in product development, and leading edge operators planning for initial deployments.