The ETSI NFV Industry Specification Group (ISG) met on 4-8 December 2017 for its twentieth plenary meeting (NFV#20) at ETSI Headquarters in Sophia-Antipolis, France. This time, the breezy and sunny Provence & Cote d'Azur in the spring changed to a rather chilly and icy setting, but nothing that our brave ETSI NFV ISG delegates could not handle perfectly with heated discussions and some extra coffee (or tea).
As reported in previous posts, the NFV ISG has been planning and progressing the set of Release 3 feature reports. The latest interim NFV Announcement report provides an overview of the progress made by the different NFV ISG working groups until and up to NFV#19. At the NFV#20 meeting, a significant step forward was achieved with approval to create the related normative work items. But this meeting wasn't all about Release 3, as the working groups were also very busy completing the second round of Release 2 maintenance work.
Describing all the great work performed by the working groups and NFV ISG delegates worldwide is not an easy task. The meeting venue was again the perfect setting for many intense interactions and discussions. As Technical Manager, my sincere appreciation and thanks go out to all the delegates for the work achieved as well as the excellent collaboration between the working groups.
Among the many highlights at NFV#20, there was one shadow; NFV#20 was the meeting in which, unfortunately, we said goodbye to Yun Chao Hu (EVE WG Chair, Huawei), a long-standing NFV contributor from the inception of NFV. Yun Chao has worked exceptionally hard to help our work. An award for Yun Chao's outstanding work and support to the NFV ISG was delivered by our ISG Chair, Diego Lopez (Telefonica). We wish to Yun Chao "all the best in your future professional tasks, and hope to see you again in other places".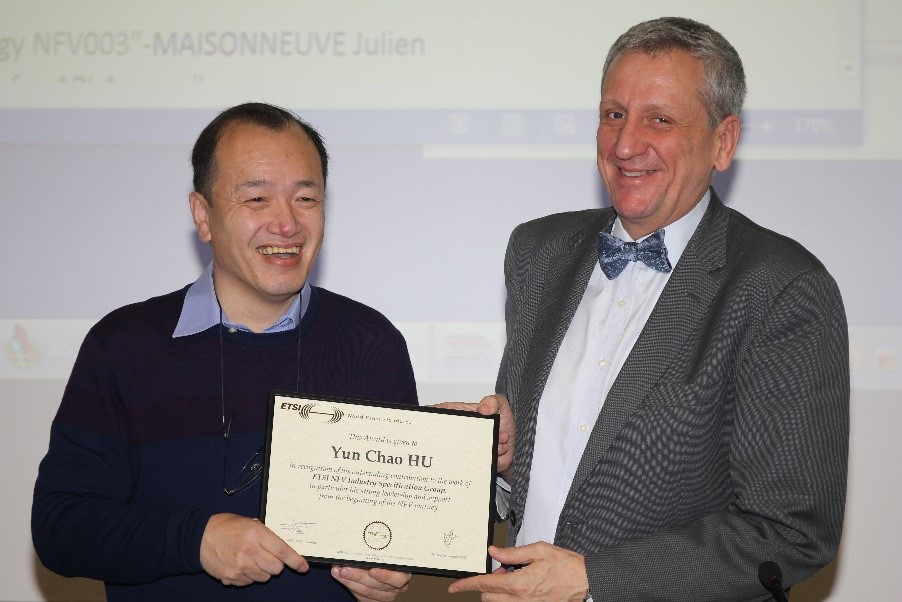 Anyway, let us highlight a few relevant achievements from NFV#20.