Small Cell LTE Plugfest 2
The 2nd Small Cell LTE Plugfest was held from 23 June to 02 July 2014 and was organised by the Small Cell Forum, in partnership with ETSI, and was hosted by the ORANGE Labs in Paris.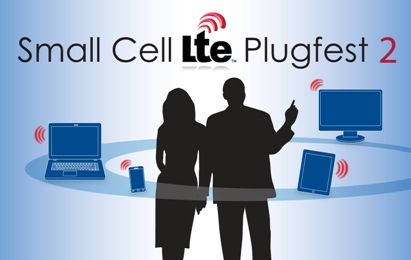 These series of Plugfests aim to cultivating an effective ecosystem of interoperable small cells, helping to debug vendor implementations and drive the resolution of standards ambiguities and gaps. This all helps provide operators and consumers with a wider choice of small cell products while also facilitating economies of scale to bring the small cell mass market closer Multi-vendor Self Optimizing Networks (SON) and voice over LTE were two of the topics given attention at the fifth Plugfest in the series, which was also the second one to focus exclusively on LTE small cells and saw attendance almost double compared to previous year's event.
The scope of this second LTE Plugfest included all small cell LTE variations. Testing concentrated on S1, X2 and management interfaces (TR-069/TR196) and covered areas such as Security, Management, Mobility (Outbound, Inbound), Voice Support via CS Fall-back schemes, Voice and Video over LTE, Location Reporting, CMAS and SON. One of the key areas of focus was the testing of multi-vendor mobility and SON in heterogeneous networks.
The Plugfest was supported by 26 different organisations with 65 engineers onsite, including equipment vendors, test tool vendors and companies providing test network infrastructure: Airspan, Airvana, Alcatel-Lucent, Broadcom, Casa Systems, Cavium, Cisco, Com4Innov, Contela, Fujitsu, IP.access, Ixia, JDSU, NEC, Node-H, One2Many, Orange, Public Wireless, PureWave Networks, Qosmotec, Qucell, Quortus, Radisys, Sistel Networks, SMEC and Stoke.
All participants were requested to conduct remote pre-test integration. By connecting to the remote test infrastructure enabled by ETSI, participants had a chance to anticipate and mitigate connectivity problems during the Plugfest. Running remote pre-testing allowed to target a large scope and ensured a good rate of successful test case execution during the event.
This activity was supported by the European Commission and the NGMN Alliance.
Small Cell LTE Plugfest 2 Blog