CoAP 4 Plugtests
The fourth Constrained Application Protocol (CoAP) Plugtests™ event was held in London, UK, from 7-9 March 2014. This event was organized by ETSI and supported by the IPSO Alliance. Representatives from the Open Mobile Alliance were on site to assist with the OMA Lightweight M2M tests. This event was collocated with the 89th IETF meeting.
This event aimed to assess the interoperability of multivendor CoAP implementations including the additional coverage of OMA LWM2M, DTLS and 6LoWPAN for participants who wish to bring implementations.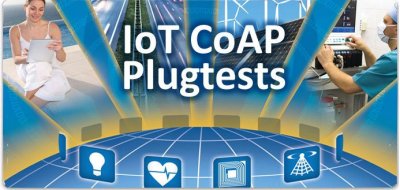 Interoperability test scenarios based on the IETF and OMA standards for M2M were performed. The test scenarios were mainly focused on server and client CoAP end-point implementations and products focusing on the base CoAP specification, CoAP Block Transfer, CoAP Observation and the CoRE Link Format.
The testing included an improvement of scenarios performed at previous CoAP events along with new tests on CoAP standards, OMA Lightweight M2M, Security DTLS and 6LoWPAN.
This is in line with the standardization work of the oneM2M Partnership Project, where CoAP, DTLS and OMA LWM2M are considered as key components of the future global standardized M2M architecture.
Participation at this interoperability event was open to everyone with an implementation to test and was free of charge.
As this event finished just two weeks prior to the Interim Report being submitted the results of the tests and the experience gained are not fully available. However some preliminary findings and achievements are mentioned below.
During this event it was found that:
all implementations have been compatible on a basic level,
CoAP standards are clearly mature,
the last changes in the Block and Observe specifications have been tested with success, and
the level of Interoperability of OMA LWM2M is excellent. As the scenarios were basic, it shows a good maturity at the basic level. The testing now needs to be extended with more indepth testing scenarios.
Following a technical discussion during the CoRE Working Group meeting at the IETF#89 on Friday 7 March the need for further test cases was raised. This has lead to a new test description being written immediately (TD_COAP_OBS_12) and it was all hands on deck to ensure that the tests could be carried out just two days later during the ongoing Plugtests event. The results will be provided to the IETF CoRE WG with the least possible delay.
This highlights once again the synergy between Plugtests event and standardization bodies and shows the advantage of having the event so closely linked to standardization meetings.
This event had small but significant participation of ten companies who provided various CoAP clients and servers, DTLS and OMA LWM2M implementations. This was a higher participation than the previous event in 2013. Being collocated with the IETF meeting may have been a boost to the participation.
There was also a representative from OMA present to assist with the OMA lightweight M2M testing activities.