Testing the mix for GPON and DSL success
Sophia Antipolis, 16th May 2007
One of the largest and most successful triple-play testing events for both Gigabit Passive Optical Networks (GPON) and Digital Subscriber Line (including VDSL2 and ADSL2/2+) attracted over 150 engineers to the French city of Lannion from the 7th to 11th May 2007.
ETSI and all of the partner organizations wish to thank the Lannion Tregor Agglomeration and the city of Lannion for their strong support and welcome - which has been a significant factor in the smooth running of the PlugtestsTM.
The event, hosted by France Telecom - Orange Labs and organized by the ETSI PLUGTESTSTM service, was attended by Customer Premises Equipment (CPE) manufacturers, Chip manufacturers, Network device manufacturers (DSLAM, etc), as well as test tool manufacturers. Major technical support was provided by CETECOM ICT Services and France Telecom - who provided the test plans, test guides and the infrastructure needed.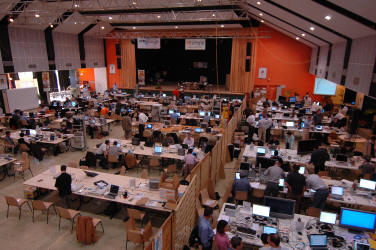 DSL and GPON testing side-by-side in Lannion, France
GWENAEL LE LAY, Senior expert in network integration and testing tools for multiplay offers, France Telecom - Orange Labs, said:
'We have put our focus on providing support to CPEs and DSLAMs vendors in the area of QoS measurements for voice over IP and IPTV, with several triple-play oriented testing tools giving a lot of feedback on the tests performed. Now we intend to extend the scope of triple-play interoperability test suite to optical access technologies.
From the vendors' perspective, we believe that the ETSI PLUGTESTSTM event is definitively the place to be to assess all broadband access solutions for the demand for a higher bandwidth.'
With most home customers currently limited to ADSL speeds of a maximum of 25Mbits/s, Service Providers have recognized the need to increase the bandwidth in order to provide new content such as voice over IP, HD IPTV, peer-to-peer services and video-on-demand - all with guaranteed quality and reliability.
Optical fibre and VDSL2 both offer a maximum of 100 Mbits/s symmetrical access, so it is now for the Service Providers & operators to decide which technology they are going to use. Some see GPON as the answer - as it appears to be more future-proof... others are backing VDSL2 solutions that can use the existing access network, based on copper.
Leopold Diouf, FTTU Product Manager, Alcatel-Lucent, said:
'Alcatel-Lucent is pleased by the success of the interoperability event that clearly indicates progress towards GPON's rise as a dominant wireline access technology.'
Luis Hernandez, Triple Play Product Manager from Agilent Technologies, said:
'From a test vendor perspective, this proved the ideal vehicle to understand the issues and challenges faced by industry leaders in both developing and deploying triple play services'
Perhaps the [economic] truth lies between these two access methods, with many companies testing for a transition phase to fully optical networks, where fibre is used for transport to a building or a cabinet with existing copper going to the home.
Andreas Ehre - Head of Department for 'Engineering Projects and New Services' at CETECOM ICT Services, said:
'Seeing the progress made on VDSL2 interoperability paired with the efforts being now put into GPON interoperability, we must now provide independent test services for all contingencies. We are looking forward to strengthen the work with ETSI on further topics such as the Auto-configuration at future events.'
Complimenting the organizers and the hosts, Amir Sternberg, Associated Vice President, Technical Services, ECI Telecom, said:
'ECI Telecom recognizes ETSI interoperability events as a major opportunity for advancing and supporting cutting edge technologies in a friendly, sociable environment amongst our competitors and partners. The GPON event in Lannion has gathered many of the major players in the arena and enabled once again this fruitful collaboration'
The Full Service Access Network Group (FSAN) have published a related News Release, with technical detail and information related to the GPON testing in Lannion (Click here).
[END]
Notes to editors
About ETSI
ETSI unites almost 700 member organizations from 63 countries, including manufacturers, network operators, administrations, service providers, research bodies and users - in fact, all the key players in the ICT Standards arena.
For more information:http://www.etsi.org/.
About ETSI Plugtests
The ETSI PlugtestsTM is a professional service provided by the ETSI Centre for Testing and Interoperability, specializing in running interoperability test events for a wide range of telecommunications, Internet, broadcasting and multimedia converging standards.
For more information:http://www.etsi.org/plugtests/.
See also the event web pages at http://etsiweb.etsi.org/WebSite/OurServices/Plugtests/20073DSL.aspx
'Plugtests' is a trademark of ETSI registered for the benefit of its Members.
About FSAN
The Full Service Access Network (FSAN) Group is an interest group for the world's leading telecommunications services providers, independent test labs and equipment suppliers to work towards a common goal of truly broadband fiber access networks.
For more information:http://www.fsanweb.org/.
About DSL and GPON
xDSL - ADSL2, ADSL2Plus, VDSL2... are modem-based technologies, operating on copper cables initially designed for voice communication (bandwidth from 300 to 3.4 KHz). Nevertheless, xDSL is able to use the copper cables in a much wider frequency range than the copper wires were initially intended for. The bandwidth has been increased 10 times over the past ten years, and it has now reached 100 MHz for VDSL2, therefore enabling 100 Mbits/s per subscriber.
G-PON - FFTH (Fibre To The Home), was tested in Lannion this year on the basis of the G-PON technology (Gigabit Passive Optical Network). This technology offers the possibility to carry several Gigabits on a single fibre and to serve a group of 64 clients. Each client will therefore receive a symmetrical flow of 100 Mbits/s, offering the possibility of three high definition video channels. G-PON has been adopted by major optical fibre operators in the world.
For further information about this news release, please contact:
Kevin FLYNN,
ETSI Press co-ordinator
Tel: +33 (0)4 92 94 42 58
[email protected]