Brazilian NGN influence grows after Standards Workshop
Sophia Antipolis, 15th November 2006
At the hugely successful NGN Workshop in Brasilia, - 9th,10th November, hosted by Brasil Telecom, an audience of over 250 heard how technical standards are solid foundations for Service Providers to continue progress towards the Next Generation Network (NGN).
Dante Nardelli Júnior, Brasil Telecom Technical Planning Director, said: 'This is the first time a TISPAN Plenary meeting has been hosted outside Europe, providing a great opportunity to bring an in-depth debate on technology and net standardization to Brazil.'
Outlining Brasil Telecom's commitment to TISPAN, Marcio Borges, Brasil Telecom Senior Adviser, told delegates: 'The telecoms world is facing a great challenge and Service Providers need to work together to achieve the multiple benefits of having a single standard for the NGN. This workshop and the co-located TISPAN Plenary Meeting bring both participation and renewed influence for Brazil in the defining of future networks'.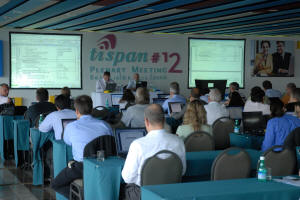 TISPAN#12 working on NGN Release 2 in Brasilia.
The NGN workshop attracted representation from the entire Brazilian telecommunications sector.
At the same location, the ETSI TISPAN Technical Committee held its 12th Plenary meeting to continue work on Release 2 of the NGN specification.
Chairman of TISPAN, Mr. Rainer Muench (Alcatel, Germany) said: 'The event was a major milestone for TISPAN and the facilities and hospitality from Brasil Telecom were first class. Indeed, the event was a great success for all concerned. TISPAN made a big step forward and Brasil Telecom contributed significantly to that success.'
[END]
Notes to editors
The presentations from the Workshop are on-line at http://portal.etsi.org/docbox/tispan/Open/Archives/Joint_meetings/
The following organizations participated:
Accenture, Alcatel, Alcon Engenharia de Sistemas Ltda., Anatel, Anritsu, Assessor Especial da Presidência da CNI, Aynil Soluções Ltda., B2Br Business to Business informatica do Brasil Tlda, Banco do Brasil, Bearingpoint, Berkana Produtos Eletrônicos Ltda., Brasil Telecom, BRISA, CAMARA DOS DEPUTADOS, CASA MILITAR, GOVERNO DO DISTRITO FEDERAL, Cineclick, Cisco Systems, Claro, CPqD, DBA Engenharia de Sistemas Ltda., DI SESSA CONSULTORIA, E-Business Pontual, EMBRATEL, EMC2 Brasil, Ericsson, ETSI, Força Aérea - CINDACTA I, France Telecom, Fujitsu UK, Geodex Communications do Brasil SA, Global Crossing, Global Village Telecom, GVT, Global Village Telecom, Hispamar Satélites S/A, HP do Brasil LTDA, Huawei Technologies, IBRACE CERTIFICAÇÕES, Infineon Technologies, Intec Telecom Systems, Intelig Telecom, Italtel Brasil, Lucent Technologies, Ministério da Justiça, Ministério das Comunicações, Motorola, NEC, NET, NetScience, Nokia, Nominum Inc, Nortel Networks, NTT Corp., OEMTEL, ORACLE, Orange, Portugal Telecom, Presidencia da Republica, Primer Telecomunicações Ltda, Promon Tecnologia, QUALCOMM, Rede CBS de Rádio e Televisão, SELEX Communications, Serpro, SFR, Siemens, SITEST S/C, SmartTrust Growing Mobile, SPRINT, Suntech Telecom Solutions, Swisscom, Tecnomen Sistemas de Telecomunicação, Telarix, TELEFÔNICA, Telemar, Telemikro Tecnologia da Informação Ltda., TeliaSonera AB, Teltronic, TIM Brasil, TIM Celular, Trópico Sistemas de Telecomunicações S/A, True Access Consulting LTDA, U.S. Department of Commerce, UnB, Universidade de Brasilia, Universidade Federal de Pernambuco, UTStarcom, Vivo, Wise Industria de Telecomunicaçoes Ltda., ZTE.
About ETSI
ETSI unites over 650 members from 60 countries, including manufacturers, network operators, administrations, service providers, research bodies and users - in fact, all the key players in the ICT arena.
For more information: http://www.etsi.org/.
About ETSI TISPAN
Building upon the work already done by 3GPPTM in creating the SIP-based IMS (IP Multimedia Subsystem), TISPAN and 3GPPTM are now working together to define a harmonized IMS-centric core for both wireless and wireline networks.
This harmonized ALL IP network has the potential to provide a completely new telecom business model for both fixed and mobile network operators. Access independent IMS will be a key enabler for fixed/mobile convergence, reducing network installation and maintenance costs, and allowing new services to be rapidly developed and deployed to satisfy new market demands.
NGN Release 1 was launched by TISPAN in December 2005, providing the robust and open standards that industry can use as a reliable basis for the development and implementation of the first generation of NGN systems.
TISPAN is now working on Release 2, with a focus on enhanced mobility, new services and content delivery with improved security and network management.
About Brasil Telecom
Since 1998, Brasil Telecom offers local fixed telephone services in the Federal District and the States of Acre, Rondônia, Tocantins, Mato Grosso, Mato Grosso do Sul, Goiás, Paraná, Santa Catarina and Rio Grande Do Sul. In July 1999, the company started to offer the Supplier's Selection Code - SSC 14 for interstate calls and in January, 2004 SSC 14 started to operate all over the country and also internationally.
More details at www.brasiltelecom.com.br.
For further information about this news release, please contact:
Kevin FLYNN,
ETSI Press co-ordinator
Tel: +33 (0)4 92 94 42 58
E-mail: [email protected].