Funded R&D work to look to Standards for Interoperability
Sophia Antipolis, 31st October 2006
ETSI has hosted a two day workshop, 23-24 October in Sophia Antipolis, which has confirmed that standards and interoperability are essential to the success of European Technology Platforms (ETPs) - Industry led initiatives, defining research and development priorities for the European Union.
In his address to the workshop, Bernard Barani, Attaché, European Commission Communications and Network Technologies Directorate, stated that 'strong interactions between ICT R&D and standards has proved to be an efficient way to promote research results' and he encouraged Standards makers to further use the member base of the ETP's - particularly in terms of cooperation within the European Commission IST Seventh Framework Programme (FP7), which provides significant funding for R&D.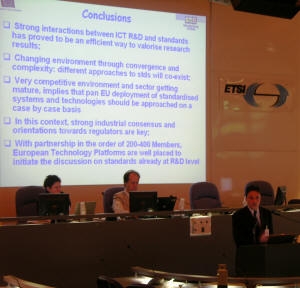 Bernard Barani speaking at the workshop


The ETSI Director General, Walter Weigel, emphasized the need for clear thinking and leadership from Europe to help produce standards as early in the design phase as possible, reducing the need for 'ex-post' interoperability tests to uncover the problems that should have been addressed at the beginning. Dr. Weigel gave the example of how having a core IMS standard in converging ICT networks is a key factor towards interoperability down-stream in the manufacturing process.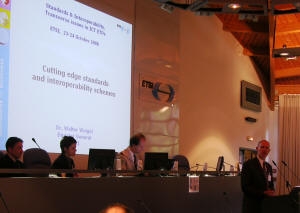 Walter Weigel, ETSI Director General
Echoing the call for better optimization between research and standardization, David Kennedy, Director, Eurescom, said:
'Existing ETP's NEM and eMobility will raise the relationship between the Platforms and standardization at their next joint meeting with NESSI and ISI'.
Drawing on past experiences, Konstantinos Karachalios, of the European Patent Office, emphasized the need for IPR policies to allow patents and standards to follow complimentary trajectories, he said:
'A clear necessity for closer structural dialogue between the worlds of IP and standards has emerged from this conference. This is most useful and, one hopes, will lead to more concrete steps, such as the crystallization of an overall IPR strategy to be implemented, both at the level of the SDOs and Patent offices.'
To coincide with the workshop ETSI has published its latest White Paper 'Achieving Technical Interoperability'. In his leadership of a panel session on the subject, Anthony Wiles, ETSI Protocols and Testing Competence Centre Manager, told delegates that the goal of ETSI is to ensure that instances of non-interoperability are not caused by poor or insufficient standardization. He promised that 'ETSI standards are designed for Interoperability, validate for interoperability, test for interoperability and are maintained for interoperability.' Copies of the paper were distributed at the workshop, and free copies are available at http://www.etsi.org/etsi_radar/whitepaper .
Papers from the conference are available on-line at http://etsiweb.etsi.org/WebSite/OurServices/EventServices/PastEvents/StandardsInteropICTETPs.aspx.
[END]
Notes to editors
About ETSI
ETSI, the European Telecommunications Standards Institute, is Europe's officially-recognized standardization body for Information and Communication Technologies (ICT), including telecommunications and broadcasting. An independent organization, ETSI unites almost 700 members from 56 countries, including manufacturers, network operators, administrations, service providers, research bodies and users - in fact, all the key players in the ICT arena.
For more information:http://www.etsi.org.
For further information about this news release, please contact:
Kevin FLYNN,
ETSI Press co-ordinator
Tel: +33 (0)4 92 94 42 58
E-mail: [email protected].