International Recognition of Electronic Signatures eases a step closer following ETSI Technical Report
Sophia Antipolis, 9th October 2006
By mapping USA Federal PKI certificate policy requirements into the EU Qualified Certificate Policy, ETSI Technical Report (TR) 102 458 is providing Certification Authorities a path towards international recognition of Electronic Signatures.
There is growing interest in ETSI Electronic Signature work, notably from Japan, where ECOM are following the specifications very closely. Chair of ETSI's Electronic Signatures and Infrastructures (ESI) Committee, Riccardo Genghini says:
'We have had expressions of interest from several regions as the communications industry explores how best to meet the requirements of both the User and the Authorities beyond National boundaries.'
With this alignment of the European Qualified Certificate Policy (QCP) with the United States Federal Bridge Certification Authority (FBCA) Certificate Policy the prospects for cross-certification agreements have been greatly enhanced.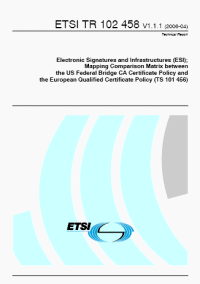 ETSI activities in this area will continue to focus on Procedures for the handling of Advanced Electronic Signatures On Digital Accounting (SODA) and on Electronic Signatures Applied to Registered EMails (REM).
ETSI TR 102 458 and the ETSI TS 101 456 - Which specifies the European requirements for certification authorities issuing qualified certificates - are freely available from the ETSI web site.
More details are on-line at http://portal.etsi.org/fixed/Security/Electronicsignature.asp
[END]
Notes to editors
About ETSI
ETSI, the European Telecommunications Standards Institute, is Europe's officially-recognized standardization body for Information and Communication Technologies (ICT), including telecommunications and broadcasting. An independent organization based in Sophia Antipolis, France, ETSI unites almost 700 members from 56 countries inside and outside Europe, including manufacturers, network operators, administrations, service providers, research bodies and users - in fact, all the key players in the ICT arena.
As many of these members are active globally, ETSI's focus extends well beyond Europe. The institute plays a major role in developing a wide range of specifications as Europe's contribution to world-wide ICT standardization. ETSI's prime objective is to support global harmonization by providing a forum in which all the key players can contribute actively. In addition, it has specific responsibilities within Europe, notably in support of European regulation and legislation, and is officially recognized by the European Commission and the EFTA Secretariat. Complementary services offered by ETSI include interoperability testing and forum management.
For more information: www.etsi.org
For further information about this news release, please contact:
Kevin FLYNN,
ETSI Press co-ordinator
Tel: +33 (0)4 92 94 42 58
E-mail: [email protected]