In Case of Emergency…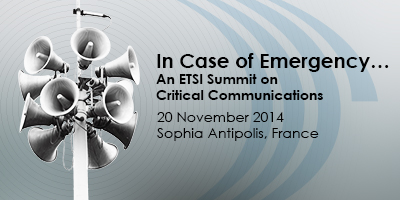 An ETSI Summit on Critical Communications
The annual ETSI Summit explores issues of strategic significance to ETSI, led by keynote speakers who are leaders in their fields. The subjects discussed are, or will become the hot topics for most of ETSI's members. Adding a unique standards perspective not found in other industry events, the ETSI Summit confirms ETSI as a thought-leader in the ICT industry.
This year's ETSI Summit focuses on the subject of critical and emergency communications. It will take place on 20 November 2014, immediately following the ETSI General Assembly, and in the same location: ETSI's headquarters in Sophia Antipolis, France.
ETSI has established itself as a leader in the standardization of technologies for critical and emergency communications. Our TETRA radio system is now sold throughout the world. We have numerous ongoing standards activities related to emergency call technologies for use in Europe. Our Public Safety standardization ranges from maritime personal emergency locater beacons to public warning systems.
However, our work in this field has now entered a new phase. Solutions which are uniquely European are no longer required. The global 4G communication standard, LTE, developed by 3GPP, is now being considered for use alongside TETRA to provide broadband service to first responders. Public warning systems are being developed in each region of the world, and the best feedback of experience in their use comes from outside Europe. We are analyzing how to correctly locate those who place emergency calls on VoIP systems – when these systems may not be managed or located in Europe. And our Satellite Emergency Communications work will most likely have its greatest impact in disaster relief operations in remote areas of the globe.
The 2014 edition of the ETSI Summit will approach these subjects in a refreshingly different manner. Rather than delivering a series of technical presentations, we will examine the topics with different perspectives. We will look at the public policy at stake, the opinion of professional users, the cost/benefit analysis, and technology and standardization challenges. Each perspective will be presented, and then debated with the audience. The debate will be stimulating, the outcome uncertain, but feedback will be immediate and the focus will quickly turn to the key sticking-points.
Who should attend?
This ETSI Summit is of particular interest to those involved in technology strategy or management in the field of emergency and critical communications: Chief Technical Officers and CTO office staff, Chief Scientists, professionals involved in strategic planning, product strategy, technical strategy and standards management.
The event is also of particular interest to public authorities, local, regional and national governments, European institutions and the European Commission, first responders and emergency services, as well as the ICT industry at large, including equipment manufacturers, service providers and system integrators.
Reserve your place now – the ETSI Summit is free of charge but space is limited and places go quickly.
Rather than delivering a series of technical presentations, during the 2014 Summit we will examine the topics from different perspectives. We will look at the public policy at stake, the opinion of professional users, the cost/benefit analysis, and technology and standardization challenges. Each perspective will be presented, and then debated with the audience. The debate will be stimulating, the outcome uncertain, but feedback will be immediate and the focus will quickly turn to the key sticking-points.
09.00 Opening, Introductory Presentations
Jonas Sundborg, Chairman of the ETSI Board
09.30 Public Warning Systems
Moderator: Dirk Weiler, Chairman of the ETSI General Assembly
Sadayuki

Abeta

, ARIB Advanced Wireless Communications Study Committee
John Tacken, Project Manager NL-ALERT
10.30 Networking Coffee
11.00 Citizen to Authority Communications
Moderator: David Williams, ETSI EMTEL (Emergency Communications) Committee Chairman
Gyula Bara, European Commission, Policy officer for the European Emergency Number 112
Wolfgang Kampichler, Chairman of EENA (European Emergency Number Association) NG112 Committee
Daniel Voisard, Chairman ECC PT TRIS (Technical Regulatory Issues) WG NaN (Numbering and Networks)
Andy Rooke, Project Manager ERTICO
12.30 Lunch
13.30 LTE for Critical Communications
Moderator: Adrian Scrase, ETSI CTO
Phil Godfrey, Chairman Tetra & Critical Communications Association
Duncan Botting, Director European Utilities Telecoms Council
Vincent Lemonnier, Officier de Gendarmerie, Ministry of the Interior of France
Simon Forge (Author of EC study on the use of commercial mobile networks and equipment for mission critical high speed broadband communications)
15.00 Networking Coffee
15.30 Post-Incident Recovery & Disaster Relief
Moderator: Luis Jorge Romero, ETSI Director General
Hiroshi OTA, ITU-T Counsellor, Focus Group on Disaster Relief systems, Network Resilience and Recovery

Laurent Franck, ETSI Satellite Emergency Communications Working Group Vice-Chairman

Geoff Naldrett, COO British APCO, Project Hydra
17.00 Concluding Remarks
Jonas Sundborg, Chairman of the ETSI Board
17.15 Workshop Close
17.30 Departure of bus shuttle to Nice Airport Terminal 1 & 2

Sadayuki Abeta received the B.E., M.E. and Ph.D. degrees in electrical communication engineering from Osaka University, Osaka, Japan, in 1993, 1995, and 1997 respectively. He has been with NTT DOCOMO, INC from 1997, where he is currently a Director of the radio system group and radio network system group in the radio access network development department. He has been working for research, standardization and development of the UMTS/W-CDMA, HPSA, LTE and LTE-Advanced. He also works for the performance optimization and cell planning for commercial LTE network. From June 2000 to May 2001, he was a visiting researcher in Princeton University. From 2005 to 2009, he was a vice chairman of 3GPP TSG-RAN WG1 and rapporteur of LTE and LTE-Advanced in 3GPP TSG RAN WG1.
Gyula Bara - Practicing lawyer before joining public administration. From 2006 regional policy attachee in Brussels for 3 years. Joined the European Commission to work in the field of energy efficiency policy. In 2011 joined the unit responsible for the implementation of the EU regulatory framework for electronic communication as policy officer responsible for the implementation of the 112 European Emergency Number. Also responsible for the implementation of the EU regulatory framework for electronic communication in Romania and Latvia.

Prof. Duncan Botting BA FEI, FRSA, FEMA, MIET, MIEEE
Duncan currently holds the posts of Director European Utilities Telecoms Council and Managing Director Global Smart Transformation Limited. In these roles he works closely with customers, academia, industry, government and regulators to deliver innovative technical, commercial, environmentally balanced and culturally acceptable solutions to market challenges. He provides mentoring and business acceleration services to numerous SMEs to help them achieve their strategic aims. Some of his previous roles include: Business Innovation and Growth Director at Parsons Brinckerhoff (part of Balfour Beatty Group), Executive Chairman of the Scottish European Green Energy Centre, Managing Director ITI Energy (a research institute), Head of Technology & Business Development for ABB, Departmental Head of Schneider Power Projects, a Mathematician and Radar Modelling Engineer with Thorn-EMI Electronics. He has over 35 years experience covering the complete spectrum of technical and commercial roles from apprentice to boardroom. He is a visiting professor at Imperial College London and the University of Strathclyde, Glasgow.
He is an active member of the Institution of Engineering and Technology (IET, formerly the IEE) and is involved in many influential panels, advisory boards and committees at a National, European and International level. He is engaged across the energy domain from market design to end user delivery. As a member of the IET Energy Policy Panel and Power Network Joint Vision group, founding member of the DECC/Ofgem Smart Grid Forum and a work stream chair, UK Energy Research Council Advisory Board member, a former member of the Scottish Governments Energy Advisory Board, former member the Birmingham's Smart City Commission, former Vice-Chair of the European Technology Platform (ETP) for "SmartGrids" and a current member of the EU Smart Grids Taskforce and ETP Smart Cities and Communities working groups he is helping to shape future thinking across the energy sector and future cities deployment. He is also a founding member and served on the shadow board of the National Skills Academy for Power.
In the area of energy and climate security Duncan has been a thought leader for over 20 years and has been contributing to national critical infrastructure working groups (DoE, UK, Asia), global corporate R&D and scenario building to inform and challenge board level decisions.

Simon Forge has over 25 years' experience in the information industries, principally in the UK, France and Italy. He is director of SCF Associates Ltd. His strategy and economic studies have been used by major systems vendors, government and telcos to establish new directions, especially on spectrum policy. Currently he works on projects in telecommunications, computing and their socio-economic impacts, specifically exploring new radio and computing models and technologies with an emphasis on forecasting (using a scenario-based methodology). Recent studies include an EU policy for sharing spectrum, with economic benefits analysis, use of licence exempt bands for novel smart grid technologies, a strategy for the release of the 700MHz band to stimulate EU industry and also pragmatic roaming cost models presented worldwide, plus a comparison of innovation conditions for high technology industries in the EU and USA. In the past he has worked on design of the next generation of the internet, also on the technical demands (especially spectrum) for the Internet of Things. He has acted as expert for the European Commission on a green ICT strategy and also for the Presidency of the EU on a green knowledge society. Previously, Simon was Director of IT Development for Consumer and Business Products for Hutchison 3G UK, managing creation of multimedia software applications for mobile. He has a PhD in digital signal processing, MSc and BSc in Control Engineering, all from the University of Sussex, UK. He is a Chartered Engineer, M.IEE and sits on the editorial board of the Journal Info.
Laurent Franck is professor at Telecom Bretagne and the head of the Toulouse site. He has master degrees in computer science, in social sciences and a PhD in satellite communications. His research activities target the use of satellite communications for daily emergencies and disaster management. Laurent is IEEE senior member and an active member of the ETSI SES/SatEC standardisation working group. Since 13 years, he is an active first aid volunteer with the French Red Cross and a team trainer. He's passionate about emergency management and first aid.

Phil Godfrey is the Chairman of the TETRA and Critical Communications Association, the representative organisation for the TETRA industry. Phil has been involved with the Association since its formation as the TETRA Association in 1994.
He has been involved in the commercial development of TETRA since 1993, during which time he has been instrumental in promoting TETRA worldwide. TETRA is now present in more than 125 countries worldwide, the majority of which are outside the technology's original European stronghold. Phil has also been driving the development of a strategy to deal with future Mobile Broadband services and how they will impact the Critical Communications market.
Phil is the owner and a Director of Arpeggio Ltd, his own consulting business, which provides commercial consultancy to communications technology industries including many involved in TETRA. He previously worked for Philips and subsequently Simoco Digital Systems where he was Market Development Director.
Phil has enjoyed a career spanning more than 40 years in the professional mobile radio business covering sales, service, marketing and general management positions.

Dr. Wolfgang Kampichler, Principal at Frequentis AG, received his PhD from the Vienna University of Technology in 2002 and has accumulated 18 years of experience in IP communications technology. He has participated in scientific roles in all recent Frequentis activities related to design and development of IP based voice communication systems. Further, he contributes to standardisation working groups in public safety and air traffic management and is a recognised expert and speaker at public and customer events addressing topics related to VoIP in air traffic management and emergency services with Internet technology. Since 2014 Mr. Kampichler is chair of EENA NG112 committee.

Vincent Lemonnier is a Lieutnant-colonel of Gendarmerie Nationale. Graduated of Special Military Academy of Saint Cyr in the science branch.
He has spent all his career in the gendarmerie. He began as a leader of intervention squad in Calais in North of France. Then, he joined the subdirectorate of Telecommunications and Informatics for gendarmerie. Attached to the engineering institute of SUPELEC for 2 years, He succeeded in Engineer degree and advanced master degree of radiocommunication. As soon as he returned in the specialized subdirectorate, he is in charge of area centralization of call emergency and overall of the management of phone, satellite and mobile for gendarmerie. In 2010, he integrated the new office created to join forces between police and gendarmerie named Service of Technologies and Information Systems for Interior Security. In 2011, he was appointed to command an operational gendarmerie unit in the area of Avesnes-sur-Helpe in north of France in charge of judicial and administrative police for 125 000 people. In 2014, he is attached to the Home Office at the Governance of Information and Communication Systems.

Geoff Naldrett is the Chief Operating Officer (COO) for the British Association of Public-Safety Officials (B-APCO). He served in the Royal Navy as a specialist communicator for 30 years, during which time he worked extensively with NATO and is highly experienced in multi-national environments and co-operational working. He has lived and worked in Italy, Gibraltar and Belgium in various roles, ranging from Cryptography to Satellite Communication delivery. After leaving the military he joined EADS/Airbus and focused on strategic communication support for the UK Armed Forces and NATO, whilst working at the NATO HQ in Mons, Belgium. There then followed a four year period in UK national resilience, working closely with UK Central Government to deliver a high integrity communication system to Police Services in England and Wales for use in times of stress. After ten years with EADS/Airbus he left to join B-APCO. In his current role he is responsible for all operational aspects of BAPCO.

Hiroshi Ota joined International Telecommunication Union (ITU) in January 2009. He is currently serving as secretariat for ITU-T Study Group 12 (performance, QoS and QoE), ITU-T Study Group 15 (optical transport networks and access network infrastructures), and ITU/WMO/UNESCO IOC Joint Task Force on submarine cable systems for ocean and climate monitoring and disaster warning. He also served as secretariat for ITU-T Focus Group on Disaster Relief Systems, Network Resilience and Recovery (FG-DR&NRR).
Previously, he was with Nippon Telegraph and Telephone Corporation (NTT), Japan. From 1992 to 2008, he actively participated in standardization activities including ITU-T SG13, SG15, IEEE 802 LAN/MAN Standards Committee and IETF. From 1997 to 2008, he was a rapporteur for ITU-T SG13 and SG15. From 2006 to 2008, he was a Working Group Chair of mboned (Multicast Backbone Deployment) WG in IETF.

Luis Jorge Romero, Director General of ETSI, has more than 20-years experience in the telecommunications sector. At ETSI he has initiated a global standardization partnership for Machine to Machine communications, oneM2M, has overseen the rapid development of ETSI's Industry Specification Group on Network Functions Virtualization, and has driven the implementation of the ETSI Long Term Strategy, an ambitious plan to prepare the institute for the future. Previously he has held diverse Director positions in Spain, Morocco and Mexico, predominantly with Telefonica. As Global Director for International Roaming and Standards, and Director of Innovation and Standards, he oversaw Telefonica's participation in global standardization activities, and participated directly in the work of the Next Generation Mobile Networks (NGMN) Alliance and in the GSM Association (GSMA). Before joining ETSI in July 2011, he held the position of Director General of Innosoft and was also a partner and board member of Madrid-based Innology Ventures.
Andy Rooke served as a Police Officer in the UK for 31 years specialising in Road Policing and Road Death Investigation.
He was also a technical advisor to the Association of Chief Police Officers in the UK and TISPOL (Traffic Information Systems Police European Policing body) on ITS matters.
A project partner in eMerge, GST Rescue, (Pan European eCall), VERA 1, 2, 3,(Road Enforcement) Electronic Vehicle Identification (EVI) and LIAISON (GNSS for emergency services) and Project Manager for the REMOVE project (Advanced Weigh in Motion across Europe).
On leaving the Police Service, Andy worked as a project manager for Transport for London (TfL) delivering the CVIS (Cooperative Vehicle Infrastructures) London test site and the UK Technology Strategy Board project FREEFLOW (Advance Operational and Situational Decision Support for UTMC).
Andy then worked for Technolution developing the UK market and acting as the Technolution project partner for eCoMove (ITS measures to reduce vehicle emissions by 20%).
Andy joined the ERTICO team as the Project Co-ordinator of the HeERO projects. He is now managing HeERO 1 and HeERO 2 with 15 Pilot Sites, with another 7 associate pilot sites plus 28 Commercial Associate partners.
Andy provides the secretariat function to the European eCall Implementation Platform and associated task forces.
He is the Belgium representative to CEN 278 WG15 eCall Standards.
Andy maintains the direct link with the Russian eCall system ERA GLONASS though the GLONASS Union

Jonas Sundborg has over 25 years experience from the telecommunications industry. He is Chairman of the ETSI Board.
Since 2013 he is Chairman, CEO and CTO of Ålands Telefonandelslag, and Chairman of Ålands Telekommunikation Ab – both operators in Finland.
He joined the Ericsson Group 1986 and has held various management positions. He was Director of Standardization and Technical Regulation at the Ericsson Group Headquarter during the period 2005-2013 with responsibility for the Ericsson internal and external Standardization and Technical Regulation.
Since 2005 he is a member of the ETSI Board. Before that he was Vice Chairman of the ETSI Board and Chairman of the Operational Co-ordination Group (OCG).
He has been Chairman of the Information Technology Standardization (ITS) - a Swedish national standardization organization. He has also been Vice Chairman of the Swedish Standardization Association and Open Mobile Alliance (OMA).
He received his Master of Science (Dipl. Ing.) in Telecommunications (with honor) from the Helsinki University of Technology, Finland, 1993

John Tacken studied electronics engineering at the Eindhoven University of Technology. He started his career at KPN in the area of satellite services. Later he moved into consulting where he assisted telecom startups in various parts of Europe. In 2000 he started his own consulting company, Conict Consultants, focused on realising consumer innovations for governments and large corporates. Examples are fiber-to-the-home based services, connected thermostat for a utility company, interactive TV service for a telecoms company and the tender for streaming video via WiFi in football stadiums for the Netherlands Premier League. He has been involved in NL-Alert since its inception phase and was responsible for project management of the NL-Alert technology on behalf of the Netherlands government. John has also chaired the European working group: cell broadcast for public warning, where many EU governments exchange knowledge and experiences.

Adrian Scrase played a central role in the creation of the "3rd Generation Partnership Project" (3GPP) and is responsible for the operations of the 3GPP Project Co-ordination Group. He heads 3GPPs' Mobile Competence Centre (MCC) which is an International team of 20 experts who provide comprehensive support to the Project.
He was also principally involved in the formation of the recently created "oneM2M" Partnership Project and oversees ETSI's support to that initiative.
He is CTO within ETSI with operational responsibility for all of ETSI's standards production activities. He has more than 30 years experience in the telecommunications field, which includes 25 years of experience in standardization.

Daniel Voisard is a senior telecommunications engineer at BAKOM/OFCOM CH. He has extensive expertise in regulation and standardization. Over the last years, he concentrated his core skills in the improvement of emergency telecommunications. He is active in different standardisation bodies (ITU-T, ETSI E2NA, NTEC, M493 and EMTEL, ECC) and European groups (BEREC, EGEA, IRG). He has been with the Swiss regulator for 14 years and previously worked for Swisscom. He is the chairman of ECC PT TRIS since 2012.

Dirk Weiler is Chairman of the ETSI General Assembly and the ETSI IPR Special Committee, Vice Chairman of the German BITKOM Working Group Standardization, Member of the CEN-CENELEC-ETSI Joint Presidents' Group, Member of the DIN Presidential Committee FOKUS.ICT and the ETSI representative to the European Commission's ICT Multi-Stakeholder Platform.
He is Head of Standards Management & Horizontal in the Networks Business of Nokia, responsible for standardization policy, membership portfolio, type approval and environmental standardization.
He regularly appears as speaker or chairman in conferences and events about standardization, IPR and the relationship of both.
Until 2006 he held various management positions in the areas of development, research, intellectual property, standardization and marketing in Siemens. Since 1988 he has been working actively in standardization on technical as well as board level in ETSI, ITU, OMA and various other bodies.
He joined Siemens in 1985, starting in the development of the Mobile Communication System C450, after his graduation in Physics from the University of Cologne and the Institute of Nuclear research in Jülich, Germany.

Dr David Williams is a senior telecommunications engineer at Qualcomm UK. He has extensive expertise in standardisation and is now a specialist in emergency telecommunications. He holds leadership and specialist positions in next generation emergency calling and eCall. He has been with Qualcomm for almost 15 years and previously worked in ETSI, Lucent Technologies and BT. He is the chairman of ETSI EMTEL since 2012.
Transportation
For your travel arrangements, please be aware that ETSI will organize a free shuttle bus:
from Nice Airport Terminals 1 & 2 to ETSI on 19th November at 14h30 and 17h30
from ETSI to Nice Airport Terminals 1 & 2 on Thursday 20 November at 17h30
At peak hours, expect to be at the airport about one hour later.