CoAP 3 & OMA Lightweight M2M
The third IoT CoAP Plugtests event was held in Las Vegas, USA, from 19 to 22 November 2013. This event was jointly organized by ETSI, the IPSO Alliance and OMA and was collocated with the OMA AGM, Board, Technical Plenary and Working Group meetings.
Following the success of the second CoAP Plugtests event, which was held in November 2012, participating companies had expressed interest in holding another interoperability event on CoAP in 2013. The draft specifications which were used in the previous event have evolved significantly in the intervening year. As CoRE CoAP is almost an RFC (Draft version 18 final), it was clear for many that November 2013 was the perfect time to schedule this event.
This event aimed to go beyond CoAP and participating companies were invited to test CoAP security using DTLS as well as the brand new protocol OMA Lightweight M2M, which is based on CoAP. This is in line with the standardization work of the oneM2M Partnership Project, where CoAP, DTLS and OMA LWM2M are considered as key components of the future global standardized M2M architecture.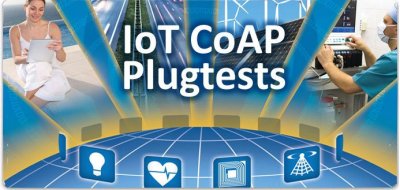 This interop test event aimed to assess the interoperability of different CoAP implementations including OMA LWM2M and Security.
Interoperability test scenarios based on the IETF CoRE and OMA standards for M2M were proposed to participants. The test scenarios aimed to focus on server and client CoAP end-point implementations and products focusing on the base CoAP specification, CoAP Block Transfer, CoAP Observation and the CoRE Link Format.
In addition to the test scenarios proposed on CoAP, additional tests were available to cover testing of:
Security DTLS and
OMA Lightweight M2M.
This event had small but significant participation of eight companies who provided various CoAP clients and servers, DTLS and OMA LWM2M implementations.
Overall interoperability was 94.1 %, with eight hundred and nine interoperable out of eight hundred and sixty tests completed. This was an excellent result especially when considering that this figure includes a number of completely new implementations as well as a number of newer specifications, including OMA LWM2M.
The CoRE-CoAP tests were interoperable at 95.9 %, link-format was even better at 98.5 %. Remaining hotspots (~ 80 %) are ETags/Validation and separate responses in a lossy context. Block and Observe are at 84.9 and 84.8 percent, respectively, reflecting that some of the implementations are rather new and some recent changes may not be fully implemented.
OMA LWM2M was at an incredibly high 97.4 % given that the 1.0 draft specification is not even a month old. It should be noted however, that this result reflects a smaller sample size and an early test specification with limited coverage. A number of issues where clarifications should be made were found in the OMA LWM2M draft specification. This information will be fed back into the OMA working group responsible for this specification.
Very few DTLS tests were carried out and these were 66.7 % interoperability. The problems observed were generally with the retransmission mechanism and it was generally felt that this area should be expanded in future events.