NG112 Emergency Communications Plugtests #3
ETSI, in cooperation with the European Emergency Number Association (EENA), is organizing the third emergency communications interoperability Plugtests™ event to be held in Europe with the support of ETSI SC EMTEL. This event will be located in the ETSI premises in Sophia-Antipolis from 28 January to 1 February 2019.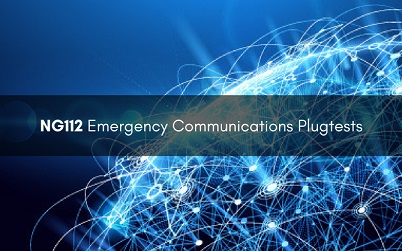 The concept of "Next Generation 112" (NG112) has been identified as a potential answer to the increasing requirements and demands of content-rich emergency calling.
This third NG112 Emergency Communications Plugtests™ event will see a testing campaign based on the use cases developed by ETSI and EENA and is a unique chance for vendors of emergency communication equipment to test their product against different implementations and scenarios.
This event is open for IP-based Emergency Services equipment vendors, Test tool vendors and PEMEA stakeholders. Furthermore any Government Body, Policy Maker or Local Authority is invited to attend as Observer.
The format of the event will be lab tests conducted in the premises of ETSI.
The scope of the event includes:
Components of the 112 communication chain such as:

location & location based call routing

audio, video, real-time text

policy based routing

LTD functional elements

recording and logging
PEMEA:

Interfaces of the PEMEA architecture

Interactions PEMEA – NG112
Conformance Testing:

ETSI will provide a test system to test the conformance of NG112 implementations
The event is covered by a Non-Disclosure Agreement which sets out the terms of a fair and non-discriminatory participation, i.e. vendors are free to publish their attendance to the event, and interoperability results shall be treated as confidential information.
The benefits for a vendor in participating include a chance to test early implementations in a neutral environment, to validate their understanding of next generation emergency calling requirements as well as a to communicate about and promote the technology.
An event not to be missed, if you want to be sure your products and implementations are fit for the next generation emergency calling requirements.
Registration is now open. It will close on 16 December 2018.
This activity is supported by the European Commission.
Save the date! One open preparation conference call will be held on 27 September 2018 from 1400 to 1500 CEST, for which the attendance is free and does not necessitate to have registered to the event.
Link to the open conference call:
https://global.gotomeeting.com/join/310814861
You can also dial in using your phone:
France: +33 170 950 594
Access Code: 310-814-861
More phone numbers:
United States: +1 (646) 749-3129
Australia: +61 2 9087 3604
Austria: +43 7 2081 5427
Belgium: +32 28 93 7018
Canada: +1 (647) 497-9391
China (Toll Free): 4008 811084
Denmark: +45 32 72 03 82
Finland: +358 942 72 1060
Germany: +49 692 5736 7317
India (Toll Free): 18002669272
Ireland: +353 16 572 651
Israel (Toll Free): 1 809 454 830
Italy: +39 0 247 92 13 01
Japan (Toll Free): 0 120 663 800
Korea, Republic of (Toll Free): 00798 14 207 4914
Netherlands: +31 202 251 017
New Zealand: +64 9 280 6302
Norway: +47 21 93 37 51
Poland (Toll Free): 00 800 1124759
Portugal (Toll Free): 800 819 575
Spain: +34 932 75 2004
Sweden: +46 853 527 836
Switzerland: +41 435 5015 61
United Kingdom: +44 330 221 0088
In addition, three conference calls will be held, which are reserved to registered participants only:
25 Oct 2-3 PM CEST
22 Nov 2-3 PM CET
13 Dec 2-3 PM CET
Details about these three conference calls will be sent to the participants in due time.