2nd NFV PLUGTESTS
ETSI's Centre for Testing and Interoperability organised the second NFV PlugtestsTM event on 15-19 January 2018. The event was hosted in ETSI's headquarters in Sophia Antipolis, France.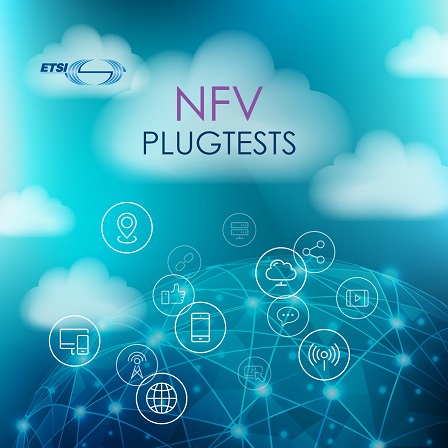 This second ETSI NFV Plugtests event offered a new opportunity for vendors and open source communities to meet and assess the level of interoperability of their implementations, and to verify the correct interpretation of the ETSI NFV specifications. This event was co-located with the first OSM Hackfest.
Organisations interested in joining the test sessions with any of the following components, were invited to join the ETSI NFV Plugtests Programme and register to the Plugtests Event:
Virtual Network Functions (VNFs)
Management and Orchestration (MANO) solutions
Virtual Infrastructure Managers (VIM)
NFV Infrastructure (NFVI)
The second ETSI NFV Plugtests event saw ETSI OSM, Open Baton, OpenStack and OPNFV as supporting Open Source communities and the event was co-located with the first OSM Hackfest.
The OSM Hackfest supported on-boarding activities covering Day 0/1/2 operations, including full descriptor development to leverage the full suite of capabilities offered by the OSM platform from service and resource orchestration to VNF configuration with charm development.
This activity was supported by the European Commission.
Follow the NFV Plugtests on Twitter with #NFVPLUGTESTS.
This Plugtests event was built on the learnings from the 1st ETSI NFV Plugtests event held in January 2017, where 160 interoperability test sessions were run with multiple combinations of Virtual Network Functions (VNFs), Management and Orchestration solutions (MANO) and Virtual Infrastructure Managers (VIMs) from different participants.
The test plan which drove these test sessions covered different NFV capabilities such as on-boarding, instantiation, scaling, update and termination of Network Services and Virtual Network Functions.
For this second ETSI NFV Plugtests event, the scope was extended to cover new aspects such as multi-site, network path, enhanced platform awareness, fault and performance management as well as NFV APIs.
The event relied on the Hub for Interoperability and Validation at ETSI (HIVE) to interconnect participants' labs and local test infrastructure deployed at ETSI.
As one of the main enablers of the ETSI NFV Plugtests Programme, the HIVE allowed for remote integration and pre-testing activities, as well as end-to-end interoperability test sessions among local and/or remote implementations during and in-between NFV Plugtests events.
All participants needed to register to the event. Companies registered had to have at least one person on site during the event.
The event was free of charge and attendees were responsible for all other associated costs (travel, meals, etc...).
By registering to the 2nd NFV Plugtests, participating organisations joined the NFV Plugtests Programme and needed to sign the non-disclosure agreement they received upon registration.