Understanding ICT standardization
Textbook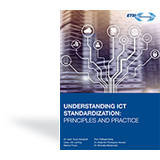 Purchase the textbook in paperback format directly from the publisher, Tredition.co.uk
The book can be purchased also from the following online bookstores:

Download the textbook "Understanding ICT Standardization: Principles and Practice" in PDF format.
Slideset

Slideset: Understanding ICT standardization
More
See article about Teaching standards in the digital world in Enjeux numeriques No. 6
You can find more information about our educational expertise in the expertise section.
You might also be interested in attending our ETSI Seminar.