Transportation

Systems for people on the move
Bringing the power of ICT to a world of mobility
Information and Communication Technologies (ICT) are revolutionizing the transport sector, increasing efficiency, reliability and safety and reducing energy consumption. Intelligent and connected transport systems are more efficient, provide a more dependable service, offer increased passenger safety and consume less energy. Radio systems in particular are now used extensively in the transport sector, from maritime radio or train signaling, to connected cars and NFC ticketing.
ETSI supports road, rail, air and maritime transportation with activities which are carried out by key industry players and therefore reflect true market demand.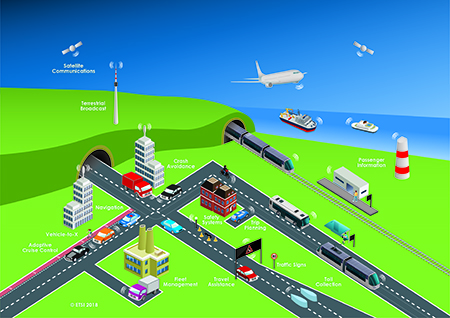 Standardization for road transport is focused on wireless communications for Cooperative ITS, with a priority on safety.
For Rail Telecommunications, ETSI deals with interference issues with public systems and standards on the interoperability of the European rail system.
ETSI works with other organizations to develop standards and Community Specifications (CSs) for Air Traffic Management (ATM) equipment. ETSI supports the Single European Sky (SES) initiative with the development of "Community Specifications" in response to European commission mandates.
ETSI produces European Standards for communications equipment falling within the scope of the Marine Equipment Directive and the River Information Services Directive. We also produce European Harmonised Standards for communications, radar and navigation equipment falling within the scope of the RED Directive.
ETSI groups in the Transportation cluster:
ERM (EMC and Radio spectrum Matters)

ERM TG 26 (Task Group Maritime)
ERM TG SRR (Task Group Automotive and Surveillance Radar)
ERM TG AERO (Aeronautics)
ITS (Intelligent Transport Systems)
RT (Rail Telecommunications)
SES (Satellite Earth stations and Services)
Much of the work performed in the cluster in support of European initiatives is done under Mandates issued by the European Commission and the European Free Trade Association (EFTA). Groups in the cluster also co-operate closely with various international organizations, including CEN, ISO, IEEE, SAE, IETF, ARIB, EUROCAE, EASA and ICAO to ensure harmonization and interoperability.
Road transport
In the very near future vehicles on our roads will share information and interact directly with each other and with the road infrastructure through 'Co-operative Intelligent Transport Systems' (C-ITS). C-ITS are thus expected to significantly improve road safety, traffic efficiency and the comfort of driving.
Within Europe, the target for the full scale deployment of C-ITS enabled vehicles is 2019. Standardization has a key role to play in this, both providing the baseline standards and also reacting to feedback from practical deployments. Our Intelligent Transport Systems committee (TC ITS) is helping to accelerate the introduction of ITS services and applications and to maximize their benefits by developing common European standards and technical specifications to enable interoperability. TC ITS is leading the drive to achieve international standards.
The current major work focuses on Release 2 of the C-ITS standards and preparation for automated driving. Release 2 will address new features and functionalities anticipated in future C-ITS to deal with more complex use cases and the interests of a larger group of stakeholders. Activities are being co-ordinated with the Institute of Electrical and Electronics Engineers (IEEE) and SAE International to achieve the harmonization of ITS deployment in different regions.
Testing is crucial to the commercial deployment of C-ITS. In response to EC Mandate M/453 on C-ITS, we continue to develop conformance tests and to update our existing specifications.
Aviation
Our main aeronautical work relates to the RED and the need to address the standardization of communications, navigation and surveillance equipment, such as radar, aspects of which were not covered under the Radio & Telecommunications Terminal Equipment (R&TTE) Directive. This includes updates to existing standards for meteorological aids, for Ground Based Augmentation System VHF ground-air data broadcast, and for ground-based VHF/UHF radio transmitters, receivers and transceivers for the aeronautical mobile service.
We are also working on standards to support the use of professional unmanned aerial systems in Europe for civil use such as by film crews, for aerial surveys and by the police.
Rail
Our Rail Telecommunications committee (TC RT) maintains and develops the GSM-R (GSMTM for railways) standard, enhancing it with new features specific to the railway environment, including data and voice communications at commercial speeds of up to 350 km/h and beyond. We collaborate closely with the railway industry in Europe and throughout the world in the course of our work.
In the context of the Future Railway Mobile Communication System (FRMCS), we are studying the next generation end-to-end system architecture for rail transportation supporting multiple access technologies. At the same time, we will continue to work closely with 3GPP, as well as the International Union of Railways (UIC), on the definition of use cases for the FRMCS.
Maritime
We develop Harmonised Standards for maritime radio systems. These include maritime broadband radio links for ships and off-shore installations, Digital Selective Calling in the maritime mobile service, maritime low power personal survival locating devices, radar equipment used on non-SOLAS vessels, navigation radar used on inland waterways, VHF coastal stations, maritime VHF for Global Maritime Distress and Safety Systems, and UHF on-board communications systems and equipment.
Satellite transport
Our Satellite Earth Stations and Systems committee (TC SES) is developing Harmonised Standards for high speed Internet access to fixed terminals or terminals on the move – in an aircraft, on board a ship or in a vehicle.