Small Cell LTE Remote Plugfest 2015
The Small Cell Forum, in partnership with ETSI, has organised the first Small Cell LTE Remote Plugfest from 13 to 24 April 2015.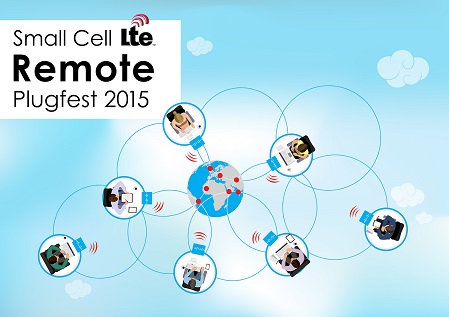 From all over the world including Europe, Asia and North America, companies connected their equipment to the remote test infrastructure and tested their solutions from their own labs.
The Small Cell LTE Plugfest series aims to drive a multivendor ecosystem by detecting and resolving gaps and ambiguities in standards, while at the same time helping to debug vendor implementations. This helps provide operators and end users with a wider choice of interoperable products, while facilitating the economies of scale required to deliver mass- market small cell deployments.
Registration was open for companies interested in participating to the test sessions with the following equipment:
All Small Cell variations: HeNBs, picocells, microcells…
Home eNodeB Gateway (HeNB-GW)
Evolved Packet Core (ePC)
The main areas of focus of the Small Cell LTE Remote Plugfest 2015 were:
Closed subscriber group (CSG), which help to reduce the signaling load on access networks
Voice over LTE (VoLTE)
Emergency Alerts (CMAS)
Mobility
In addition, nice progress was made in LTE-A Carrier Aggregation and Local IP access (LIPA) test descriptions, which is of particular interest to mobile operators as a means of increasing hotspot capacity and reducing traffic load on core networks.
The Plugfest was preceded by a remote pre-testing phase where participants had the opportunity to run regression testing and get familiar with the new test cases.
This was the third event in the series and our first fully remote Plugfest, where participants had the opportunity to run the test sessions from company offices by connecting to the VPN based secure transport network, interconnecting them, deployed by ETSI. This well-established remote test lab was set up at the beginning of the series to support pre-testing phases and participation with remote equipment. Since then, remote test lab techniques and technology have been continuously improved to facilitate enrolment and secure interaction among participants. A flexible LTE network allowed participants to evaluate the interoperability of their solutions with any possible testing partner. Recent enhancements in ETSI's Plugtests™ tool suite have facilitated interaction among companies and ensured consistent reporting of results.
Over 70 reported test sessions and 500 documented test results have been issued over this two week event.
Remote Plugfests will not replace face to face events since they are required to test radio aspects, for instance, but they will help to reduce the number of meetings, improve their efficiency and contribute to a greener world, an issue ETSI has been keen to integrate in its organization and standards making process.
This activity was supported by the European Commission.