---
ETSI is pleased to endorse the event which is driven by LF Edge Akraino and ETSI ISG MEC. The Edge Hackathon will run remotely from 29 June to 23 September with a short-list of best teams invited to complete with demonstrations and a Hackathon "pitch-off" at the Edge Computing World Global event in Santa Clara in the Silicon Valley on October 10th-12th.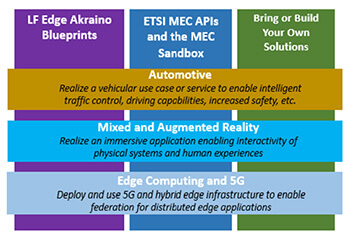 "Build your Edge Application or Solution with ETSI MEC APIs and LF Edge Akraino Blueprints"
You will be asked to develop an innovative Edge Application or Solution, utilizing ETSI MEC Service APIs and LF Edge Akraino Blueprints. Your solution may include any combination of client apps, edge apps or services, and cloud components.
Submissions are OPEN!! Final deadline is 29 June 2022
Registration Notification to the teams: 8 July 2022
Enter your team for this competition today!
Please read the Team Submission Guidelines and send submissions through the application form here.
See the EDGE HACKATHON DESCRIPTION
For further information please visit the event website.
Any Questions? Contact us