ETSI launches new webinars on AI, Non IP Networking, Augmented Reality, and more to come
Sophia Antipolis, 22 April 2020
In this unprecedented situation where face-to-face meetings are being postponed or cancelled, ETSI has increased the number of its webinars on the ETSI BrightTalk channel, which now comprises more than 10,000 subscribers.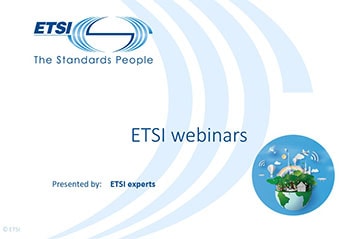 Our webinars feature experts from our 900+ ETSI members, Chairs, Vice Chairs and officials involved in our 100 technical bodies. They will keep you updated with our latest technologies and the new groups we have created, giving you insights into the technical features you need to know to implement ETSI standards. In the forthcoming 3 weeks we invite you to attend the following ETSI webinars.
Just click on the link and register for free:
23 April: New approach to networking proposals with ETSI, Industry Specification Group (ISG) Non-IP Networking (NIN)
28 April: Overview of ETSI reference architecture for Augmented Reality solutions, ISG Augmented Reality Framework (ARF)
6 May: ETSI ENI Architecture: AI for robust and manageable systems and applications, ISG Experiential Networked Intelligence (ENI)
11 May: Recent developments in RED and EMCD: How to make the best use of ETSI
All other upcoming and past webinars are available in the Webinars section on our website.
Our webinars are free and include Q&A sessions. They are systematically recorded after the live session giving you the opportunity to listen to them afterwards if you missed the live session.
So, feel free to attend and update your skills and knowledge on these technologies!