Types of partnership
ETSI has three different types of partnership agreement.
Letter of Intent (LoI)
The LoI is a first step towards formalizing contacts with a new partner, to exchange promotional/operational information and identify common roadmaps.
Memorandum of Understanding (MoU)
The MoU enables technical collaboration on identified common areas of mutual interest through the attendance of observers at each other's meetings in view of exchanging information. Unlike the LoI, the partner to an MoU needs to be a legal entity.
Cooperation Agreement (CA)
The CA provides different ways to achieve specific technical needs.
A Cooperation Agreement is only possible when the partner is a legal entity and when its IPR policy is compatible with ETSI's IPR policy.
The Cooperation Agreement can be extended with:
a Working Supplement (possibility to produce joint deliverables or follow joint working procedures)
a Materials Supplement (possibility to incorporate text and graphics from one party's published document into a document of the other party)
a PAS Supplement (possibility to adopt partner's Publicly Available Specifications as ETSI Technical Reports (TRs) or ETSI Technical Specifications (TSs))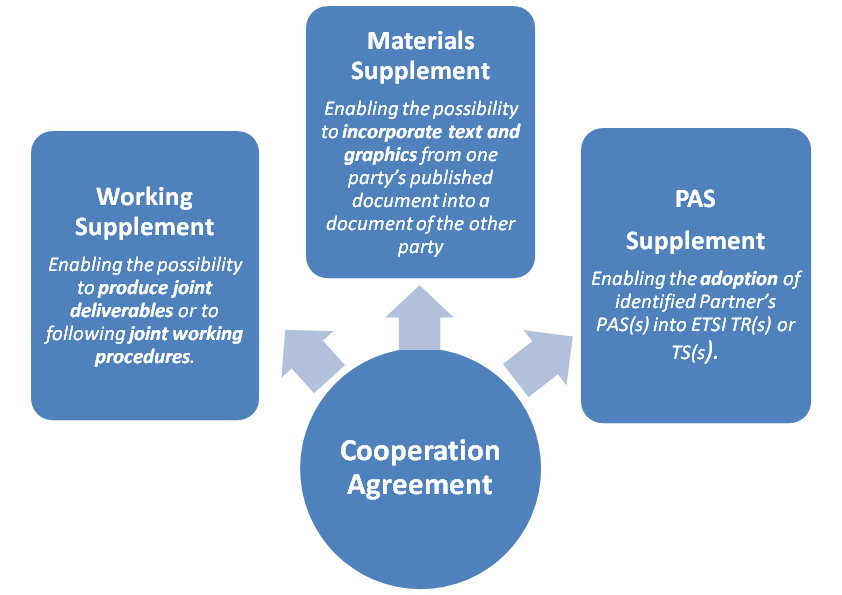 References
ETSI Directives - Technical Working Procedures, Article 1.8.1 Partnerships including Article 1.8.1.2.3 (PAS Supplement), Article 2.2.4.1 (TS/TR Adoption Procedure), Annex Q (PAS Work item proposal Form)
For any further details please contact our Head of external Relations.