Research
Early standardization in the development of a technology or a product can be crucial to its market success. We get involved in research programmes and facilitate the exchange of information between researchers and our standardization community. In this way we are able to identify new areas for standardization at an early stage and can ensure that standards are in place when they are needed.
ETSI provides support and advice to researchers in bringing their work to ETSI. Please contact our innovation team.
From research to standards
We facilitate the early exchange of information between the research and standardization communities. Researchers benefit from early exposure to the issues they face in industrial take-up of their ideas. Industry benefits from faster exploitation of research results. Research input is very relevant in early study phases, when alternative technical solutions have to be evaluated.
We offer a number of paths for interaction between researchers and our standards committees:
Our more than 30,000 ETSI standards are available for free. They represent a huge library of the state-of-the-art of ICT, indispensable for researchers. Our white papers & brochures complement our standards.
Our workshops are an entry point for research results. They provide a platform to disseminate research results and identify next steps for standardization. Researchers in ETSI member organizations can provide contributions to existing ETSI committees or drive the creation of new committees. Our innovation team provides support to identify the most suitable way forward.
Validation helps ensure our standards are fit for purpose and products built on them can be interoperable.
Making use of these resources and following this path leads to a life-cycle approach of 'Integrated Standards Engineering', illustrated here.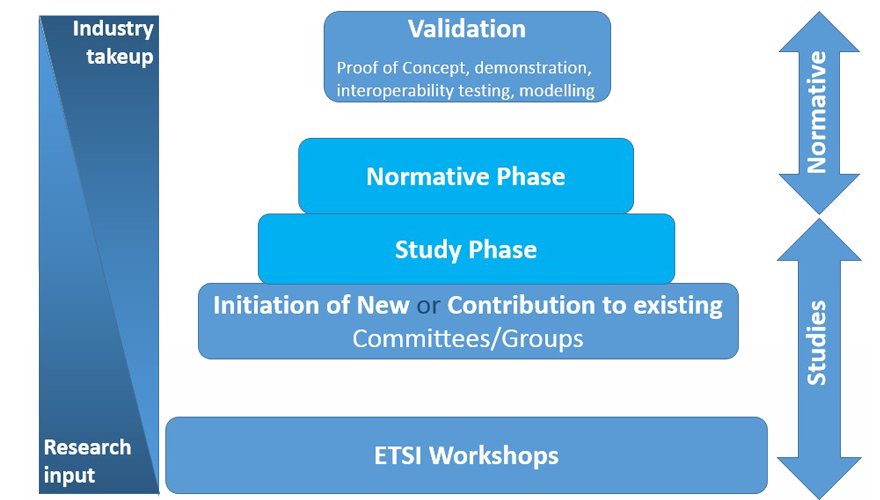 Our support to research
We make every effort to keep up-to-date with the latest research. This triggers new standardization activities and also contributes to our ongoing work.
Supporting the development of new technologies
We encourage our members to bring the results of their research activities to us for standardization.
We try to make it as easy as possible to start a new standardization activity in ETSI. For example:
Our members may make a direct request to bring an activity into ETSI. Such a proposal needs the agreement of just four ETSI members.
Our Industry Specification Groups represent an effective alternative to industry fora. They operate alongside our traditional standards-making process and produce specifications quickly and easily to encourage innovation.
We produced a 8-point plan for researchers on how to build standardization into their project proposals and work plans.
8-point plan
Standardization is a business process which is driven by industrial and commercial considerations. Reaching a collective agreement on a specification through consensus can take time, but is surprisingly fast when interests are aligned.
Allocate project budget for standardization
Develop a standards landscape: which standards bodies are involved, which companies are leading, what is the status of work, what are the procedures of the different bodies, including IPR policies
Compare your project schedule with the schedule of the standards bodies. Investigate opportunities to introduce changes to standards under development
Identify key results from the project which are candidates for standardization
Match them to suitable standards bodies
Identify project partners to participate in standards activities. Will they present other partners' results?
Develop a standardization action plan
Track standards activities, contributions and impact
For further help with introducing standardization into your R&D project, please contact our innovation team.